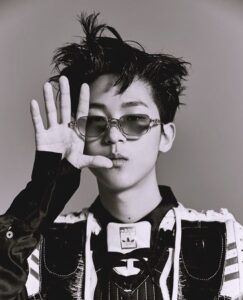 Big Naughty (Seo Dong Hyun) from H1gher Music is a 2003 born soloist with a soothing voice perfect for the sensible rap that he is known for. His vocals does not limit him to rapping as he sings well too and recently he released his latest contemporary R & B Genre, EP "Bucket List". In his EP, he has shown a different side of his music taste from that he is usually known for. Read on to read our review. 
'Bucket List' has seven tracks featuring big names in the K-HipHop industry coming from the best known HipHop labels. Big Naughty is a Gen Z star with an old school soul. Compared to the people of his age he is different when it comes to music. He is heavily inspired by old songs and looks up to them. One of his most famous tracks from the EP is "Girl at the Coffee Shop". In his interview with 'Pops in Seoul', Big Naughty said that he was inspired by the original song "Tobacco Shop Lady" by Song Chang Sik which was released in 1986. He said that his song pays homage to the original song and its a reinterpretation.  Since its an old song that youngsters may not have listened to he has asked his listeners to listen to it before they listen to his "Girl At the Coffee Shop" as this would help listeners know which parts of the song inspired him to make a reinterpretation.
So, Team Namaste Hallyu decided to take a ride down the lane and gave a listen to the old soft rock "Tobacco Shop Lady". The song gives the feels of an old school live rock session in a pub where the singer confesses his feelings for the lady he fell for. She is a pretty lady who runs a tobacco shop in the neighbourhood and rejects all the men who have confessed their feelings for her. He saves her from some hooligans and ends up winning her heart. The old and the new songs have different vibes. "I interpreted the old sentiment into a modern vibe" says Big Naughty.
He also released a music video "JOKER" featuring Jamie and it is set in a prison investigation background which demonstrates the lyrics that the protagonist has fallen for the joker no matter how smart he may be. He may be the King or the Queen but the Joker has defeated him. While writing the tracks Big Naughty hoped that people of his age could relate to them. We can clearly tell the theme of Joker is love.
His song "Bucket List" which is similar to the name of the EP, produced by DPR Cream also sends the message of a youthful life in which youngsters should not worry and that we can achieve what's in our bucket list.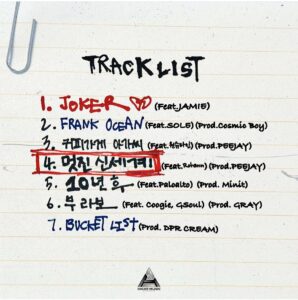 As we listened to the EP, all of his tracks gave off a contemporary laid back youthful vibe. Big Naughty had worked on his EP for about a year and he wanted to keep the youthful vibe throughout, "When you think of YOUTH, you think of Love, Dreams and Regrets. Therefore, these are the themes of the songs".  In his song "BRAVO" produced by Gray, he writes on the life of an 18 year old's struggle with studies and love. This song features Coogie and ex H1gher Music member Golden. They send a beautiful message to every youngster who is struggling to go through a confusing phase of life- "Bravo, live your life and be yourself, its gon' be alright". This is a calm song, beautifully written and skilfully composed as a contemporary R&B and future bass.
In a very young age Big Naughty has undertaken massive projects. His label released the most anticipated albums last year Red Tape and Blue Tape and H1gher Music even won 'Label of the Year' at the Korean HipHop Awards 2021 . As Big Naughty had to work on three albums simultaneously, it took him a long time to release "Bucket List" but he got to work with producers he admire a lot, like DPR Cream from DPR, Gray from AOMG, Minit, Peejay and Cosmic Boy. According to him, he learnt the importance of producing as he had to contact all of them by himself telling them that he would love to work with them and so, because of this he really wanted to do well.
Wrapping up about the promotion of the album, he hopes that it will motivate people of his age, give them energy to do what they want. As an HipHop artist, coming from the best label of the genre he brings us another aspect of the HipHop music that listeners often don't see. The dynamism of the genre is evident in his album as he says, "I am not expecting anything grand. I tried my best and had fun in the process".
'Bucket List' has definitely become one of our favorite EP and if we had to pick  favorites songs from this EP , it would be Joker, Bucket List and Frank Ocean. The EP is available on all streaming sites.