Meet the past winner of the K-Pop Contest India, Edwin Kubzar! The singer, actor and model is the K-Pop India Contest 2013 winner of the song cover category. 
K-Pop India Contest is part of the K-POP WORLD FESTIVAL which is said to be one of the biggest K-Pop events in the world. It was first held in 2011 in 16 countries by the Ministry of Foreign Affairs of South Korea, with a motive to knit together Hallyu fans from different parts of the globe. The event is usually offline, where participants have to get through preliminary rounds in order to make it to the final round i.e., that takes place in Changwon, South Korea. However, due to the pandemic, KCCI India will be organizing the event online. But, fans have actively participated and kept the enthusiasm intact. 
K-POP INDIA CONTEST 2021 – What You Need To Know
Thousands of participants audition for the K-Pop Contest India every year with the dream to display their talents and potential. While the hopeful contestants are currently preparing for the upcoming preliminary rounds of the K-Pop Contest India 2021, Namaste Hallyu had a chance to sit down with Edwin and have a one-on-one regarding his successful career.
Edwin has shown his versatility in various platforms, let it be singing, modelling, acting and much more. Along with winning the song cover category of K-Pop India Contest 2013, he also bagged the first position at the MTV Myntra's Next Big Fashion Superstar 2020.
Reminiscing about his introduction to K-Pop, Edwin owes it to the broadcasting channels that aired K-Music every morning – "I've always wanted to sing even though I did not even know the A to music (pun intended). Something about it just told me I had to choose it. I think, also because it's a universal language. My sister and I would watch ARIRANG every morning; they used to telecast shows from Big Bang to 2NE1. That's how I came to know about K-POP."
We know for sure that Edwin's honeyed voice definitely has an alluring effect on so many Indian K-Pop fans. Singing is not an easy feat as it requires the singer to maintain the pitch, shift scales when needed, basically have a good command over their vocals. With the already set instructions to singing, it is even more hand to sing in Korean, even if one were to by-heart it. His win at the K-Pop contest is one of the most brightest feather in his cap. Here are a few tips from him on how to prepare for the contest, "There were a lot of concerns. I was like, what if I need to dance to be more interesting, and what if I need to pick a faster song. But then I stuck to what I knew best which felt more like me."
However, he feels confidence is also much needed along with talent, "There could be a lot of good contestants but they're not you, bring something to the table that only you can do best. I think good vocals are important but also there are so many other aspects that play a part. Good showmanship, confidence, stage presence and not being afraid of failing."
For any artist, the main thing that drives them to start a journey, continue it, or hold on to it is 'inspiration.' Apart from his presence in the world of music, he is also a model. When we asked him about his modelling and singing inspirations, respectively, Edwin gave us some really amazing names that he looks up to! "When it comes to music, growing up, my sister would listen to a lot of Pop artists, Westlife, NSYNC, Backstreet Boys, Britney Spears, etc. I think that's where I got the urge to become a performer other times it's not necessarily artists but songs that inspire me. Modelling, I've always looked up to Sean O'pry, Mario Maurer, Nylie Dimarco. I draw my music inspiration from a lot of artists who put a lot of soul into their singing, when you listen to them you just know that this person has put in so much just for the love of music."
There was a time in India when many teenagers and young adults did not know about K-Pop, but now India is a great market for this genre. India is always acknowledged as one of the countries that helps the most in the charting for many K-Pop comebacks and releases, and it is just a pleasure to see this happening. India has also managed to break into the K-Pop world. The most recent example is Armaan Malik's collaboration with Eric Nam and Kshmr. Though it was an all English song, this collaboration has definitely widened the dynamic.
Guess what? Edwin's favorite artists are EXO and Eric Nam! And so we were obliged to ask him about his thoughts on this collaboration and about EXO's much awaited comeback. "I'm happy for their comeback but I missed the theatrics in this one, like their previous music videos, Obsession, Love me Right, Wolf etc. Eric x Armaan's collaboration is bitter sweet. Though I'm happy that India and mainstream media is getting to know about K-Pop, I also get a little selfish to share it because to some of us this is our special place, something only we knew about and adored and bonded over."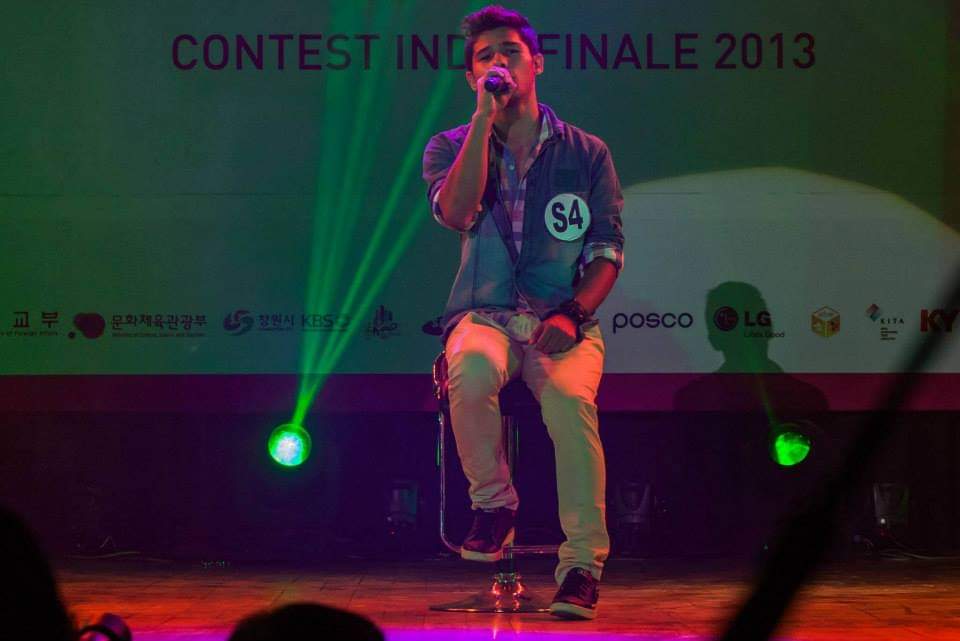 Of course not all K-Pop fans know how to sing, and speaking honestly most of us just sing whatever comes to our mouth! So we were really curious to know how he manages to sing in a different language, especially when pronunciation is a challenging factor. Here is what he said and this cannot be more relatable! "Yes, It gets so frustrating! When you know how the melody goes but miss the pronunciation. I played it by ear and started writing what I heard the lyrics sounded like, instead of what the actual lyrics were." 
Edwin is not only a singer or cover artist but a song writer too. He is also a pretty philosophical person who receives inspiration from many things, "Yes I do write most of my songs. A lot of things inspire me to write music, my own experience of people and situations that have come across in my life, sometimes they're based on characters from a book or a movie I've watched 10 years ago." Isn't that just precocious? To write song based on a movie that he watched years ago, this is for sure one of the nicest ways to express nostalgia. He is currently listening to Shawn Mendes, Lauv, Maluma, Conan Gray, Doja Cat, TWICE, BLACKPINK, BTS, MONSTA X, MAMAMOO, and EXO.
It's been a while since Edwin has posted covers on YouTube. But not to worry because he has something great planned and is diligently working towards finishing it. "I hate to use this term but I am a perfectionist, if I'm not happy with something, I don't like to put it up. I recorded so many little covers and reaction videos but didn't feel right to upload them but on the other hand, I do have my single coming out soon. We're working on the script at the moment and we're almost there."
Before the Hallyu wave (Korean wave) took over pan India, K-Pop and K-Dramas were super popular in the North-Eastern states. He was born in Nagaland and brought up in Dimapur, so he basically comes from the land where K-Pop has been a part of the culture for years. So having seen how the Hallyu wave has so broadly grown, his thoughts are "Like I said before, it's bitter sweet. I'm glad people are getting to experience what we've been experiencing for a while, the fascination and obsession, the sleepless nights just wondering what our idols will be doing right now, waiting for their next comeback but at the same time it feels like something that is special to us and holds importance suddenly now belongs to the entire world especially to some who misuse it just for the clout."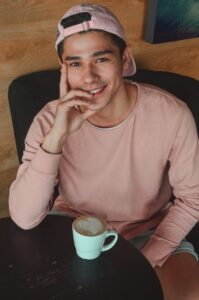 Don't worry, we still have more answers from Edwin! Here are some facts about him that you can add to your list XD. 
NH: What is your dream? Where do you see yourself as an artist in the near future?
EK: When I was younger, I wanted to sing in the presence of a huge audience, just like every singer aspires. Now I just want people to feel what I feel (Joy, Pain, Encouragement) when I sing and hopefully the songs I write will do exactly that, also a few hit singles would not hurt 🙂 With sold out music, I wish to have an acting career and start a business of my own.
NH: Which K-Pop idol's fashion sense influence you the most?
EK: I think mostly all of the boy bands, SUPERM, EXO, BTS, MONSTA X, and even BLACKPINK.
NH: Ever thought of becoming a K-Pop idol and give audition to any K-entertainment agency?
EK: Initially I did, but truth be told that wouldn't have been the path chosen for me. I'm happy to start in India and hope to be recognized on a larger scale soon
NH: Who is your bias? Have you ever dreamt of collaborating with a K-Pop artist/youtuber?
EK: I've grown up listening to the senior K-Idols like Big Bang, Super Junior and 2NE1 but currently I like listening to Mamamoo, MONSTA X, and BTS. But EXO, Ailee, Eric Nam are some artists that I find myself going back to every now and then. About collaborating, I would be lying if I said I didn't.
NH: What made you choose the song 'Heaven' by 'Ailee' to perform at the K-Pop contest?
EK: The song was so soothing, I loved her high notes also because it told a story.
NH: Tell us a little about your own fashion style? What is your go-to outfit?
EK: My style usually depends on how I feel that particular day. But I do try to find a middle ground between 'old Hollywood' and street fashion. For example I like mixing a pair of Military boots with a double breasted blazer.
NH: You're into singing as well as modelling, in which profession do you see yourself growing?
EK: I get this question asked a lot and my answer will always be the same, I think they go hand in hand.
We wish Edwin good luck for all his upcoming projects! Hope to see him grow more as an artist and keep inspiring young talents! Don't forget to watch out for his song, 'Daisies' which will be out later this year! 
Do keep checking Namaste Hallyu for more amazing stories and interviews for 'YOUR STAGE,' a segment where we highlight fans, fandoms and more! 
Want to be a part of 'Your Stage'? Send us your/fandom stories and achievements to admin@namastehallyu.com with 'Your Stage' as the subject line. 
Written by: Anushka and Surabhi