On October 11th, UP10TION's Lee Jin Hyuk unveiled the track list of his upcoming 4th mini-album 'Ctrl+V.'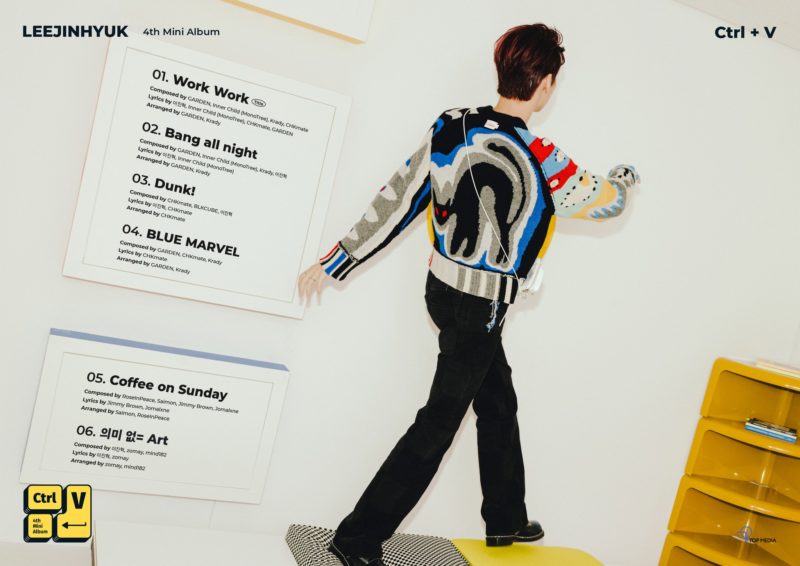 According to this list, the soon to release album consists of six tracks with 'Work Work' serving as the title track. 'Bang all night', 'Dunk!', 'BLUE MARVEL', 'Coffee on Sunday', and 'Meaningless Art' are the other tracks. As of now, comeback spoiler, teaser schedule, concept photos and track list have been released.
The UP10TION rapper had made his solo debut album in 2019 with 'S.O.L,' featuring 'I Like That', as the title track.  'Ctrl+V' is his 4th mini album and is all set to be released digitally on October 18th and physically, on October 19th, 2021.
In other news, Lee Jin Hyuk recently starred in a romance drama 'Check Out the Event.' He has also been confirmed to join the cast of 'I Like To Eat On Saturday', which is a new mukbang variety show. Along with him, Park Myung Soo, mukbang YouTuber Heebab, and Shin Gi Ru have also been announced as cast members and one more cast member is yet to be revealed.
Are you looking forward to 'Ctrl+V'? Let us know in the comments.
Connect with us on Instagram Twitter YouTube for more content, interviews & news.