We will soon be seeing boy group TREASURE on screens again!
On November 1, the official poster for the group's upcoming web drama project titled 'My Mysterious Class' was released. In the second poster, the boys dressed as high schoolers, are inside a classroom, and the poster reads, "There is a ghost in our class."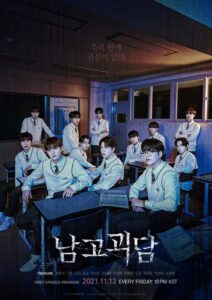 The first episode for 'My Mysterious Class' will premiere on November 12 at 10 PM KST (6:30 PM IST). Fans will be able to check the new episodes every Friday. 
The group previously acted in a one-part mini-drama which was part of their reality series titled, 'It's Okay, It's Friendship' as part of their 'Treasure Map' reality series. It soon went viral and is considered of the most popular episodes from the show to date. 
Connect with us on Instagram  Twitter  YouTube for more content, interviews & news