Are you a fan of LOONA or BM (Kard) and wish to interact with them? theQoos' is bringing the K-pop act face to face with fans through its virtual Q&A fan event.
In the virtual Q&A events started by theQoos, fans can upload short question videos on the platform, which the artists will be able to see and respond to. From among the top entries, the idols will choose their favourite questions and answer them through response videos which will be personalised for each fan.
LOONA's Q&A event started on June 29, fans can submit questions for LOONA till 19 July 2021 while BM's event started on June 30 and fans can submit questions till 12th July 2021. The response videos will be released afterwards.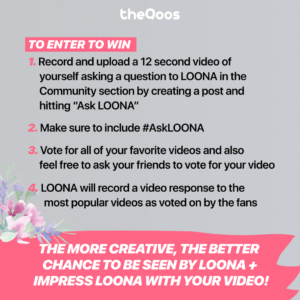 These Q&A videos were started as a way to ease communication between global fans and K-Pop artists, allowing fans to interact with their favourite K-Pop acts without travelling all the way to South Korea or struggling with language barriers. These virtual Q&As were launched in late 2020 and several K-Pop stars like KARD's BM, A.C.E and Chungha have used these to get in touch with their fans overseas.
Fans are advised to submit their questions creatively, as the more likes your questions get, the higher are the chances of the idols seeing your questions and responding to them! Are you a camera-shy fan? You can also send questions as you don't have to show your face! Don't know Korean? Don't worry, and the translation team at theQoos will be translating and adding subtitles to make sure communication between idols and their fans is seamless.
theQoos was founded by Peter Chun, who was the former U.S. marketing director at YG Entertainment, and Ted Karam Han, the former business/service director at Kakao Music. The company is based in both Seoul and New York City, making it a hybrid company. theQoos aims to bridge the cultural and communication gap between K-Pop idols and their international fans.
So what are you waiting for? Head over to theQoos and participate in the event!
Find us on Instagram Twitter YouTube for more content & news!
Written by lleeka