The Semi-Final Round of ALL INDIA K-POP Contest 2023 was organized by Korean Cultural Centre India in association with LG at O.P Jindal Auditorium, New Delhi, celebrating the 50 years of Diplomatic ties between India and Korea. The semi-finalists were the winners from regional qualifiers held in 11 cities across the country, with about 200 teams selected from 10,000 applicants participating in the competition.
The Korean Ambassador to India H.E. Chang Jae Bok and his wife graced the event, emphasizing the close cultural ties and bilateral relations between the two countries.
In his speech, H.E Chang Jae Bok greeted the audience with Namaste and congratulated all the participants from 11 regional rounds for making it to Semi-Finals of the ALL INDIA K-POP Contest 2023 and said, This is your moment to shine and fulfill your dreams as you sing and dance in front of the K-POP Stars you admire. It's an once-in-a-lifetime opportunity etched in your hearts. Let's cherish this moment, celebrating the beautiful union of India and Korean cultures through the enchanting medium of K-POP. Together, we bridge hearts and minds across borders, languages, and traditions. Also, he expressed his appreciation to LG Electronics for their support in the event and gave warm welcome to the 3 members of 'Mbitious'.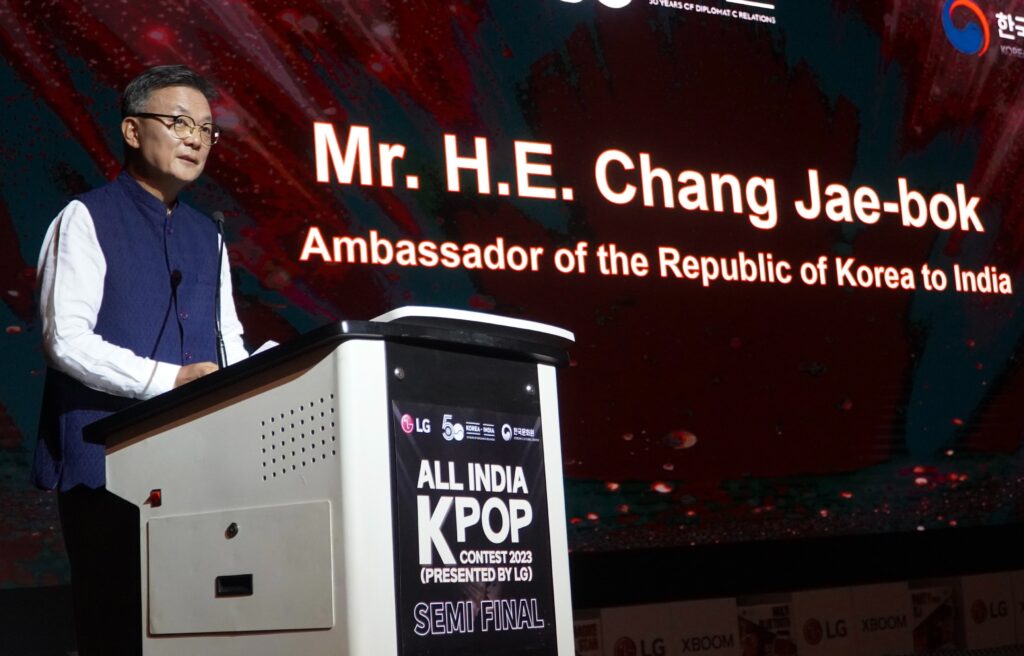 The director of the Korean Culture Centre India, Mr Hwang II Yong was also present at the event. LG was represented by Mr Gary Kim, Director of Home Entertainment.
As Special Judges 3 Mbitious members – Former INFINITE Member Lee Ho Won (Hoya), Roh Tae Hyun and Kim Pyoung Ya, delighted the audience with their power-packed performance.
From jaw-dropping dance moves to soulful vocals, contestants took the stage by storm and showcased their extraordinary skills. The immense support from fans across the country added an incredible level of excitement to the event as they cheered for their favorite participants.
Finalists selected for the Grand-Finale of this year's ALL INDIA K-POP Contest are-
DANCE CATEGORY 
OUTKASTS– Winner (Delhi)
ELITE– 1st Runner-up (Chennai)
SEREIN – 2nd Runner-up (Bengaluru)
Axiom – 3rd Runner-up (Mumbai)
With Nine– 4th Runner-up (Itanagar)
VOCAL CATEGORY 
Prachi Sharma – Winner (Delhi)
Abhipriya Chakraborty– 1st Runner-up (Kolkata)
Sai Madhav Rella– 2nd Runner-up (Hyderabad)
Sruthi Ramnarayan– 3rd Runner-up (Chennai)
Jaisri Shruti– 4th Runner-up (Bengaluru)
Following the Semi-Finals, a 5-day Exclusive K-Pop Academy which includes special lecturers from Singer Hyeon-soo, who appeared in 'Voice Korea 2' and Yamakasi, a former BTS Dancer,  will be organised by KCCI Delhi for the winning teams of the semi-final from July 23-27.
With the Grand Finale just around the corner, excitement and anticipation are at an all-time high! Who will be crowned the winners of the ALL INDIA K-POP Contest 2023?
Photos of Semi-Finals Round of ALL INDIA K-POP Contest 2023 – Courtesy Event Organisers.
For more Photos of the event, check out Namaste Hallyu Instagram Page.
Connect with us on Instagram Twitter YouTube for more content, interviews, & news.