Netflix and K-Dramas have joined hands for a global takeover and we are not complaining.
Recently, popular streaming platform Netflix has announced its investment in South Korean entertainment. With the possibility of high financial investments, the level of content being produced on the streaming platform has been quite wonderful. With the introduction of not-so-common genres, viewers across the world are being constantly delighted with the recent productions. 
The latest Netflix production to join the worldwide hype is Squid Game, where we can witness the amazing storytelling and the electric chemistry of the talented cast. Popular Korean actors Lee Jung Jae, known for his cool on-screen characters in Sandglass, Deliver Us From Evil and Park Hae Soo of Prison PlayBook are the lead cast of the nine-episode drama. A special (albeit creepy) appearance by superstar Gong Yoo is also not to be missed.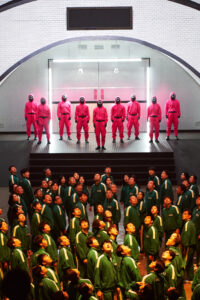 Addressing the International Press, Lee Jung Jae who plays Ki Hoon, a debt-ridden unemployed man who becomes a willing participant in the game remarks that playing Ki Hoon was not a change in image for him personally, "When I watched the final rushes I was laughing hard just watching myself act but I was surprised at how I portrayed my character. My character is positive and optimistic despite his situation and I found that appealing."
He continued, "My character continues to change in terms of his personality and the emotions that the character goes through as he proceeds each game. As an actor, I was intrigued about the role and wanted to take on the same and I was luckily given the opportunity. I had a great time shooting. In some of the challenges, we had to go through several rounds of games and we had to work on how to make it as convincing and real."
The other half of the main duo, Park Hae Soo commented on his character in the drama, "My character thinks things though, and for me, the biggest reason for saying yes was the script and how it depicted the many kinds of people, the character arc and how it developed was very charming and intriguing. This unique universe that, director Hwang created and how these games would be brought on screen I wanted to see for myself."
He further added, "As for my character he makes the most reasonable and right choices based on his own standards, depending on each obstacle that's given. He is a character which shows very subtle and detailed emotional changes, that aspect I found most appealing, as well as challenging."
When asked what makes them choose a role and if the director, story or the length of the role, plays a part in the decisions, the two actors shared. 
"For me, the first priority is the people I get to work with, and the second would be the scenario. As an actor, for me, it's important to work with people I can learn from, including actors and directors and I hope to continue doing that in the future." – Park Hae Soo
"For me, everyone is important – the director, the cast, the crew. You approach your scenario as a bible that holds all your promises in there and you solve all tasks together as a team. And, when you have an amazing group of people with great chemistry between them the set becomes an enjoyable place. Hae Soo's humorous personality really lifted everyone's spirit and I am thankful for his presence. We had an amazing group of people in the cast". – Lee Jung Jae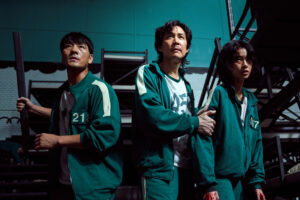 When asked if they would ever agree to be part of a survival game for a monetary reward, Park Hae Soo, who has recently been cast as "Berlin" in the remake of the Money Heist series replied, "I am happy and content with the way things are and would not put life on the line for this". While Lee Jung Jae shared a candid response saying, "My mother would never ever let me."
However, the only one willing to take that risk was the youngest member of the squad, Wi Ha Joon, who was last seen in popular series such as 18 Again, Romance is a Book, and Something in the Rain. The actor plays an undercover cop in the series and has the confidence to win the game, "I think I can win. I am not part of the deadly game, I am an observer, so I could give it a shot in real life." The young actor also admitted that if given the chance, he would have loved to act as Ki Hoon.
Director Hwang Dong-Hyuk also shared a fun fact that he had written the story Squid Game in 2008 when he himself was under debt and had thoughts about being a part of a survival game and earning some money. The director further added, "Though it's a virtual competition unfolding on-screen, it may make you all wonder as to why you are constantly in a competition to survive and if there is even a beginning or end to it."
When asked what would they do if they get access to 45 million won, Lee Jung Jae said he would donate it all, whilst his co-star Park Hae Soo said he would use 20 per cent for stocks, give some to all his fans and people assembled and the remaining would go for the preservation of the environment.
However, Jung Ho Yeon who was cast as the strong-willed Sae Byeok, had quite a normal wish, "For me, it's unimaginable to get this money but if I do I will eat 'tteokboki'. go to a hotel take some time off work and buy a nice house for my family, then save up for my later years and donate the rest." Wi Ha Joon also shared his wish to spend the money on his family, make a luxurious gym and donate the rest.
Directed by Hwang Dong-Hyuk, Squid Game is a telling statement against the class divides and the competitive battle for survival. It is available for streaming on Netflix and the drama has been gaining success among the fans worldwide and in India as well. It is currently #4 in India and if you haven't watched it, click here. 
Watch Lee Jung Jae and Park Hae Soo's exclusive interview with our featured writer, Puja Talwar below:
Connect with us on Instagram Twitter YouTube for more content, interviews & news.