If you have not yet heard about the latest Netflix Original 'Squid Game', then you are definitely living under the rock.
With its spectacular cast and a nail-biting plot, Squid Game is trending worldwide and is currently one of the most-watched shows on Netflix. The show is about the desperation of humans to survive when they are suddenly thrown into a game where they have a chance to win almost ₩45.6 billion. What's the catch? The game is a tough fight between life and death with only one man/woman standing in the end.
Another reason for the popularity of Squid Game is the horrifying re-creation of children's games in each round. Popular children's games like Red Light – Green Light, Tug of War and more, which are supposed to be innocent has been painted with blood and violence.
The show has also been receiving applause for its stellar cast, but one of them has caught the eyes and the curiosity of the general public. Just who is the Indian guy in the series?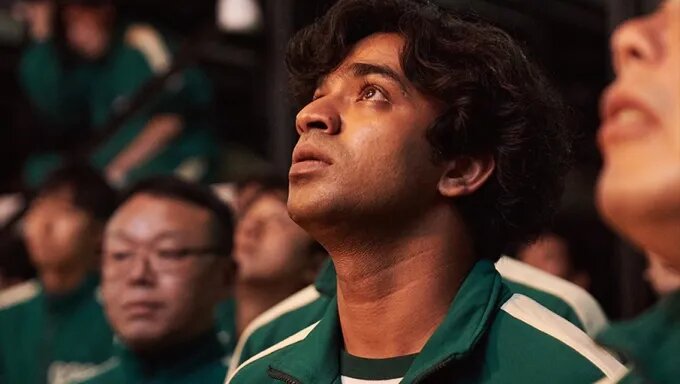 Anupam Tripathi plays the role of Ali, an illegal Pakistani immigrant who is tricked into not getting paid sufficiently and ends up in Squid Game to provide a better life for his family. Ali's innocent and gullible character is perhaps one that shows the most humane emotions. Anupam's delivery of the character is beyond satisfactory. His emotions and earnestness that sparkle through his eyes makes us want to root for him till the end. Fans are even petitioning for his appearance in Season 2 as well!
This is, in fact, not the first appearance of Tripathi in the industry. He completed his graduation from Korea National University and started his acting career in 2014. He has done more than 12 roles in the Korean industry, including minor roles in 'Space Sweepers' (2021), 'Taxi Driver' (2021) and many more. But the turning point in his career is definitely his portrayal of Ali in Squid Game.
If you have not watched the show, it is never too late to binge-watch as all of the nine episodes are out on Netflix. You can also enjoy amazing cameos from veteran actors like Gong Yoo and more in Squid Game.
It is indeed a pleasant surprise to see an Indian actor blooming and receiving much love and support in the K-Dramas. We hope to see more Indian talents making their mark in the Korean industry.
You can know more and stay updated with Anupam Tripathi on his Instagram account sangipaiya
[Spotlight]- Meet The Dynamic Cast of 'Squid Game'
Stay tuned with us for more updates and connect with us on Instagram Twitter YouTube for more content, interviews & news.