With the gaming and fashion industries stepping into the metaverse adventures, the music industry isn't far behind. The Swedish audio streaming and media service provider Spotify becomes the first music streaming brand to have a presence on Roblox. Roblox is an online platform and storefront where users go to play games made by other developers. These games are not formally developed by Roblox Corporation, but by users of the platform.
After Spotify's Roblox debut earlier in May 2022, the platform has unveiled a new world in the interactive game centered on all things K-Pop. This is a fun experience for everyone, not just Spotify users, as anyone who uses Roblox can visit the new Island called Spotify Island – 'A paradise of sound' where fans and artists from all over the world can hang out and explore a wonderland of sounds, quests, and exclusive merch.
"Through this interactive world, we're creating a place where fans can link up and create new sounds together, hang out in digital spaces, and gain access to exclusive virtual merch. Spotify Island is an audio oasis that has it all."

– Spotify
Roblox users can connect with artists, complete interactive quests, and unlock exclusive content. Players can also enjoy an immersive audio experience by creating music and exploring sounds at the virtual beat-maker stations powered by Soundtrap. The island will have other musical Easter eggs at every turn for eagle-eyed users to discover. Users can even climb to the top of "The Charts" by collecting points.
Also read: SM Entertainment Has Officially Launched Into The Metaverse – And Here's The Buzz
But what's the catch in it for K-Pop fans? Users can portal out of Spotify Island and into K-Park where they can connect with K-Pop artists and other fans. The new world includes a K-Pop themed cafe, with treats like dalgona coffee and boong uh bbang – Korean fish-shaped bread. At the lounge, players can create their own K-Pop beats through Soundtrap.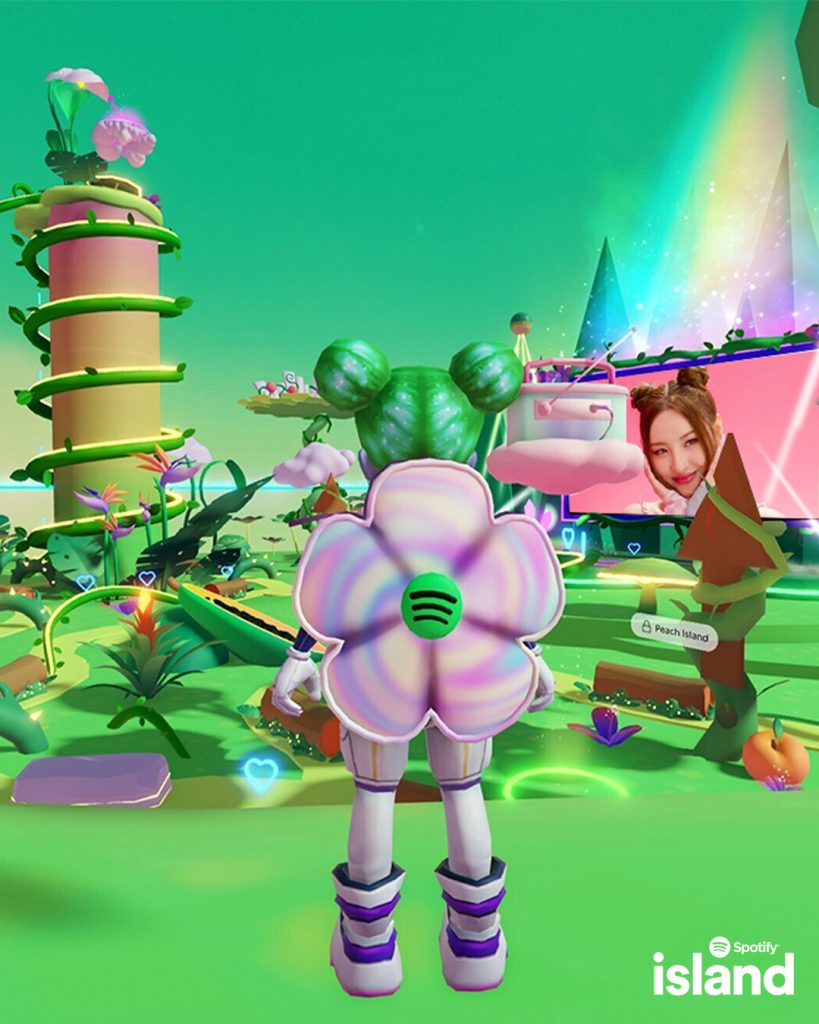 "We chose K-Pop as our first genre focus on Spotify Island for many reasons, including its widespread global appeal," says Spotify in a statement. "It's a genre that starts with music but becomes a movement—encompassing an entire world of standom, fashion, community and more."

– Spotify
K-Pop superstars SUNMI and Stray Kids are the first artists to partner with Spotify Island, which will soon turn itself into K-Pop themed wonderland K-Park.
Through this Roblox experience, the Korean superstars will offer custom merch for their fans' in-game avatars.
So far, Sunmi has over 2.4 million monthly listeners on Spotify and Stray Kids has over 6.3 million.
Spotify listeners will also notice some similar shapes, colors, and icons on Spotify Island. For example, Roblox users will have the chance to collect the heart-shaped "Like" icon, which can be further exchanged for merch. These things allow fans to interact with the brand in a whole new way.
"The main focus is to roam around, jump on and interact with objects and create sounds all while collecting points. You'll also see that everything on Spotify Island is alive and interactive. There's always something to discover."

– Abby Stewart, Spotify's Director of Business Development
Through this Roblox experience, the Korean superstars will offer custom merch for their fans' in-game avatars. As Stewart explains, this is about giving artists a chance to connect with their fans on another level without having to make big commitments.
That engagement is about more than artists just selling merch to fans. Spotify Island will provide opportunities for artists to host virtual meet-and-greets and signing too.
A place focused on building connections for artists — whether they have 15 fans or 15 million. Spotify island also focuses on creating an easy opportunity for artists to connect with fans and to partner with Spotify on the creation of in-game virtual merchandise.
How to Get to Spotify Island's K-Park: 
Thankfully, it's not very complicated.
Start by launching Roblox. (install and run it)
Type Spotify Island into the search bar.
Click on Spotify Island to launch.
You can also visit the Spotify Island link if you're using your browser.
What will you find at K-Park?
While the island is free to explore, there's background music the user can play and pause. Keep in mind that once you approach certain musical areas, you will hear sound in the background, even if you paused the main track.
There are also various collectibles that can help you upgrade your avatar. On the one hand, you have to collect music notes, while on the other, you need to collect hearts. The more hearts you collect by moving around the island, the more areas you'll get to unlock. Furthermore, the more points you collect, the more you'll climb the charts.
If K-Park kicks off successfully, we can expect to see more artists make use of this platform soon. Have you explored Spotify K-Park on Roblox yet? Let us know your thoughts.
Connect with us on Instagram  Twitter  YouTube for more content, interviews, & news.