The Korean music industry has seen a major shift over the last couple of years. With the number of artists and songs that keeps releasing every month, it is quite possible for us to miss some gems. But we got you covered! Namaste Hallyu is excited to introduce our latest segment, Artist you oughta know where we shine light on talented artists that we think have the potential to rise. Discover new music with us as we introduce you to some of the finest rising artists!
Starting off the series with the very talented, one and only, Aden!
Singer, songwriter, and composer Kim Changmin, who goes by his stage name Aden (에이든), is a Korean solo artist under MARO Records. He made his official debut on 24 April 2021, with the track 'Fall For You' and has since released many beautiful singles, both solo and collaborative. Based in Seoul, the artist started gaining listeners for his R&B and Soul music amassing over 69K monthly listeners on Spotify. Some of his notable tracks include 'Magnolia,' 'Our Memories,' 'Need You,' 'Happy Ending,' Without You,' and collaboration track 'UNBLOWN' with GIUK of K-Pop group ONEWE, among others.
Prior to his debut, he released two songs as a personal gift to himself before enlisting for South Korea's mandatory military service, which was set for May 24, 2021. Much to his surprise, the plans changed after fellow artist Saula reached out and encouraged him to pursue music officially. Did you know Aden's major was sports as he initially didn't have concrete plans to pursue a music career? Along the way, Aden transitioned deeper into the pop genre and released his first official full-length album 'Wish Upon A Star' on July 20, 2023.
Get ready to be swept away by his musical journey, as we dive deep into discovering the magic behind his soul-feeding music!
Namaste Hallyu (NH): Congratulations on your first full-length album 'Wish Upon A Star.' Could you describe your thoughts and feelings on it? 
ADEN: After the release of the album, I was really relieved and happy. Usually when my songs are released, I'm nervous and anxious. I feel a little down when the songs come out because there's usually a really high expectation for me related to my songs but it doesn't meet the expectations. I thought I would feel down since I put a lot of work in for 'Wish Upon A Star,' but this time was special. There were so many people giving me DMs, shout-outs on Instagram. Many of them even encouraged me. So I was happy this time and it was good.
NH: When and how did the album's creation set in motion?
ADEN: I started designing the album last year in November. To be honest, for an official full album, it didn't take a lot of time. At first, this wasn't scheduled to be a full-length album and we were going to keep it as an extended play, with six to seven songs. That was the time when I traveled to different oceans in Korea, taking some time to rest. Going through a variety of emotions with some people and I was writing songs at the beaches. I was really being myself in those lyrics. And I realized that these songs are the best way for me to introduce myself to the world by making an official album.
NH: Your album's narrative arc seemed like various stages of being in love. What was the story or message you were trying to convey?
ADEN: It is a timeline of the days from my travel to the beaches. If you look carefully, track numbers 5 and 6, 'LP Bar' and 'Night Walk,' make the first day. Then it goes from daytime to night as I do the night walk with the mood proceeding to the next day of my travel. The tracklist is similar to a guide for my two-day travel to the beach. It is also the process of entering a relationship, meeting some problems, and starting to hate someone but also being unable to hate them at the same time, because you like them. After the relationship ends, I start missing things and just want to tell them the message that what I felt was absolutely love and what we had was love, which is track nine, 'What We Had.' Later we go through an afterglow, and I hope we'll be meeting again someday. This was the message.
NH: Could you elaborate on the connection between 'LP Bar' and 'LP Bar (Missed Call)'?
ADEN: The last song 'LP Bar (Missed Call)' is the extended version of the original 'LP Bar.' In the original version, I don't declare my love. I want to but I don't, to keep the relationship as it is. Not aware of what's going to happen in the future, when we do get into a relationship, it could end in marriage or not, but there's always an end. When there's someone you love so much, you don't want the relationship to end. So sometimes you don't want to be frank with the feelings that you have, and you just keep that relationship going, as a friend. That's the story. But in the missed call version, in the end, a girl says on call "Okay, bye." Here, they finally say that they love each other and then that phone call ends.
NH: Each song contains different, heavy emotions. What kind of emotional journey did you want your listeners to experience while listening to your album?
ADEN: From a different perspective, I would say yes, there are many different kinds of emotions. It could be a little bizarre for some listeners. But at the same time, if I write only happy songs about love then what about the people who are feeling the exact opposite, even while being in love at the current moment? So I wanted to provide different dimensions and periods of love that everyone can relate to because not everyone shares the same momentum and timing when they're in a relationship. I just wanted to make this listenable for everyone. For the most part, I just wanted to be myself and show my listeners how I feel and what I'm going through. I just didn't want to hide things and that's the biggest part of the reason why I have so many different emotions throughout the album. I never thought that it would become bizarre and difficult to understand the different kinds of emotions that I let out in the album, and that is something I may have to think about in the future.
NH: Your album has 12 songs including two title tracks – 'Starry Night' and 'What We Had.' Is there any particular reason why these were chosen as the leading tracks?
ADEN: I wanted to shed more attention on these two tracks since I think they are the best. The first song that I wrote for this entire album was 'Starry Night,' and it started the story of this whole album. The last song that I wrote was 'What We Had.' That was the final process of the emotions I went through. The lyrics of 'What We Had' sing about how my friends are going past the lines, but I'm still reminiscing about the past, stuck there. Plus, even if listeners don't listen to the album from top to bottom, at least with these two tracks they can understand the emotions. Thus, I felt these two songs should be the title tracks.
NH:  Can you tell us more about 'Starry Night' MV and if there are any elements in the MV that represent something important?
ADEN: In 'Starry Night,' the fireworks represent other stars, while the ball of light, which is also a star, represents the person that I love. So out of all the different kinds of stars in the world, the person that I love the most is the brightest star that I have in this whole universe. For other people, I think it can have a larger understanding. Some people could relate to it as family or it could be their dream. There are lots of things that can be the "brightest star." But, if they could, I would like for them to relate it to the most precious person they love because the whole album's theme and meaning is about love. But if they can't relate, that's okay. As for me, I'd say, it is the person that I love.
NH: Whether it was songwriting or composition, you worked on every song in your album. How do you take an initial spark of inspiration and make it a fully-fledged song or album? Could you walk us through your creative process?
ADEN: In the past, I used to write songs that weren't from my experiences. But this time, the whole album's story is from my own experience. Every time I felt a different emotion, I started writing songs. For instance, let's take 'Hate You' from the album; I felt this feeling of starting to hate someone that I love the most because they did something I really didn't want them to do. But I just can't stop liking them, because I love them. I start by writing these emotions down with random sentences. I later create music for them with my piano and see where I can fit what. That's how the process unfolds. It's usually the lyrics that I start off with, definitely.
NH: What was the inspiration behind this album and its significance in your life?
ADEN: It's not one person. The inspiration comes from different parts of my life and different people. There were three different periods. So it could be the past for me or it could be recent. 'LP Bar's' inspiration comes from a person I used to like in the past and 'Starry Night' is from a different person. These memories and emotions from different timings put together became a muse for the album. But, there is one person that gave most of the emotions and inspiration for probably nine songs.
NH: How involved were you in the visual direction of the MV? How did it come together? Did Choi Jihwan's production and direction perfectly align with the outcome you wanted? 
ADEN: I didn't know Choi Jihwan then. I was looking for people who make music videos and found him on Instagram. I liked the colors he used and the videos he made, so I approached him. We decided to give it a try and met in March 2023. As an MV producer, he has his own style and as an artist, I have my own. To match each other's atmospheres, we discussed many ideas. The first idea that I gave was, I wanted to put a piano on the beach! Since the name of the song is 'Starry Night,' the video had to be set at night time, and we wanted to find a way to represent the stars. We initially wanted to put lanterns on the ground, but I was standing in the video and it wouldn't look pretty. Choi Jihwan gave the idea of fireworks. We had this process of throwing in ideas and matching things out. So I'd say the final directions he made were all his definitely, but I gave him ideas too and we worked things out together.
NH: How was it, working with Choi Jihwan? Did your energies match?
ADEN: We took the MBTI test that represents your personality! So the first thing is "Introversion" or "Extraversion," so it's an I or an E. And we were both 'I.' We couldn't talk things out like external people do. We were really shy. But later discovered our really similar taste in music and lots of things in common. We also traveled to a few beaches before deciding on the official one for the MV. It was a lot of fun, making jokes and fun of each other. In the process, we became really great friends.
NH: Were there any fun or embarrassing moments while shooting the MV? 
ADEN: It was hella embarrassing the first time! As I said, I'm really shy and Choi Jihwan wanted me to get used to getting filmed. He brought a huge camera to the beach and started filming me. We're not the only ones on the beach, you know? He then turns my music on loud and I had to start acting and dancing around. For the official filming, there were nearly five to six assistants who were helping out with the music video. It was my first time meeting them and I was really shy. So it was a hard time for me to get used to having seven people in front of me, having me walking around, and trying to do things. Acting was definitely not easy. For me. I think I'm not the kind of guy that can act. I'm a really bad dancer as well, but I want to be a good one!
NH: From the album or from your other releases, do you have a personal favorite? Something that holds a special place in your heart or stands out?
ADEN: My favorite one is 'LP Bar' because that one hit me differently, especially when I was writing my lyrics! Another one I'd say is 'Magnolia.' It's my favorite flower, which is why I have a tattoo [Magnolia flowers]. When everyone else is looking at Cherry blossoms in the springtime, I'll be looking at Magnolia. I just feel like that flower really represents my personality and just who I am.
NH: Romance is a reoccurring theme in your music. What draws you to write these songs? Your Instagram bio says "Visual Sound And Romance." Does it refer to something specific?
ADEN: I think, up to now, all my songs have been romantic. I don't think there are any different subjects. I really do not have a specific reason why I write so much romance, but I should say, love is definitely a big part of my life. I just like writing about love and what I feel. And regarding 'visual sound and romance,' it is actually a team that we have with my producers. It means that we want to put things that we see "visually" into sound. And we want to pursue romance. That's why it's V-S-N-R.
NH: Are there any other themes you'd like to explore? 
ADEN: It had to be romance this time for me, but in the future, I don't think it will only be romance. Recently I'm feeling really different things and deeper emotions, which are not related to romance. I'm starting to talk about myself, these days in the lyrics that I haven't released yet. For my next official album, I really want to write about family. This is the biggest subject I want to write about, but it's also difficult for me.
To be honest, I can't handle it since it's not the easiest to write down lyrics for. I'm taking time to process and understand my feelings. But this is something I really want to work on.
NH: What would you say are your short-term and long-term goals?
ADEN: My long-term goal is to be traveling around the world and doing world tours. I want to go to different countries and have concerts. As far as I know, K-Pop idols go abroad for concerts, but I don't see many independent artists going on world tours. I want to be someone like LANY or Lauv and do concerts in places like Japan, Malaysia, Canada, the U.S., India, and more.
The short-term term goal would probably be vinyl for my album. I really love buying vinyl and I listen to it all the time before I sleep. I have like 30 vinyls or something. It's a pretty decoration as well. It's on my bucket list, as an artist, I want to have at least one vinyl for my album.
NH: How did you handle growing up in two different countries with completely different cultures? 
ADEN: I lived in Victoria, DC (Canada) when I was five years old. We came back to Korea when I was like eight or nine. We went back in 2010 and came back in 2014. There was a lot of coming and going back, it wasn't easy. Making friends was the hardest thing. As soon as I made a best friend in Canada, I had to move to Korea. And when I finally made a close friend in Korea, I had to move to Canada. It wasn't even my option to move and it wasn't the happiest time, but I dealt with it. I think. As time passed, I got used to it and it helped me become the person I am right now. All the moving made me stronger.
NH: Since spoke about LP bars, we are curious. Do you go to LP bars a lot? Which is your favorite?
ADEN: Yes! I go to different parts of Korea and find really pretty LP bars. There are different kinds of LP bars. Some are really big with speakers two meters high, it's huge, and they have loud songs coming out. Some bars even have a DJ set up. But compared to them, I really like the small rooms at small venue shops. The aesthetics are orange highlights with a brown kind of texture. They also have that really good smell. I like having a glass of wine with soft sounds from the vinyl that is playing at these LP Bars. Actually, I went to a small vinyl shop in Busan and I wrote about that in 'LP Bar.'
I am kind of old school. There's a song called 'When You Wish Upon A Star' from Pinocchio. I have the original version of the LP, which came out in the 1960s. I like these old kinds of sounds. I think that's the perk of being a millennial!
NH: What kind of an artist do you wish to be, for yourself and your listeners?
ADEN: Back in the past, when I was doing R&B music, I really wanted to be unique and have a bar to reach. I thought that was who I was, but I don't think that's me anymore. After doing the pop genre I discovered who I really am and started being myself in my music, to my listeners, and everyone else. That's when I started doing Instagram Lives often. To my audience, I want to be a person who can be really easy to reach, really comfortable, and fun to watch. Sometimes people say that I'm cute but I don't really find myself like that. But, I like the way that they really find me comfortable and cute sometimes. I just like the part where we are really close. So that's the kind of person I want to be for them.
And for myself, like I said, I want to travel the world. I feel like I get lots of motivation when I travel. I want to be an artist that writes songs about the different things in the world, like a 'journalist-kind' of an artist.
NH: Which of your songs would you recommend to your new listeners?
ADEN: I'm not going to include many songs from the past, because I want to show myself as a pop artist working in the genre. The main songs I want to recommend are from the recent album, namely, 'Starry Night,' 'All The Time,' 'LP Bar,' 'What We Had,' and 'Afterglow.'
For more of Aden in the past, I'd say, 'Magnolia,' 'Rose,' and 'Happy Ending.'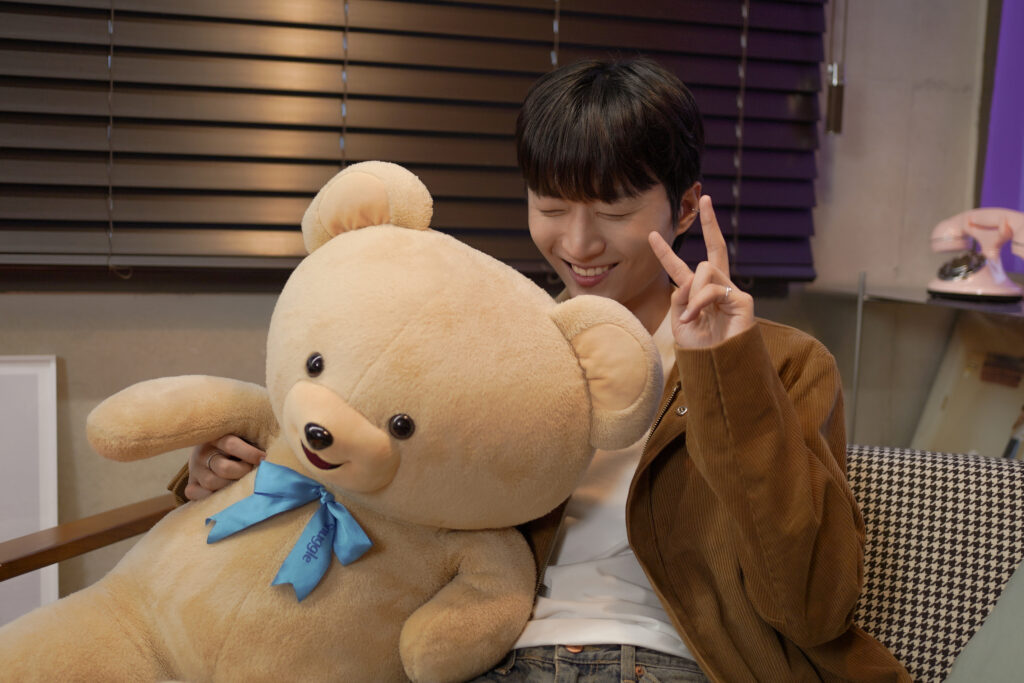 NH: Finally, please leave a message for our readers!
ADEN: When I started music, I didn't know what kind of artist I wanted to be. But after communicating with my fans, using different mediums, and the people around me, I figured things out faster. I wrote on my physical album CD "I couldn't have done this all without you." So I really want to say thank you for listening to my music and always supporting me on various platforms. I read all the comments and DMs, even though I can't reply to everyone. I feel blessed. I can't stress more about how thankful I am.
2021 and 2022 were version one of Aden. From now on, it's a different version and it's definitely better. So please keep in touch and look forward to my next album. It's brilliant. The songs that I have been working on for the next album are mixed with Pop and EDM. It's very new from my previous releases and it's really good. So I would love for everyone to look forward to that!
Artist Socials: Instagram | Spotify | YouTube | SoundCloud
Pre-orders for Wish Upon A Star's physical album started on 31 July at noon KST (8:30 AM IST) and ends on 13 August at 11:59 PM KST (8:29 PM IST). For further information, click here.
Let us know what you think about Aden and check out his music if you haven't already. For updates, news, interviews, and more stay tuned with us!
Connect with us on Instagram  Twitter  YouTube for more content, interviews, & news.