Honestly, we have been dealing with so many "What?!" moments ever since this week's episodes of High Class were aired. We have so many questions and even more theories and just cannot wait to get answers. If you haven't read the previous episodes review, you should do that because only then will today's review make more sense.
Review: 'High Class' – A Makjang Drama or Suspense Thriller? (Episode 1 & 2)
This was literally us throughout episodes 3 and 4:
WHAT?
NO WAY!!!
If you watched this week's episodes, I'm sure you know why we reacted like this. It was a whole roller-coaster ride. Episodes 1 and 2 had left viewers with many questions and a lot of theories regarding the characters. The same is true for episodes 3 and 4.
At the beginning of Episode 3, we finally know what happened before An Ji Yong disappeared from the yacht. We get a flashback of Yeo Wool in the police investigation room, where she told all the things that happened that night. And, as they never found his body, Yeo Wool was neither tried nor convicted.
Yeo Wool and Na Yoon's kids decide to join the Ice Hockey Club which leads to problems. This makes us question why are the mothers even allowed to be at the school almost all day? And why does the school let them interfere in how everything works? We have never seen a school that's run this way. It is so appalling to see the kids being pitted against each other by their mothers. Ji Sun wants to keep up the appearance that her kids are the best, and she'll go to any length to get that done. This can be seen by the way she tries to bribe Danny Oh to remove Na Yoon and Yeo Wool's kids from the team.
Meanwhile, Yeo Wool hires Private Investigator Oh to know the answers to some of her questions. She sees the recording of the night when her son was locked in the school locker. She confronts Do Young but instead discovers the actress having an affair with the Star Chef, Jung. One thing leads to another, and we see a sort of bond evolving between the two of them. But this also opens up Pandora's box of secrets and lies. We are privy to some of the secrets, and others are yet to be revealed. Turns out Cha Do Young, Hwang Na Yoon, and Nam Ji Sun all know An Ji Yong!
Keep your friends close but your enemies closer!
Na Yoon really did justice to this saying by befriending Yeo Wool even though she's the one who hates the former the most. Many viewers (including us) figured that she was Ji Yong's mistress and that she was the one who locked Yi Chan in the locker, but we don't think a lot of us knew the depth of her hatred for Yeo Wool and her son. But at the same time, something seems off about her character. Her intense hatred might not just have to do with the rumour about Yeo Wool killing Ji Yong. When Na Yoon said "There is someone I want dead," we presumed she was talking about Ji Yong. But, it is Yeo Wool she wants dead, and she might even try to kill Yeo Wool in the next episode.
Introduction of New Characters 
Koo Yong Hwe
A police officer who was investigating Yeo-Wool's husband's case. He suspects Yeo-Wool for the death of her husband, and even after the case was closed, he told her that he would be watching her. 
Private Investigator Oh Soon Sang 
He is hired by Yeo Wool to investigate her husband and the people who were close to him. She can only contact him via text or mail. 
Jung Mi Do 
Chef of Cha Do Young's cafe. He knows Yeo Wool because she was a regular customer at his restaurant in Seoul. He is having an affair with Cha Do Young.
Theories and Mysteries
1. Is An Ji Yong really dead?
Following from last week's theory, we now have even more hints that make us believe Yeo Wool's husband is alive. One, his body was never found. The police only found his white shirt, which seems very suspicious. The night he disappeared, he asked Yeo Wool "You trust me, right. Then wait for me to make everything right."
There is no way he'd have said this if he was planning on jumping in the water. So, our theory is that he was saved by someone he trusted, and now is pulling the strings from his hideout. This leads us to our next theory.
2. Who is the person on the motorbike?
There is a person who is following Yeo Wool and is taking her pictures. We know it's not Na Yoon or Do Young who sent him. So it could either be Ji Sun or … The person who sent him is Yeo Wool's husband.
We think that the person who's keeping tabs on Yeo Wool is probably Danny Oh. In fact, the private investigator also has the same surname as Danny, either Danny is the P.I., or they're somehow related. Regardless, the two of them are people to look out for. The fact that he seems to have a strong enough connection with the chairwoman to not get kicked out by Ji Sun, also points to the fact that Danny, too, might know Ji Yong and has been sent by the latter to this school.
3. Who is Sim Ae Soon?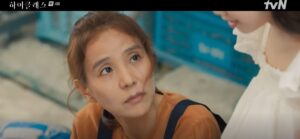 She has been suspicious from the time Yeo Wool visited the community centre and even told her, "Someone who was not supposed to move in, has moved here." It seems as if she knows something about Ji Yong's past and also somehow knows Na Yoon. Ae Soon was really kind to Na Yoon's daughter, but when Na Yoon saw her, she was shocked. We also think that she might be Na Yoon's mother.
4. Is Yeo Wool in on her husband's plan?
She didn't tell the police a lot about what happened that night, and though she's a lawyer herself, she didn't help in the investigation at all! In fact, she presumed her husband to be dead and held a funeral?
A person who is as capable as she seems to be, why would she intentionally make things hard for herself if she could easily get out of the mess by helping with the investigation? Maybe she knows that her husband is not dead. She doesn't understand the reason why, and so she is trying to solve the mystery.
5. Whose side is the Chairwoman on?
Out of everyone, the chairwoman is the shadiest because we cannot read her. Is she on Yeo Wool's side or Ji Sun's or Ji Yong's or is she controlled by someone else altogether or is she the one controlling everything?!
She seems to be helping Yeo Wool, but at the same time, it feels like she's also trying to please Ji Sun. At the end of episode 4, when the chairwoman met Ji Sun, she said, "We are in the same boat and we need that woman for now. Please trust me and be patient until I handle this matter" and that only confused us more. 
6. What is up with Danny Oh?
Danny has been getting close to Yeo Wool, and we cannot help but wonder about his motives. He was also discussing a "task" with the chairwoman, which makes him quite suspicious even though he has been supporting her. We can't help but think that his interactions and meetings with Yeo Wool before getting placed at HSC could also have been staged.
Verdict
High Class is full of suspense and secrets. The beginning of the third episode was a bit slow but then the plot picked up the pace with some secrets getting exposed, and leaving the viewers both shocked and excited. All in all, we can conclude that everyone on the island is shady, and Yeo Wool's encounters with all these people are no accident.
The storyline is quite amazing, and we are waiting to know the secrets that will be revealed in the upcoming episodes.
Well, that's it for episodes 3 & 4. Are you watching this drama? What do you think about it? Let us know in the comments or tweet to us. We'll see you next week with episodes 5 & 6!
Connect with us on Instagram  Twitter  YouTube for more content, interviews & news
By Ileeka Pal & Kanan Agarwal