Bo-ra! Deborah (보라! 데보라) is an ongoing rom-com series starring Yoo In Na as Yeon Bo Ra in the title role, along with Yoon Hyun Min as Lee Soo Hyuk, Joo Sang Wook as Han Sang Jin, Hwang Chan Sung as Noh Joo Wan, and Park So Jin as Lee Yoo Jeong. It premiered on ENA on April 12, 2023, and airs every Wednesday and Thursday at 09:00 PM KST (5:30 PM IST). 
Plot Summary
Bo Ra is a well-known dating expert and influencer. She frequently shares great strategy dating advice on social media, TV, and radio. Because you can have it all, why give up on either your career or your love life?
CEO of a publishing company, Han Sang Jin, notices Bo Ra from a commercial viewpoint. But Lee Soo Hyuk, his co-CEO and best friend, doesn't understand Deborah's hype since he disapproves of Bora's frequent advice to be strategic in romantic relationships.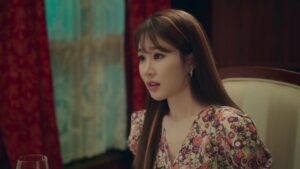 Despite dating Noh Ju Wan for three years, Bo Ra has not yet proposed. This is in contrast to her closest friend Lee Yoo Jung and her spouse Yanh Jin Woo, who were married without receiving an appropriate proposal. On their third anniversary, Noh Ju Wan intended to reveal something that has raised Bo Ra's hopes for the marriage proposal, but instead, he revealed that his business, Mom's Chicken, had bought Pizza Universe. Bo Ra is disappointed.
Bo Ra appears on the radio where she offers advice to listeners who message in their love-related questions. She gives a radio staffer some advice. While shopping for a ring, Bo Ra ran across Lee Soo Hyuk, who was also buying a ring for his girlfriend. He became irritated by Bo Ra's counsel and decided to purchase the ring she was wearing. After leaving, Bo Ra receives a call from her closest friend saying that she spotted Ju Wan at a jewelry store, which helps to clear Bo Ra's head.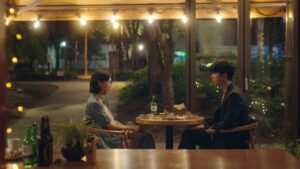 Soo Hyuk goes to the cafe to meet her girlfriend and to propose to her but his girlfriend turns out to be an employee from the radio show. She breaks up with him and leaves.
Deborah is on her way to the meeting, but Soo Hyuk said she wouldn't work with her at the publishing company. Bo Ra and Yoo Jung ponder Ju Wan's delayed proposal as they make their way to the meeting. Bo Ra and Yoo Jung overheard the discussion in which Soo Hyuk mocked Bo Ra and even called her a scam artist. Soo Hyuk is confronted as she arrives. She and Soo Hyuk argue about whether she is a love expert and if there may be victors and losers in dating. Bo Ra consents to work on the book with the corporation despite their jokes.
They are all taken out for treats by Sang Jin after dinner and the karaoke bar. Bo Ra asked if Soo Hyuk gave his lover the ring. He hasn't yet, and he won't explain why. He thinks that a woman should request a ring if she wants one so much because it's difficult for a man to do so. Bo Ra chooses to approach Ju Wan herself after considering this advice. Soo Hyuk dashes after her as soon as he realizes his phone has been exchanged with Bo Ra's.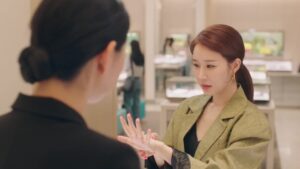 Bo Ra is eager to propose to Ju Wan first and can't wait to see him. Realizing that her phone has switched, she is unable to reach Ju Wan. When she visits his home, she notices a vehicle parked at the gate. Ju Wan is kissing a woman inside. When Soo Hyuk approaches her from behind to hand her the phone, she is still standing in disbelief.
Cast
Yoo In Na as Yeon Bo Ra/Deborah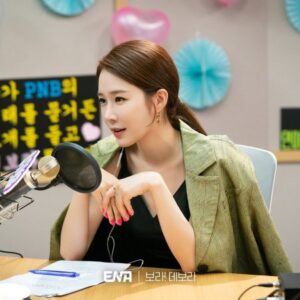 A celebrity novelist with a top-selling romance novel who is also a dating influencer. She provides advice on how to live romantic lives.
Yoon Hyun Min as Lee Soo Hyuk
A fussy yet endearing publishing manager who dislikes Bo-ra, but changes when he unintentionally becomes involved with her. He believes that she is to blame for his girlfriend leaving him.
Joo Sang Wook as Han Sang Jin
Soo Hyuk's best friend and business partner is the representative of the book publishing house Jinri. He wants Bora to work with him.
Hwang Chan Sung as Noh Joo Wan
Bo Ra's lover is the owner of a famous chicken franchise. He is constantly preoccupied at work.
Park So Jin as Lee Yoo Jeong
Bo Ra's best friend is a lifestyle magazine feature editor. She also works with Bora.
Verdict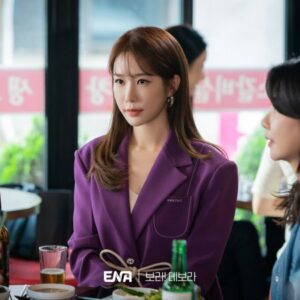 Although Bo Ra and Soo Hyuk have different views on love, their attraction to one another may be sparked. Bo Ra has to leave her love life so she can investigate. I'm not saying she's not doing correctly, but it would be better if it didn't involve a love life specialist. We've seen what happens when Soo Hyuk chooses intellect over emotion: he ends up sad, drinking, and blaming himself. But he'll have to have the ability to let down his barriers and express his emotions. Overall, the drama is lovely, and the episode is strong and off to a wonderful start!
And that's it for episodes 1 & 2. Are you watching this drama? Are you enjoying it as much as we are? Let us know in the comments!
Connect with us on Instagram  Twitter  YouTube for more content, interviews & news