A Girl Who Sees Scents also known as Sensory Couple (냄새를 보는 소녀) is a 2015 South Korean television series adapted from KTOON webtoon of the same title. It aired on SBS from April 1 to May 21, 2015, and the star cast includes Park Yoo Chun, Shin Se Kyung, Namgoong Min, and Yoon Jin Seo. The series is a mix of romance, suspense, and fantasy.
Plot Summary
When Choi Eun Seol (Shin Se Kyung) returns home, she discovers her parents have been murdered. She manages to flee while the murderer is distracted, but she gets hit by a car. The Barcode serial killer is suspected to have killed Eun Seol's parents since they were found with a barcode carved into their skin. Oh Jae Pyo (Jung In Gi), the case's lead detective, understands that Eun Seol, the now-comatose daughter, is the only surviving witness.
Choi Moo Gak (Park Yoo-chun) is at the hospital on the same night, visiting his younger sister (Kim So-Hyun), also named Choi Eun-Seol, who is recovering from minor injuries sustained in a bus accident. However, when he returns to her bed, he discovers her dead, her throat sliced.
Eun Seol awakens from her coma six months later. However, she has no memory of her life prior to waking up in the hospital, and her left eye has gone green for no apparent reason. She's also developed the remarkable capacity to 'see' scents as apparent colours and forms, and can even follow people's scent trails to see where they've been. To protect her, Jae Pyo adopts her and creates a new life for her, claiming to be her biological father and calling her Oh Cho rim. After three years and six months, Cho Rim is now a pleasant girl who has adjusted to her abilities. She aspires to be a comedian and works as a gofer for Frog Troupe, a small, struggling theatre company.
Moo Gak, on the other hand, had been so disturbed by his sister's death that after two months of no sleep and relentless suffering, he had fainted and remained clinically dead for ten days. He had lost his senses of smell and taste and was unable to feel pain when he regained consciousness. Moo Gak is now serious, emotionless, and speaks in a monotone, in contrast to his earlier warm nature. He quits his job at the aquarium to become a cop, pledging to resume the investigation and apprehend the killer.
But, to do so, he must first be promoted to detective and then prove himself to Detective Kang Hyuk (Lee Won Jong), the chief of the homicide section, in 10 days or he will never be promoted again.
Cho Rim also requires a skit mate for her upcoming audition in ten days, and then they decide to team up when she agrees to help him with his cases in exchange. After a model (Park Han Byul) is found dead, seemingly another victim of the Barcode serial murderer, Moo-gak joins Lieutenant Yeom Mi's (Yoon Jin Seo) inquiry and focuses in on two potential suspects: the model's boyfriend, chef Kwon Jae Hee (Namgoong Min), and her doctor (Song Jong Ho). Will they be able to track down the barcode's creator?
The Main Cast 
Park Yoo Chun as Detective Choi Moo Gak
Following the murder of his sister, Moo Gak is eager to become a police inspector and seek revenge. He has been numb, and he can no longer smell or taste his food, nor can he sense pain. He met Eun Seol, who helps him in subsequent cases.
Shin Se Kyung as Oh Cho Rim/Choi Eun Seol
Cho Rim was the main witness to the barcode serial killings when her parents were killed. After getting into the accidents, she acquires an unusual capacity to sense scents as patterns in the air. She forms a team with Moo Gak, and both of them work together to solve the barcode killings.
Namkoong Min as Chef Kwon Jae Hee/Jay Kwon Ford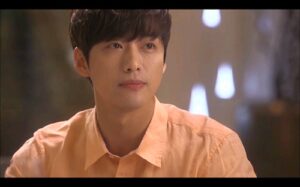 He owns and operates a restaurant. He has a fantastic personality, but he suffers from face blindness (inability to see the face of others as it keeps changing in his eyes). 
She's a lieutenant who's been working on the barcode case for a long time, looking for the case's single witness. While trying to solve this case, she meets Eun Seol and Moo Gak.
Why you should watch this?
For starters, our leads have a good romantic comedy vibe, and they are simply too cute! Moo Gak is entertaining to watch regardless of his lack of feelings and emotions. Cho Rim, on the other hand, is lovely, adorable, and relatable. This couple has great personalities and is a treat to see. The Girl Who Sees Smells isn't very dramatic but does exactly what it has to do to provide a delightful trip from beginning to end. This drama has left a lasting impression on me, and whenever I think about this drama, only wonderful recollections come to mind. Various unique 'abilities' have been investigated in order to create interesting series, and one of them is visualising scents rather than smelling them.
Have you watched this drama yet? Do let us know your opinion!
Connect with us on Instagram Twitter   YouTube for more content, interviews & news
By Kanan Agarwal