Episode 8 ended with Jae Eon asking Nabi "Do you want to go see butterflies?" I certainly would be lying if I said said that scene didn't give me butterflies!
"Nevertheless," Review: Will Nabi Be Swayed Again By Jae Eon's Unyielding Attempts To Get Her Attention? (Episode 8)
It has always been girls going behind Park Jae Eon, but now the tables have turned. For a change, it's nice to see THE Park Jae Eon's heart pine a little for someone.
Nabi and Jae Eon
"Want to go see butterflies?" 
Well she didn't go see butterflies with him, but they did hit the pub. Nabi was drinking a lot and her crankiness was very noticeable. Jae Eon had no idea about her getting disqualified for the student exchange program, and all he could think of was about her and Do Hyeok. She wasn't really focusing on Jae Eon, she really didn't care at this point. But all Jae Eon could care about was "Nabi keeps looking somewhere else instead of looking at me."
"Do you like him?" 
"Why aren't you dating him?"
Jae Eon was pretty bothered with Nabi's divided attention and starts to ask her about her feelings for Do Hyeok. In this scene, I really felt bad for how junky she felt about herself, for having a no-strings-attached relationship with Jae Eon. I personally think there is nothing wrong with relationships like this, as long as consent is involved from both/all the parties. Her only mistake was, she really didn't think this through and acted in spur of the moment a handful of times. This was not her, and this was not something she could handle. Though this is mostly her fault, I still do feel bad her inferiority complex and really hope she can get past it.
He follows her home to take his things. Outside her place, at a distance he noticed Yang Do Hyeok who was deeply disappointed to see them outside her place. I really didn't like this scene because Jae Eon's actions were petty and even a little sly. Even when Nabi asked him to wait outside, he insisted on going inside with her just to spite Do Hyeok. This further leaves room for him to assume/ have wrong impressions about Nabi, and this is what I hated the most in Jae Eon.
Even after she told him how badly she fears she'll disappoint Do Hyeok, he compromised Nabi for his deceit.
Do Hyeok was in tears…🥺🥺🥺🥺🥺
"Let's Date"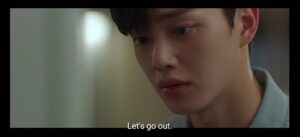 Jae Eon has already told her a few times about how he felt for her. This time he made it clear. He finally asked her out.
All this time Nabi only wanted him to be her boyfriend, to date him like how normal couples do, have a sweet relationship. She finally got what she wanted but the timing was just messed up.
I'm starting to really like how Nabi is putting an end to his mixed signals and her mixed feelings.
Lately things have been pretty rough for her and it's starting to affect her work performance. For a while we can see how she's been trying really hard to keep up with her work, but ends up disappointing her professor who believes in her and her talent.
One of the best ways to end the drama would be to show Nabi working hard on her projects and producing an amazing piece, where we can clearly see her emotions and her dexterous skills in her art.
Jae Eon's Attempts Don't Stop
He starts realizing that Nabi really is moving away from him. She spends more time with Do Hyeok, both in person and online. He even saw them having lunch together in the campus (previous episode).
Jae Eon didn't mean to eavesdrop exactly, but he happened to listen to her talking to Do Hyeok and that's how he learned that Nabi did not get accepted for the student exchange program. That's when realization hit him more, the reason she was upset in the pub that night was this. It hurt him to know that she hid this from him.
With all of this happening, he found the perfect opportunity to give her the handmade butterfly bracelet he made for her. It's sweet how he keeps gifting her all the handmade stuff. If only things weren't this messed up…
I was expecting her to politely deny the gift but looks like she was still contemplating since he asked her out, and maybe felt he could be sincere for once.
While Nabi was still dealing with her shaky romance life,
OUR FAVORITE SHIPS HAVE SAILED!
❤️⛵❤️⛵❤️⛵❤️⛵❤️⛵❤️
Yoon Sol and Seo Ji Wan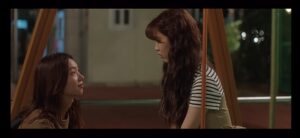 Ji Wan confided in Nabi about her relationship status, of course she couldn't yet reveal it was Yoon Sol, but speaking with her gave Ji Wan some clarity. On the other hand, Nabi figured it out herself, the girls were being a little obvious. Also given how the girl gang is really close, and since Ji Wan keeps sharing things with Nabi, it wasn't hard to piece it.
THIS SHIP HAS SAILED AND WE'RE CELEBRATING!
Join our prayer circle for a kiss scene.
🕯️🕯️🕯️🕯️🕯️
Ji Wan's fear of losing her best friend after a break up (if they ever happen to have one) was all washed away when Yoon Sol assured that her feelings will never change. So cute!!
The only thing I didn't expect was that they would get together this soon. In the previous episode, Ji Wan said she doesn't know how she feels yet, but now they're together. The timing is pretty quick. So remember this because we have something to discuss about at the end of the review, which involves this point.
Speaking about Yoon Sol, after so long Ju Hyeok showed up. Missed this cutie!
I'm guessing after this episode we probably won't be seeing him again. Before Sol's ship sailed, Ju Hyeok asked her out and she obviously didn't accept. She further told him that she likes someone else. Now that she's with Ji Wan, we probably wont be seeing him much.
I'm a little sad that screen time for him was just too less. I was expecting him to have a reasonable amount of  role in the drama. In the end it just felt like this character was brought in to open up that "jealousy" factor for Ji Wan that led to the girls opening up about their feelings. If this truly was the aim or purpose of Ju Hyeok's character, I really feel it is unnecessary. They could have used a better story line maybe? But now that the production team brought the character in anyway, I feel they haven't done justice to it.
I'll leave it as this, who knows he might appear again though I feel it's most likely not gonna happen.
Bit Na and Gyu Hyun
What is this? What is happening? How are all the ships sailing in the same episode?!
Though this makes me really happy, it also arises some concerns. Another point you should remember for the discussion that awaits you at the end.
Bit Na gets jealous after she gets to know that the gaming center Gyu Hyun works at is attracting many women. She happens to meet her old gym trainer and invites him to the gaming center. We all know what happens there!
Bit Na noticed that Gyu Hyun saved her name as 'Oh My Sunshine' UwU UwU UwU
Realizing that he still likes her, she steps up and asks him out on a date and both of them make up. She even ordered limited edition couples keychains for them!
Gyeong Jun and Min Young
Looking at the speed at which all the ships are sailing, don't be surprised if they sail in episode 10, haha!
Bye Bye Sol-A
Sol-A decided to give up on Jae Eon after seeing changes in him i.e., him liking Nabi for real. She realized that this was her cue to leave and further decided to never again meet him. Before leaving for the States, she throws her lighter in the trash can, metaphorically meaning that she's leaving every bit of her feelings for him in South Korea.
Note: The lighter is the same as Jae Eon, with a customized butterfly same as his neck tattoo.
Why does it feel like the production team is closing all loose ends?
Nabi and Do Hyeok
Do Hyeok meets up with Nabi to give her the album of photos he printed out for her. While walking her home he admits that he got really jealous when he saw her the other night with Jae Eon.
"Nabi. I really wish you were happy. But Park Jae Eon…
Have you felt, even once, that he sincerely likes you?" 
Do Hyeok recently met up with the assistant manager of GKC Entertainment, who seemed to loved his cooking channel on social media platforms. They offered him an exclusive contract to grow his social media presence. Do you think he'll take this offer?
Jae Eon's Realization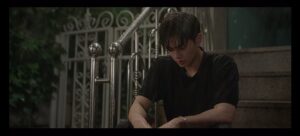 On her way back after meeting Do Hyeok, Nabi finds Jae Eon waiting outside in the rain for her.
Prior to the release of this episode, production team had dropped a few teaser stills. Looking at that I was expecting a romantic scene for the leads but…wow…I really didn't expect such and ending, BUT I LOVE IT!
*Alexa, play I LOVE IT*
Jae Eon was tipsy.
They get into an argument with Jae Eon saying things like,
"Am I boring to you since you have someone else now?" 
"Does he still like you even after seeing us enter your house?" 
"Incredible. Is that why you choose him instead of me?"
She was in disbelief with his behavior that he saw Do Hyeok the other day, the same day she told him about wanting to be a good person in the eyes of Do Hyeok and not disappoint him, and yet Jae Eon let her down.
That seemed to have hurt Jae Eon, since Nabi totally regrets her relationship with him. I get that he's hurt, but he did lose his words. He really could have handled it better.
Nabi was done. She bluntly told him that she's had enough with his misleading signals, him double-timing her, and she completely regrets this entire relationship. She blames herself for keepings her hopes but now its over.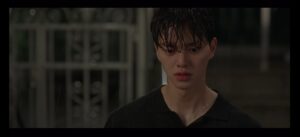 Verdict
Why wont he just tell her that she was under the wrong impression? He wasn't double timing her and Sol-A. And it's only natural for Nabi to react that way, if he isn't going to clear this up.
It's hard to say if he asked her out because he's ready to date or if he didn't want to lose her to Do Hyeok. But I believe that he genuinely likes and cares for her and there are several instances that can back this up. What do you believe in? Do you think he likes her?
Okay now let's get into the main discussion. I listed out a number of reasons on why we might have a 2nd season, but episode 9 is giving me second thoughts.
Firstly take Sol-A, she is Nabi's main rival in the race to win Park Jae Eon. Now she's flying back to the States and further cut off ties with him.
Next, our favorite ships are sailing. I was expecting the plots for Bit Na & Gyu Hyun and Sol & Ji Wan to slowly, but properly take off. I really wanted to see some detailed scenes with more butterflies in store for us. But both the ships have come across their bottlenecks and have worked things out.
Ju Hyeok, who had disappeared for most part of the show suddenly appears but with how things went for him and Yoon Sol, his chapter sort of ends there.
It feels like the production team has decided to attend to all the loose ends, leaving us viewers with two questions,
How is this drama going to end?
Will there a be a season 2?
Like I've already mentioned, I do know how the webtoon ends. Looking at how things are folding up in the show, I won't be too surprised if episode 10 marks the end of "Nevertheless," completely.
But if that were to happen, it would be too abrupt, intend making this drama a boring one. And if we have a season 2, I really cannot guess how the plot would be.
I do sincerely hope episode 10 ends with distinctive things, with or without an opening for season 2. I have been so excited for this drama and totally loved the feels and vibes in the first two episodes. It would be a shame to witness this drama to dip big time. I have some hope, I always do, but Team NH is preparing for disappointments.
Let us know your thoughts in the comments below!
See you for the last episode!
P.S. We're really enjoying the drama's behind the scenes!