Johnny Suh, a member of the K-Pop group NCT received global attention when he attended the World's largest fashion charity event 'Met Gala' held in New York, USA on the 2nd of May.
Being the only K-Pop member at the event, Johnny was seen dressed in a black ensemble designed by Peter Do who was also making his first appearance at the Met Gala.
Popular celebrities such as Blake Lively, Ryan Reynolds, Billie Eilish, Kim Kardashian, Katy Perry, Nicki Minaj, Shawn Mendes, and many more graced the red carpet in stunning designer couture.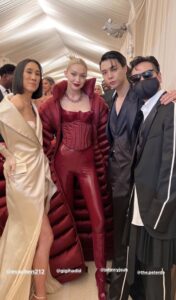 "I have been on many red carpets. I think this was the first time that I was really nervous because I didn't know what was going to happen in there," Johnny explained in one of his interviews.
A US market research company Netbase Quid published its rankings of the most mentioned men and women on social media during the 2022 Met Gala, and Johnny was selected as the artist who received the most number of mentions with over 240,000 mentions with the second most mentions in the male category being 48,000.
After posting a few pictures with celebrities on his Instagram stories, Johnny also expressed his gratitude and thanked his fans quoting, "NTCzens are the besssttt."
Later on May 7th, Eva Chen, the director of fashion partnerships at Instagram and a children's book author did an Instagram QnA where she answered fans' questions. She stated, "There's more Johnny content to come but honestly he was incredibly gracious, stylish, polite, and TALL wow" when asked, "How was your acquaintance with Johnny?" She also asked fans to stay tuned because there's more of Johnny content coming up. NCT's YouTube channel also posted a video of him getting dressed for the Met. A series of various other posts by those who attended the event son followed through the later days.
What are your thoughts on Johnny at the Met Gala?
Connect with us on Instagram Twitter YouTube for more content, interviews & news