Woosung Is Confident Being "Lazy" in his latest comeback!
Woosung has finally made his most anticipated return with the release of his new single, 'Lazy.' The artist known for being the leader and lead vocalist of the Korean band, The Rose, made his debut as a solo artist in 2019. With his first mini album 'Wolf' along with the single, 'Face,' the singer captured the hearts of many. The release had a huge impact among the fans irrespective of fandoms and after almost a year of wait, he is back to ease us with soothing vocals and irresistible cooing.
The Single:

'Lazy' might be a perfect anthem to anybody who wants to take a break from the ever busy world. With a chic bassline and mellow instrumentation, the single stays as an aesthetic listen in our playlist. The song also features a rap verse from Show Me The Money rapper, Reddy. The song highlights the importance of spending both productive and unproductive days. "It's annoying so I do everything quickie quickie/ I eat and why do I drink coffee after that?/ Let's just please go home now," goes the lyrics, making it more relatable to every struggling individual. In the current world, it is easy to get frustrated for not being productive or creative while being strangled by multiple tasks or when you're doing something which you don't really love. And so, to all those troubled souls, Woosung gives an empathetic track to vibe along.
"I have always been lazy in some ways, pushing things off that didn't interest me as much. The only thing I wasn't lazy for was music, so I wrote a song about it. I think we can all relate to our inner laziness and appreciate both when we are being lazy and being proactive. Balance is key." – Woosung while talking about his inspiration behind the track.
As the song continues on, we see how the act of Woosung stepping out of the house slowly shows his transitions as tries to build himself up and do things. In this scene, we see him sporting bright casual sweats with his expressions also looking brighter as he tries to play along and learn the dance routine. 
Reddy's featuring in this track is an added bonus for the fans as he does a great job. His rapping doesn't come as overpowering, rather it sounds soothing to the ears. Reddy's, "But there's so so much I want to do so I don't want to rest/I tell you about my life and live through another day"  hits us differently as we also see how Woosung transitions from speaking about being lazy to questioning about it and finally deciding to own it. 
It is at that point, we hear him singing, "You can call me lazy all day/Cause its so amazing" as he shifts his persona from being lazy to being energetic.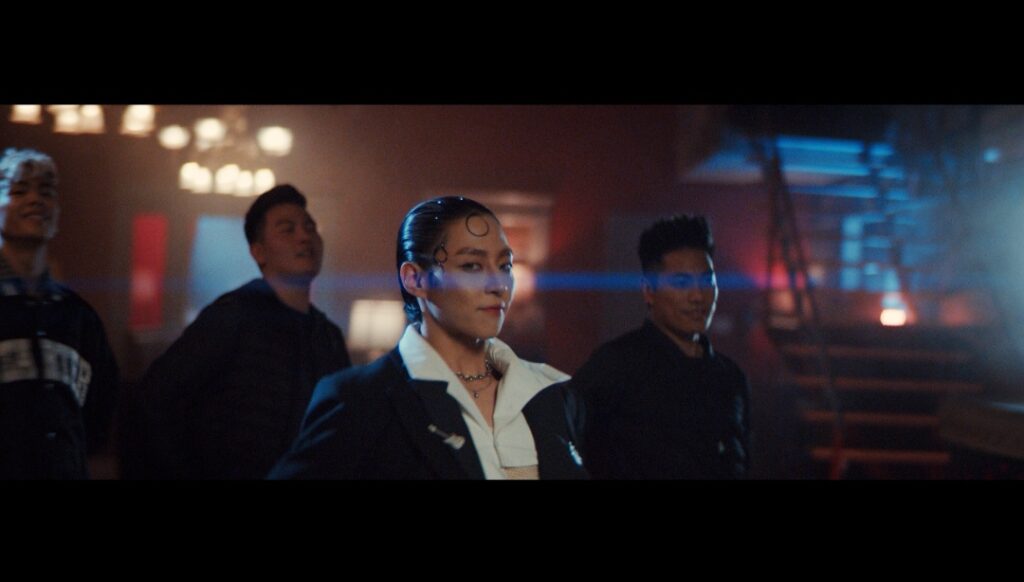 The outro of the song also voices out to the haters as the singer confidently proclaims, "You're caring about other people's lives? Wow/ Thank you, thank you/ Shining bright city lights/ You haters make me rise." The track ends with a more confident note, as the singer encourages us to accept ourselves and enjoy every day irrespective of how productive or less productive it turns out. 
The Music Video
Although the Music Video intends to set a gloomy vibe that attributes to being 'Lazy,' the colourful wall behind was aesthetically pleasing and the music felt comforting instead. The opening of the video is relatable to every listener as Woosung finds himself struggling to get out of bed and start off his day. Though it is a hard day to move a muscle, Woosung manages to do the things that he is supposed to do, gets out of his house and starts off his routine. When the viewers get comfortable with the "Lazy" Woosung, the music video shifts to a night scene where we spot the artist groomed in a fancy suit while partying with his friends. The music video then ends with a bolder note, as we see the group enjoy life effortlessly while sending a message. 
Final Thoughts:
With 'Lazy', Woosung has tried to convey the message that we can all have days when we don't feel like doing anything and the message has been well received. Unlike 'Face', 'Lazy' does give a different vibe and it definitely has a different message but at the same time, it reminds one of the distinct tone of music that we hear from Woosung – his electric guitar tones, thus giving us a sense of familiarity and making this song even more relatable. 
'Lazy' is a perfect track to embark Woosung's return as a solo artist and signals the beginning of a new multi-genre music journey that hints at more to come in 2021. Woosung's musical journey seems to have just begun and it looks like we can expect many more music and genres from him. For us, 'Lazy' is already a part of our playlist and we hope we get to listen to more amazing releases from him in the near future!
Woosung's single is now available on all streaming platforms! Shop for Lazy Merch by clicking here 
Have you listened to Woosung's latest single? What are your thoughts? Let us know in the comments! Find us on Instagram Twitter   YouTube for more content & news!