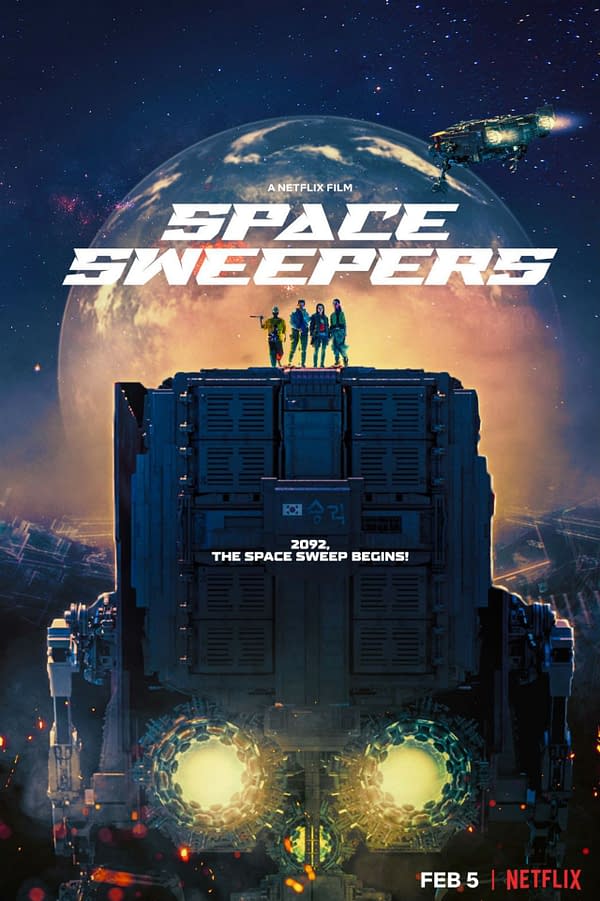 If you love movies like Guardians of the Galaxy and Star Wars, then Space Sweepers is just the movie you need to watch. If you are here for the cast, then Space Sweepers has got you covered!
Cast: Song Joong Ki, Kim Tae Re, Park Ye Rin, Richard Armitage, Yoo Hae Jin, Jin Seon Kyu
Running Time: 2hrs 16 mins
Available On: Netflix 
[SPOILER ALERT]
Under So Jung Hee's direction the plot for 'Space Sweepers' is set much ahead in the future- Year 2092, a time when Earth started witnessing massive deforestation and the sun scorched her to such an extent that the sun began to fade and the acidic content in the soil became the reason for the death of all the plants. Every day Earth was getting more and more unhealthier and the air became completely contaminated, that people needed to wear gas masks to able the breathe. The UTS Corporation comes to the rescue of the people, or so they thought, and build a new home for human life in space. But not everyone could go to space unless they are rich or they have great abilities that makes them qualified to ascend on this new home and among the people who made it, legally and illegally, 'Victory' was one of them.
Humans after ruining the Earth, started occupying the space and other planets, but still did not learn the importance of proper waste disposal and even Space was full of trash, filled with scrap metals, dead satellites, construction leftover, etc and the very job of space sweepers was to find and remove these scraps in order to make a meal, while having to put their lives at stake to chase space debris.  
'Victory' is team comprising of an ex-UTI Space Guard, former engineer-fighter, former drag cartel owner who fled Earth to escape jail and finally a robot. The story revolves around the Victory members who are the the best team of space sweepers available and during one of their quests to find scrap mental for money, they encounter something that they never would have imagined. 
Ex-Space Guard Tae Ho (Song Joong Ki) is looking for someone and in order to accelerate his searching progress, he joins 'Victory' and lives on very little to nothing but puts all his effort to find a little girl's corpse, that he has been looking for almost three years now. Every time he hears about the arrival of a dead body that fits even one of the descriptions, he always takes his chances and always gives up even the last bit of what he has to confirm with his own eyes.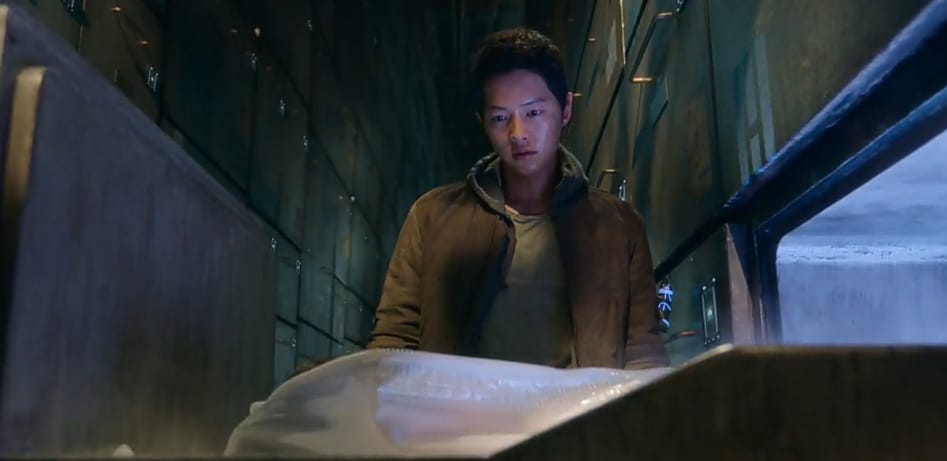 In their latest space debris chase, they snatch a crashed space shuttle and inside the cargo bay, they find a seven year old girl hidden away among the air bags. The last thing that they would want is a missing child but even before they could make up their mind regarding what to do with the child, they come across some very shocking news about the child, whose name is Dorothy.
She was none other than the missing android, walking bomb 'Dorothy' whom the UTS authorities have been searching for after she was kidnapped by the Black Foxes, a terrorist organization. The news said that the she just looked like a silent child but can be a devastating weapon that has the ability to cause mass destruction.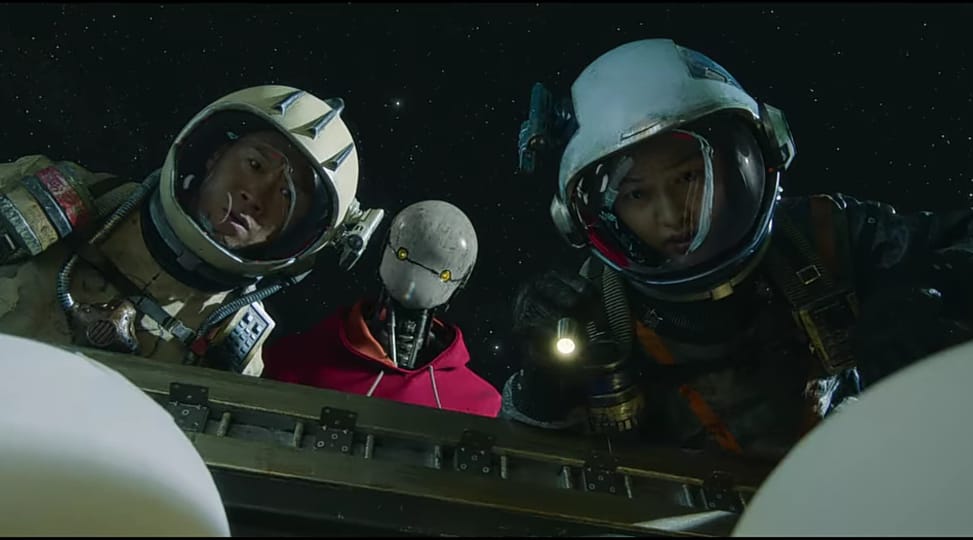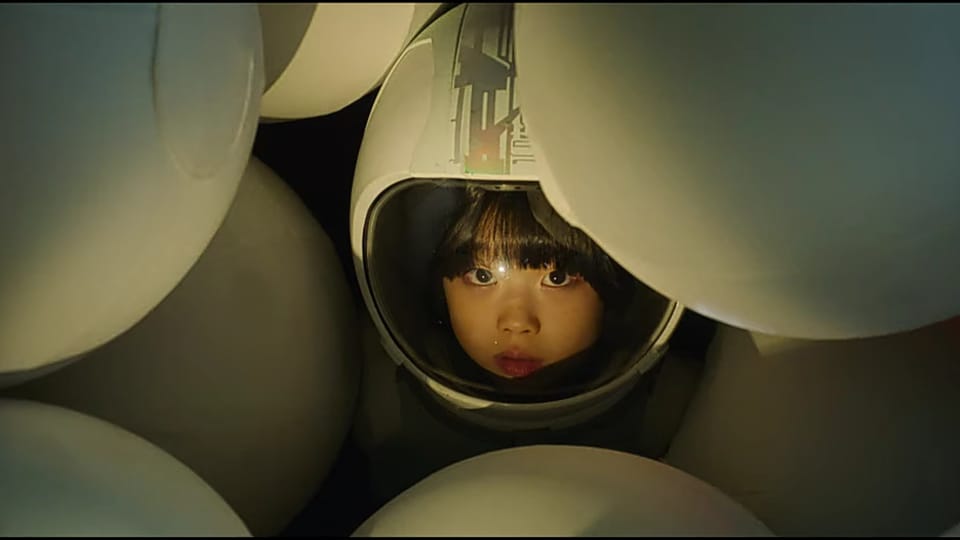 Of course like any life fearing human, the crew members panicked the moment they realized but also had to act smart for she was a way out of debt for them. The crew then holds a discussion outside the spaceship where Tae Ho reveals that he found some valuable items in her bag that could get them in touch with her "owners." The crew members were immensely happy for the jackpot they just hit as their pitch worked and even planned a rendezvous with the "owners," but little did they know that this was the start to a suicide mission. 
The rendezvous was at a packed club with Dr. Kang but their entire plan goes awry as Dorothy, Kot Nim her Korean name, wanders off in the club. The UTS authorities were in position to fire at Victory once they had physical access to Kot Nim, but people in the club started to recognize her and the commotion that stirred up in the club was as good as a stamped. The UTS authorities began to fire at the crew but something amazing happened here. Kot Nim held extraordinary powers that made all the super powered bullets go poof! They make it out of there and turn off all their signals that could be used to track their location. Kot Nim's powers came as a shocker to everyone and their attachment towards her begins to grow deeper. 
The attachment for her grows along with the eagerness about her story. The crew concluded that she is no robot that the news claims her to be, but just a human child! The questions about her continue as the crew begins to face more danger and have to be vigil to whole time, but one thing they know for sure is that she is human and the people looking for her only have hostile intentions towards her. Victory will not let UTS take away their little "Fart Machine" easily, but how will they manage to pull this mission? To do that they first need some answers. Who was Kot Nim and what was her story?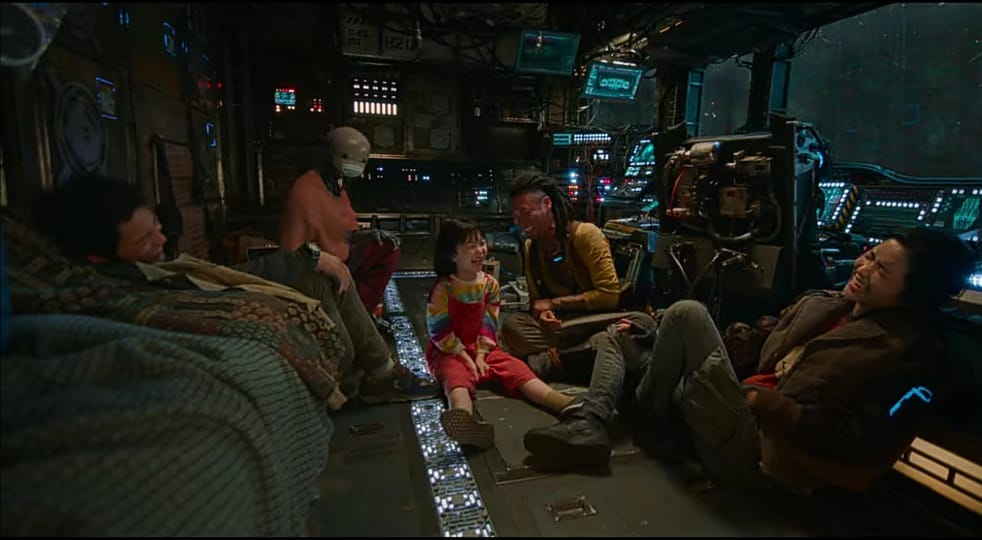 The film is packed with humor, friendship, bonding, the right about of drama, and yes there is some serious brutality. Not that the content is not watchable, but it is about the feeling and the rush it instills in you. The movie remined us a lot about Guardians of the Galaxy. Badass girl crush? Check. The fighter? Check. The tech savvy? Check. The cactus*? Check. Baby Groot? OHHH CHECK! We love the amount of cuteness and innocence baby Park Ye Rin carries and she get us entertained throughout! Our little fart machine!   *Cactus – by this we mean the character who is brash on the outside but soft on the inside
Space sweepers, apart from its great space action plot, teaches us an important less to learn to preserve and care for mother Earth. Is it really the "future" when the only thing that is advancing is technology and not the health of our planet? 
It is no surprise that Space Sweepers trended at #5 in India's Netflix charts, as in the recent days love for K-Pop and K-Drama is spreading energetically among the India viewers. This isn't the first time. Many K-Dramas, K-Movies, and K-Pop songs grabbed their place in Netflix and YouTube charts, just within a day or a few hours. Great job Desi Hallyu fans! Follow us on Instagram (@namaste_hallyu) and (@namastehallyustudio) for quick updates and more!