MOKKOJI KOREA 2021 is set to focus on India from October 4 to 10.
Hosted by the Ministry of Culture, Sports and Tourism (MCST) and organized by the Korean Foundation for International Exchange (KOFICE), MOKKOJI KOREA is a worldwide Hallyu festival that works as a platform to connect the culture Korean culture and lifestyle with the rest of the world, by the means of play.
For India, MOKKOJI KOREA 2021 will be available from October 4 to 10, where passionate Hallyu fans can access various content series featuring K-Lifestyles such as web dramas, webtoons and webzines. Fans can also participate in online games, contests and social media events and have a chance of winning special prizes.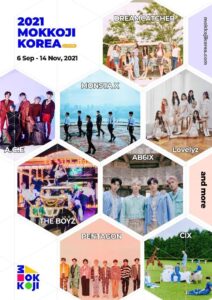 What's more? Artists such as MONSTA X, PENTAGON, AB6IX, A.C.E and DREAMCATCHER will add the charm by presenting content and be a medium to exchange Korean life and culture to Indian fans.
Each year, there are three focus countries that connect with MOKKOJI KOREA and take part in special programs online to encourage the Hallyu culture. This year, the focus countries are Russia, India and Indonesia. There will be performances of various K-pop groups. Joined with content from different influencers and content creators. Special programs include "MOKKOJI Mini Talk", "MOKKOJI LIVE" which are open to anyone around the world to participate. These programs are available in English, Russian and Indonesian.
The brand exhibition for all the countries is accessible on the first day of their weeks respectively, with free participation for everyone on the Brand Exhibition page.
The first focus country, Russia covers the week from September 6 to 12, with artists like THE BOYZ, Lovelyz and CIX to be present. The final dates for the week in Indonesia are November 8 to 14, 2021.
MOKKOJI KOREA, initiated in 2020 has succeeded to connect the culture, experiences and insights of Hallyu to the rest of the world with their interactive and wholehearted events. An encouragement for K-lifestyle by providing opportunities for Hallyu lovers to discover more of what they love.
More information for MOKKOJI KOREA 2021 is available on their website in English for everyone.
Connect with us on Instagram  Twitter   YouTube for more content, interviews & news.