KARD's 'Play Your KARD Right' #WildKARDinIndia Tour took New Delhi by storm on 12th July, 2019!
The 'Play Your KARD Right' Tour
The highly anticipated concert tour saw a collosal reaction from fans ever since it's initial announcement by the organizers, Pink Box Events. Despite Pink Box Events being a veteran in the Indian K-Pop event industry, the announcement was first met with disbelief that such a huge group would be touring India. But soon enough the tour was confirmed by the artist's themselves and the Indian K-Pop fandom collectively imploded.
The 'Play Your KARD Right' tour was declared a concert slash fansigning raising the bar for K-Pop events in India. If the excitement wasn't already peaking, Pink Box Events confirmed that KARD would be making not one but TWO tour stops in India – the capital city New Delhi and Guwahati, Assam!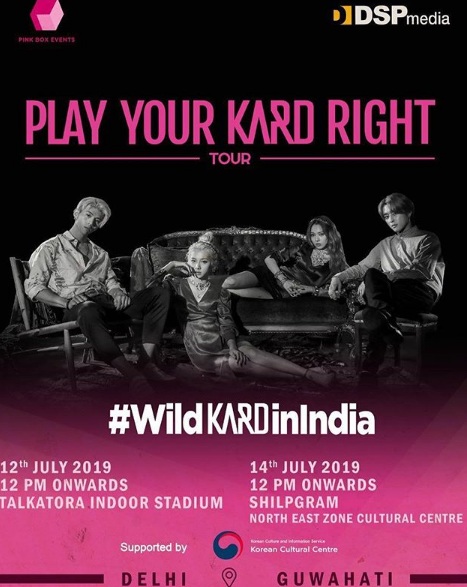 Come day break on 12th July, 2019 the excitement was palpable in the air with fans taking to social media to show off their concert preparations in the form of banners, light sticks and even eye catching outfits in the hopes of being noticed by KARD amongst other concert goers.
Although the fansign entry was to begin at 12 PM in the afternoon, fans began to to trickle in almost four hours prior to form an orderly yet excitable line. Hidden KARDs of all ages stood in line cheerily exchanging trivia about the group members, occasionally bursting into cover songs and dances.
Simultaneously, the organizers toiled away to ensure that both the fanmeet and concert would be a smooth sailing event for both the fans and the artists. As every concert goer can attest to – the event was a resounding success!
The Fansign Event
Entry to the fansign began for ROOKIE Ticket holders at 12 PM, with KARD awaiting the fans with markers in hand and smiles on their faces – eager to get to know their Indian fanbase. The event moved on to fan-artist interactions that were so cute, even the organizers could not keep the smiles off their faces as they watched from the sidelines.
The Hi-Touch and Photo Op
After a brief but positive speech from Pink Box Events regarding consent and personal space, the Hi-Touch and Photo Ops followed for both ROOKIE and SCOUTED ticket holders, an excitable event and the first of its kind to be experienced in India!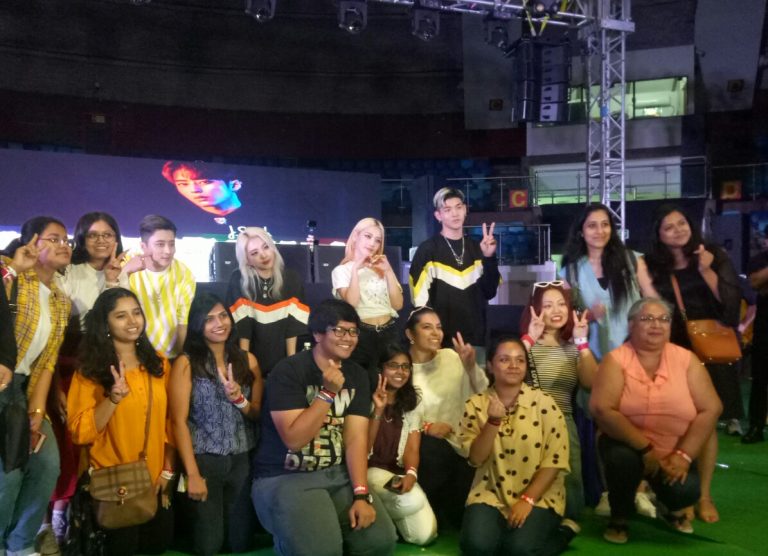 The Concert
The tension truly began to rise however when SCOUTED ticket holders began to enter the venue as it signalled that the concert part of the event would be beginning. Fans became jittery with the nervous kind of excitement that could only come from waiting to witness something so positively amazing.
Cheers erupted as KARD took to the stage, with most fans in awe of seeing such a charismatic group perform in real life. The music electrifying the stadium as polished dance moves and powerfuls vocals were unleashed as the group powered through a setlist that began with hit singles 'Don't Recall', 'Oh Na Na', 'Ride On The Wind', 'You In Me' and 'Rumor'. Hidden KARDs were also pleasantly surprised to hear live performances of B-side tracks 'Knockin On My Heaven's Door' and 'Dimelo'.
At some point, fans decided to to forego fanchants altogether and began belting out the entire song with their idols. The performances were interspersed with Q&A and game segments that involved ROOKIE ticket holders playing with the KARD members if they were picked via the lucky draw.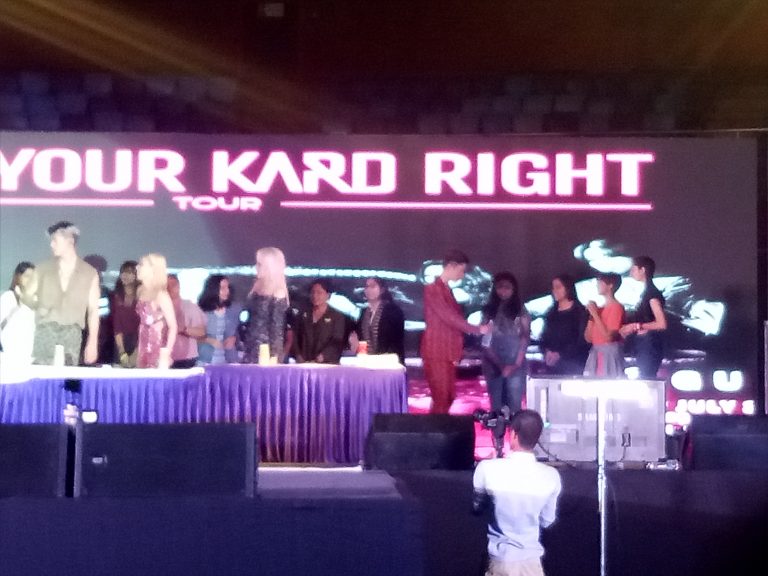 A Surprise For KARD
Pink Box Events decided to surprise KARD with a video compilation of Hidden KARDs from all over India welcoming them to India which greatly touched the idols. As chants of "사랑해 (I love you)" rang through the stadium, J.Seph almost broke down into tears causing chants of "울지마 (Don't cry)" to follow.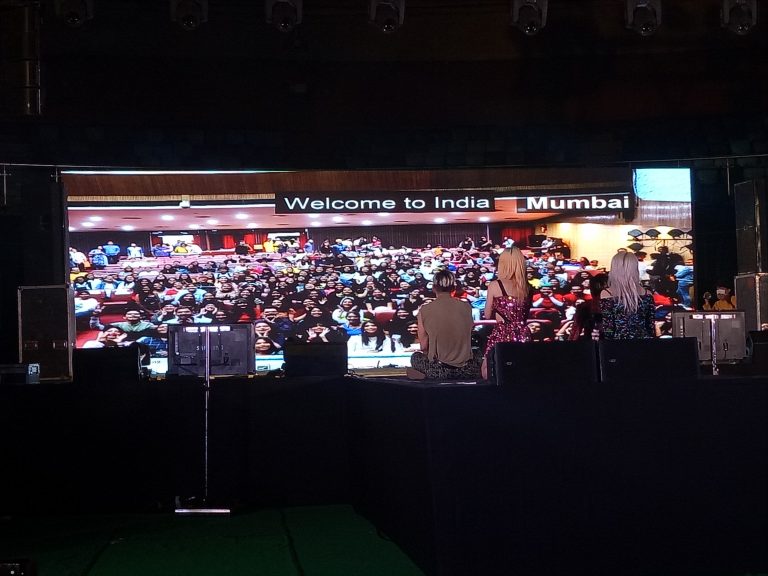 The Finale & Encore
The icing on the cake came in the form of KARD finally unleashing the force of their latest anthem 'Bomb Bomb', a dance heavy moombathon trap song that had fans out of their seats as they sang, rapped and danced along.
Although 'Bomb Bomb' was the finale, this was not the end of the event. As it so happens an encore performance was announced that turned the concert venue into a mosh pit of excitement of Hidden KARDs and KARD themselves to culminate in a supernova like energy!
The group powered through three more songs – the mellow feel good song 'Ride On The Wind', the powerful and sexy  'Bomb Bomb' and the final track off their debut album 'Living Good' as fans crowded around the stage and screamed in excitement.
A fitting end to the biggest K-Pop event that Indian K-Pop fans have ever experienced.
NamasteHallyu & Indian Hidden KARDs
We spoke to several Hidden KARDs at the venue to find out what they thought of the concert experience and were greeted with much enthusiasm and positivity. Several fans had flown in from all over India – notably Mumbai, Bangalore and Kolkata.
(Please note that the specified location is where the fan has travelled from and not their state of origin. Example – Lucy is from Manipur, but she has travelled to the concert from Uttarakhand.)
NamasteHallyu: "What were your expectations for KARD's 'Play Your KARD Right' concert + fanmeet tour?"
"I had high expectations because uhmm… IT'S KARD! Expected to see lit performances and their beautiful faces!" – Sarah (16, Student, Delhi)

"Merely meeting KARD in INDIA was a huge thing already for me. Watching fan videos of their performances from other countries, I knew they'd do nothing less than owning the stage and the crowd. I knew, for sure, that it would be an unforgettable night." – Deechen (22, Student, Sikkim)

"Really couldn't wait for it!! I couldn't believe I was actually gonna meet KARD!" – Lala (20, Nursing Student, Delhi)

" I was super excited. Especially to see BM!" – Lucy (20, College Student, Uttarakhand)
NamasteHallyu: "Since when have you been a Hidden KARD (a KARD fan)?"
"As I have followed KARD since their debut and always liked their on screen personalities, I was expecting the concert to be very hyped!" – Varsha (22, Teacher, Delhi)

"Since predebut. 'Oh Na Na' was THAT SONG! It got me hooked in the first few seconds itself. Plus, KARD being a co-ed group was like a breath of fresh air!" – Naureen (22, Student, Delhi)

"Since 2017!" – Lucy (20, College Student, Uttarakhand)

"Ever since they came out with 'Oh Na Na', so basically since their pre-debut!" – Sarah (16, Student, Delhi)
NamasteHallyu: "What do you love so much about KARD?"
"I love their music and choreography. Since most kpop choreographies are more technical, precise… I feel like KARD's focuses more on chilling and having fun. Y'know… The "clubbing" moves. Plus, I love everyone's contrasting personalities. Brings so much flavour to the group!" – Naureen (22, Student, Delhi)

"The fact that they are a co-ed group which is so rare in K-Pop. They're pushing boundaries and making something new which is always so great to see." – Lala (20, Nursing Student, Delhi)

"Everything! It's so inspiring to see them work so hard and be so dedicated towards their work. Their performances are so energetic and lit, they're all so beautiful inside and out, such angels!!! Their songs are also amazing… They're just a group full of talent!" – Sarah (16, Student, Delhi)

"They're so talented and hardworking. So much of stage presence and the love they have for their fans is just wonderful!" – Hailey (16, Student, Mizoram)

"First of all their uniqueness because they are co-ed group. Second is their personality and third is their versatility." – Varsha (22, Teacher, Delhi)

"I LOVE THEIR PERSONALITIES. BM is the ultimate hype king and J.seph is so considerate that he asked the girl who wasn't selected to come up on stage and participate in the second game. They're both so fun loving and extra sometimes haha, they're fun to watch. I love love Jiwoo's voice, it's so deep and sexy omg and Somin is an all rounder, she's very talented. I love them and also the concept of a mixed group because it glorifies the fact that men are women don't need to be separated, it challenges the sexist idea of a gender divide that's prevalent in the Asian countries." – Prachi (20, Student, Delhi)
NamasteHallyu: "Were your expectations of KARD's 'Play your KARD Right' Tour met?"
"Yesssss! It was so great! Even better than I expected! And the mosh pit at the end was amazing!" – Lala (20, Nursing Student, Delhi)

"The concert was beyond my expectations. I had a great time!" – Sarah (16, Student, Delhi)

"MORE THAN HAPPY! As I had mentioned before, I was not expecting to have SOOOO MUCH FUN! It's okay if I didn't get to play games with them. The experience only motivated me to save up more for Rookie tickets of future concerts. And needless to say, the 'Encore' was the best part. A true WILD KARD concert experience! Too hot to handle. Now, I know why PBE wanted consent letters from kids!" – Naureen (22, Student, Delhi)

"Yes! OMG! 500%. I never imagined that it'll be so much fun and KARD are so engaging! They converse with fans so much!" – Prachi (20, Student, Delhi)

"It was way better than I expected. Especially the encore!" – Lucy (20, College  Student, Uttarakhand)
NamasteHallyu: "If there was something you wished you could tell KARD right now, what would you like to say?"
"You've worked hard and it really shows. Keep making music for the world! Be healthy always, and hope to see y'all again soon! Love you!" – Hailey (16, Student, Mizoram)

"Thank you so much for the energy and love. India has never experienced a concert this hype. Words cannot express how grateful we are. We hope you enjoyed as much as we did! Indian fans may not be as many as the ones in other countries but we truly love you a lot. Please come back again and we will be better and more in number, that's a promise. HAD A DUMB LITTY TIME WITH Y'ALL!" – Naureen (20, Student, Delhi)

"I love them and really hope they take the time to rest well, eat well and would love to see them in India again!" – Lucy (20, College Student, Uttarakhand)

"Thank you for coming to India and giving us this opportunity. We are very glad to have you here, i wish that you make lifetime memories in India and come back asap." – Varsha (22, Teacher, Delhi)

"Thanks so much for coming to India!! 언제나 응원하고 있습니다!!!" – Lala (20, Nursing Student, Delhi)

"BM, J.Seph, Somin and Jiwoo, thank you so so much for coming to India and gracing us with your presence. It was the best concert I've ever attended and one of the best moments of my life. You all are so hardworking and talented. Thank you guys for making such amazing songs and performances! I love you all so so much and I'm so blessed to be able to meet you guys and watch you guys perform live…it's a dream come true. Please come to India again! We'll continue to welcome you guys warmly and give you all our love and support! Always sending love from India and always supporting you beautiful souls! Love you all!" – Sarah (16, Student, Delhi)

"I hope you include India in your future tours from now on. BM said that KARD had not expected to see so many Hiddens in Delhi. I just want KARD to know that there are a lot more Hiddens in India who couldn't attend the concert and who were cheering for KARD from different corners of the country. Although I hoped, I seriously did not expect KARD to perform 'LIVING GOOD' especially for an encore stage. That was the biggest surprise of the night! I lost my sh*t hearing them sing LIVING GOOD to the HIDDENs!" – Deechen (22, Student, Sikkim)
NamasteHallyu: "If there is anything else you would like to comment on, feel free to express yourself."
"I'm so so grateful to KARD for coming to India. I never imagined that a group I stan will actually come here (cries). I love you guys and I've always folllwed your albums and songs. I still keep your songs on repeat. There isn't one song that's not good. You guys are so talented, thank you for existing. Please come to India again!" – Prachi (20, Student, Delhi)

"Thank you so much Pink Box Events for bringing KARD to India and organizing such an amazing event. Please bring more amazing idols to India! We're always there to support you guys! Thanks for giving me one of the best moments of my life." – Sarah (16, Student, Delhi)

"Thanks to Pink Box Events because this wouldn't have been possible without them." – Varsha (22, Teacher, Delhi)

"Thanks and congrats to PBE for conducting the concert smoothly! Hope the audience didn't disappoint." – Naureen (22, Student, Delhi)
Stay tuned for NamasteHallyu's coverage of KARD's 'Play Your KARD Right' Tour in Guwahati!