KARD amazes Northeast KPOP fans with 'PLAY YOUR KARD RIGHT' #WILDKARDININDIA tour in Shilpgram, Guwahati on 14th July 2019!
KPOP fans all over the country have all been hyped up for the last one month with Pink Box Events announcing KARD as the next artiste to be touring India as part of their 'WILD KARD TOUR IN INDIA' under the banner 'PLAY YOUR KARD RIGHT'. Delhi was the first stop on 12th July and now it was Guwahati's turn to live the KPOP moment. KPOP fans from different parts of Northeast had flown in to Guwahati to witness the dream concert.
Come 14th July, it started raining in the morning but that did not stop the fans from queuing up hours before the entry time of 12.00PM for Rookie ticket holders. The album signing was scheduled to start at 12.30PM and the excitement among the fans were building up in the auditorium. They were practicing the fanchants, singing along to the songs as they waited for KARD to arrive.
ALBUM SIGNING/ HI TOUCH/ PHOTO OP
With KARD arriving in the auditorium amid huge screams and excitement and after the fans had been briefed about the rules of the event, the album signing kicked off followed by Hi Touch and Photo Op. Although there were huge numbers of fans, Pink Box pulled off the fansign/ Hi Touch/ Photo Op very nicely and smoothly (of course with the support of the fans). PBE also made sure that no fan who bought the perks missed out and even arranged Hi Touch/Photo Op for fans coming in late to the auditorium after the event got over and KARD had left. It was really kind on the part of PBE, DSP Media and KARD to come back again for those 50+ fans that missed the session.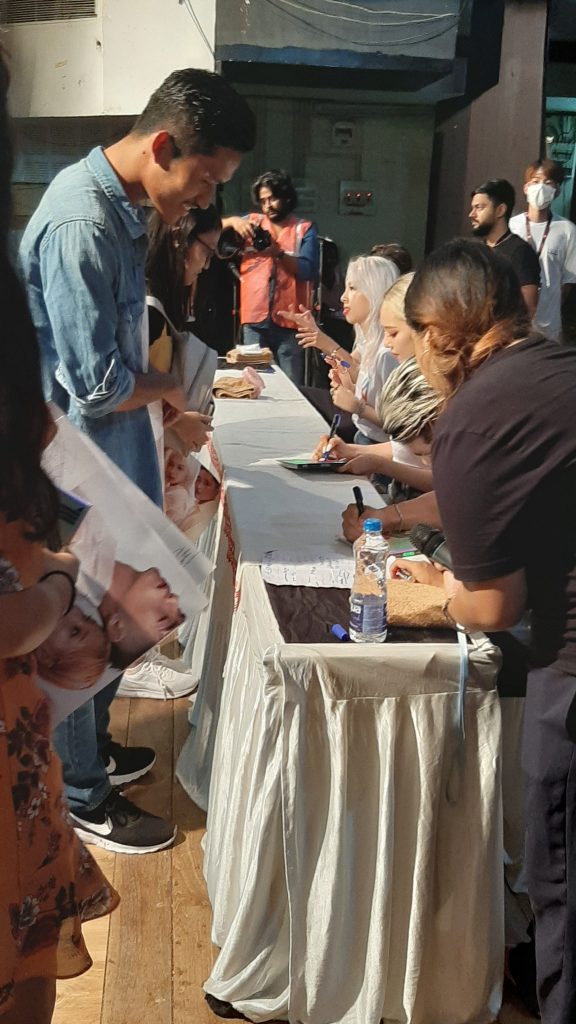 CONCERT/FANMEET
Fans had started filling up the open field from early afternoon. As the clock ticked closer to 5.00PM, the energy started building up with fans dancing and singing along KARD's songs and practicing the fanchants multiple times.
KARD entered the stage amidst huge screams and performed one of their greatest hits 'Don't Recall' as their first song followed by other numbers that included  'Oh NaNa', 'Ride on the Wind', ' You in me', ' Rumor', 'Hola Hola' among others. The super amazing vocals and powerful dance moves left the fans in awe and screaming for more.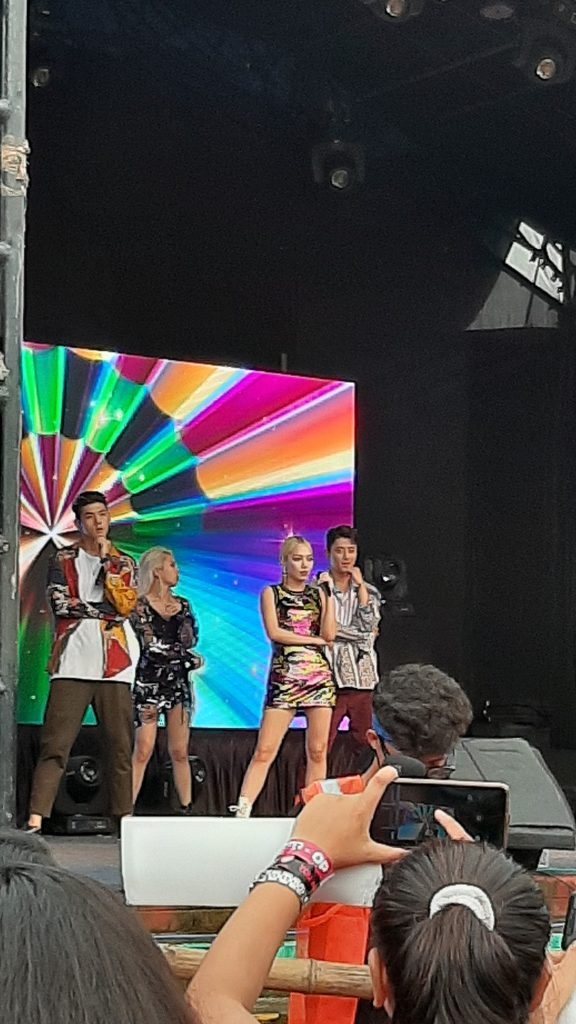 Since it was a concert cum fanmeet, members answered questions asked by fans and also played games with them. Lucky fans were chosen by the members themselves through a lucky draw. Nothing could be more exciting for the fans than the very thought of being in the same team with their bias and playing games with them. Later, PBE also surprised KARD with a video collection of fanarts which left the members emotional and grateful.
The energy of the fans from the start till the end of the show left the members in complete awe. Member BM even declared at some point that Guwahati was the best outdoor concert that they had ever done!
ENCORE
Encores are a huge and a MUST part of KPOP concerts and Guwahati Kpop fans were in for a treat here. The members came down the stage, danced and performed their biggest hits among the fans. The icing on the cake came when they performed to the Bollywood number 'Bum Diggy Diggy Bum Bum' which left the fans surprised and dumbstruck with their clear pronunciations and thumkas.
It was indeed a perfect way to end the biggest KPOP concert India has ever seen till now!
Team Namaste Hallyu spoke to some of the fans that attended the Guwahati concert and their excitement was all over. Here are some excerpts.
"I have been following KARD since 'Oh Nana'  ( pre debut) times. I swear I almost teared up when I heard KARD was coming to India. It felt unreal. The tour was the best day in the 25 years of my existence. Thank you for gifting me the best day of my life. My support will always be with you and I'll be listening to your music even when I get old. I'm so proud of you all and I'm proud to call myself a Hidden KARD." – Sharon,25, Manipur

"I have been a fan since 'Oh NaNa' and I feel like one of my dreams came true. I was literally shocked and amused. It was awesome and I enjoyed a lot. Please come again next time and we really love you. Saranghaeyo" – Kirong, 21,  Arunachal Pradesh."

"I have been following KARD since 'Don't Recall'. They were such a unique group with nice songs I fell in love immediately. I had to re-read Pink Box Events' post again and again because I couldn't believe it the first time. I never thought I would see one of my bias group in person and that too in India. I was so happy. The concert was the best experience I ever had. The members were so nice and always smiling. They had so much energy and gave it their all it was the worth the money and wait. Actually, I was having a really tough month because of some personal problems but meeting them,dancing and singing along lifted my spirits. Thank you for coming to India. I'll always support you guys. Please come back to Guwahati again" – M. Lyngdoh, 23, Meghalaya.

"I have been listening to KARD since 'Rumour' came out and the concert was unimaginable. Awesome live performances, I fell in love with them even more after the concert" – Vera, 25, Nagaland.

"I thought KARD will never come to INDIA so I was really excited when I heard they were coming. The concert was wonderful, fantastic, thrilling. I hope they can come back again with more new songs." – Kanchan Dai, 20, Arunachal Pradesh.

"I started listening to KARD very recently after they released 'Bomb Bomb' and there was no going back from then on. I love them and its a dream come true to be able to see them up close and get to take photos with them" – Pris, 23, Manipur

"I am a KARD fan since their pre debut era. They have such nice songs and to be able to see your bias group here in your own country is unimaginable. The concert was awesome. Hope they come back again" – Seedee, 26, Manipur
PLAY YOUR KARD RIGHT Tour will remain in the hearts of Indian Kpop fans for a very very long time and we hope that KARD enjoyed and loved their stay in India as much as we enjoyed their concert.
Also Read: KARD's 'Play Your KARD Right' Tour Takes Delhi by Storm