K-POP X BOLLYWOOD – K-POP Idol IU and Bollywood Actress Alia Bhatt steal the spotlight at the star-studded, highly- anticipated Gucci Cruise 2024 Fashion Show. The photo was shared by eagle-eyed fans on SNS.
Being the Gucci Global Brand Ambassador, the two were snapped sitting together at Gucci Cruise 2024 in Seoul, and these definitely made the Indian K-fans excited. The two looked stunning in their outfits alongside Gucci CEO Marco Bizzarri.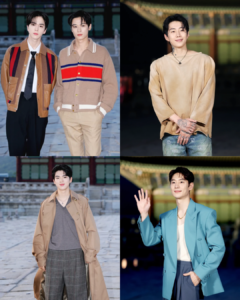 Korean Celebrities including Kim Hye Soo, Kim Hee Ae, Shin Hyun Been, Woo Do Hwan, Lee Je Hoon, Lee Soo Hyuk, Jung Kyung Ho, Lee Yeon Hee, Lee Jung Jae, Lee Seo Jin, Koo Kyo Hwan, Lim Ji Yeon, Jay Park, THE BOYZ members Younghoon and Juyeon, Aespa Winter, ITZY member Ryujin, IVE member Leeseo, were also snapped at the event.
The show was indeed a cultural amalgamation as international stars including Dakota Johnson, Gulf Kanawut, Davika Hoorne, Daiyan Trisha, Fumiya Takahashi, Jun Shison, Blake Lee, Elizabeth Olsen, Saoirse Ronan, and more attended the event. The Gucci Cruise 2024 Fashion Show was held on May 16 at Seoul's Historic and cultural landmark- Gyeongbokgung Palace, to celebrate 25 years of the luxury brand in South Korea.
We definitely can't get over the Star-Studded Gucci Event and the IU x Alia moment!
Connect with us on Instagram Twitter YouTube for more content, interviews, & news.