On October 19, midnight KST, soloist and K-Pop idol IU dropped her new music video for the digital single 'strawberry moon'. The highly anticipated song drowned K-Pop fans all around the globe in a pool of love while at the same time transporting everyone to a wonderful realm of fairytale.
'Strawberry Moon' as described by the artist, is a song which can be enjoyed comfortably by the listeners. A pop-rock song paired with the artist's mellow and soothing vocals combined with the synth creates a dreamy vibe which transports the listener to a fairy tale world. The song sees the return of the artist's famous and accurate high notes which hits just right. As if that wasn't enough, the addition of the acoustic guitar banded by the piano raises the song to the next level.
The lyrics convey a transition period of love in the form of a fantasy that might or might not come true. Such fantasies which everyone has hidden in their heart and which are even rarer than the strawberry moon in the night sky. 
In the music video we certainly feel the artist living those fantasy moments. It begins with her being transported to the fairy land and enjoying a scoop of the strawberry moon.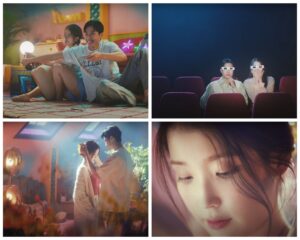 Crossing the planets, we see the glimpse of the moments that the artist had with her lover. Driving through the stretch of the pink clouds we arrive at the point where this somewhat youthful love now turns into something more, something which binds them for eternity. A journey which begins with resonating hearts and ends with them being together till the end.
A day after the song's release it gained a certified all-kill as it ascended the top of Korea's major charts including Melon, iChart, Genie, FLO, VIBE, Bugs. This makes 'strawberry moon' the third song from IU to have achieved certified all-kill. The other two include 'Celebrity' and 'LILAC' which were released early this year. Although the song has yet to achieve the perfect all-kill which can only be achieved once it tops the iChart weekly as well, chances of a perfect all-kill are all time high.
For more updates, please stay tuned to Namaste Hallyu.
Connect with us on Instagram Twitter YouTube for more content, interviews & news.