The world of K-Drama keeps growing and with that, grows the storyline and areas. Besides romantic dramas, many dramas also focus on other themes to help viewers comprehend the balance between the reel and the real world, while being relatable.
Starring Ji Chang-Wook, Choi Sung-Eun and Hwang In-yeop, the soon-to-be released 'The Sound Of Magic' is set to take the viewers in a fantasy world with a music themed setting. The drama is directed by Kim Seong-Yun and written by Kim Min- Jeong. It is based on Ha-Il-Kwon's Naver webtoon Annara-Sumanara, and the drama includes magic, space, and of course, music.  It's poses the question, "Do You Believe In Magic?."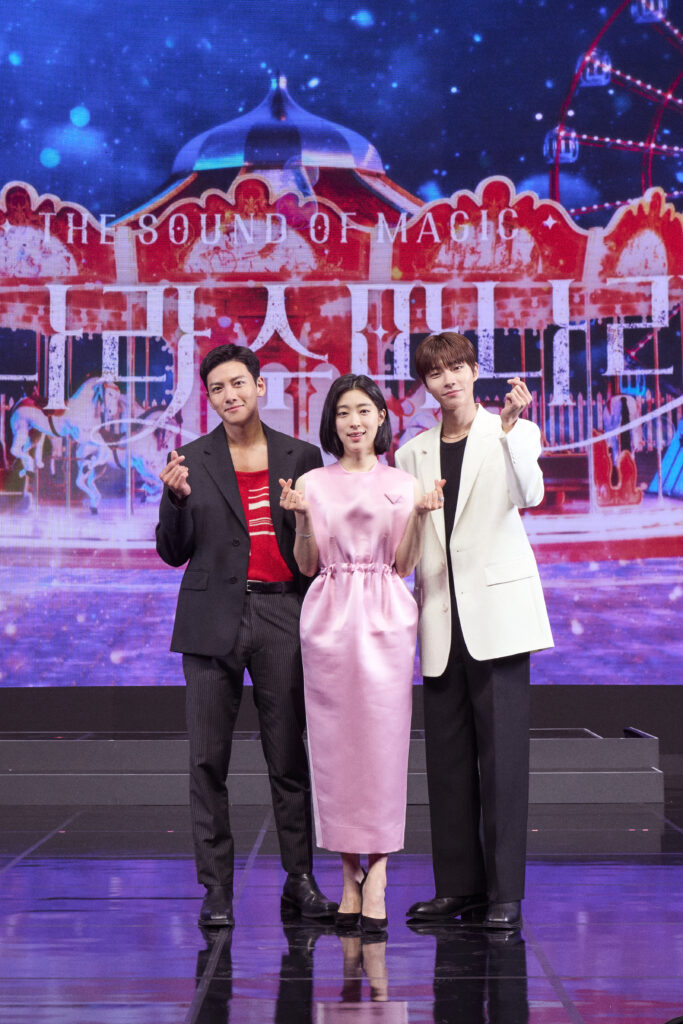 While addressing the press at the live press conference, earlier today, the director of the drama, Kim Seong-Yun, mentioned that the drama was a webtoon series which was originally created 11 years ago. He expressed that as he really liked the webtoon, he wanted to make it a live action series. He added that the drama will resonate a lot with the youngsters as well as adults. He questioned, "Is it really necessary to have a dream?," "Can we be happy without having a dream now?"
The drama aims to give a message on what is it to be a grown up and tells us that we don't need to live a life to be "something", as we can live a life without rushing through as well. The director further added that he combined music with magic as it would portray the message effectively. He believes that it is an effective tool to show the characters feelings and their fantasies.
When asked why he casted Ji Chang-Wook, Choi Sung-Eun, and Hwang In-yeop, he shared that he chose Ji Chang-Wook because he carries a boyish and mysterious persona that resonates a lot with Ri-Eul character, as for Choi Seung-Eun, he feels that there is something sad about her that depicts a lot like her character Yoon Ah-yi. He further added that he casted Hwang In-Yeop because he would perfectly portray the character of Deung, who is cute and shy.
The cast also shared their experience of being part of the drama. Ji Chang-Wook stated that it was his first time and added, "It's fantastic to be able to act, think, dance, and do magic all in one. It was challenging and difficult, but ultimately gratifying experience."
Choi-Sung-Eun shared, "Every job is difficult, and it was fantastic to learn how to act not only with lines but also with lyrics." She  also added that she adored the back process as she felt that it had very unique appeal and charm in the realm of fantasy music drama.
"Music is amazing, and fantasy is great," stated Hwang-In-Yeop. He further added that this was his first time acting in something like this and he is grateful to have been given the opportunity to perform with such a fantastic musical ensemble. 
When questioned about the music and magic in the drama, Kim Seong-Yun (Director), claims that when something fanatically occurs, there is some sort of background music and the actors in this drama is full of emotion. He stated that it is the most efficient approach to represent emotions to audiences by showing and conveying them through music.
He also added that the music in the script was blank; there were no lyrics, and everything was missing and this fantasy music drama was able to developed with the help of a Music Director.
Ji Chang-Wook also shared that there is no short cut to magic. The cast further expressed that, 'The Sound Of Magic', is a drama that will give us hope in our lost dreams and also it will give us a warm consolation. It will show us a personal growth of each character and also make us believe in miracles while reminding the viewers of their dreams that are lost.
'The Sound Of Magic' is a Netflix Drama and will release on 6th May (Friday). It is slated to have six episodes.
Plot:
Ri- Eul is a mysterious grown up man but doesn't want to be one and who likes magic.

Yoon Ah-Yi, a girl who buried her dreams in order to survive from life. She is having financial difficulties. She met a magician and began to dream once more.

Il- Deung is a high school boy, who like the meaning of his name that is being number one had to be top of his class. His parents forces a dream on him and he lost his track of what he wants to do and is unaware of his own identity.
Connect with us on Instagram  Twitter  YouTube for more content, interviews, & news.