For K-POP and K-Drama fans, fandom projects, especially to mark an artist's birthday or debut anniversary, are customary. Indian fans of K-idols and K-actors have been stepping up over the years and they are not far behind as we see fans from all over the country coming together as one, despite the geographical and language barriers, to celebrate their favourite artists' birthday in the most meaningful way possible.
For Jungkook's 24th birthday on 1st September, ARMYs from all around the world celebrated the special day through various birthday projects, fundraisers, and events. Indian ARMYs made sure they weren't far behind and went all out to celebrate his birthday in a grand style.
Indian ARMYs rent a billboard in different parts of the country
The first birthday project included posters of Jungkook at a bus stop located in PK Road, Mulund, Mumbai. These posters not only wished him Happy Birthday but also highlighted his versatility as an idol. It included QR codes to four of his songs, 'Euphoria', 'Still With You', 'Begin', and 'My Time'. This project garnered a lot of attention for being the first of its kind in the country because Indian fans usually sent gifts, trend hashtags, or set up fundraisers on their idols' birthdays.
FIRST TIME IN INDIA | Indian BTS ARMY Rent Billboards in Mumbai For K-Pop Boyband BTS Member Jungkook's birthday project at Mulund west bus station, Mumbai. @BTS_twt #JUNGKOOK

RT & Spread!! So proud!!

All Pics are taken by @taebunnybear 💜💜 pic.twitter.com/FRGrKzoOcD

— 𝓣𝓲𝓷𝓪 (@Tinaloves_jimin) September 1, 2021
Fans also spotted a few other billboards in Delhi, Sonipat, Aizwal, and Indore.
September brings one the best gift to ARMY.
JK's birthday poster at the biggest mall in Aizawl,Mizoram,India.#ARMY #mizo_army#JungkookBirthday pic.twitter.com/q5IVKWF2HT

— Spi-V-Taetae (@spi_taetae) September 1, 2021
One of my army friend arranged it 🐾🥀🍀💜😭
location – indore (mp) pic.twitter.com/RHVmataEx2

— harshuwu 👀🍀🥀🐾💜 (@hrshuwu_fanboy7) August 31, 2021
Nishita** this is in North campus, near DSE, they apparently put hoardings in indore and sonipat also (below) pic.twitter.com/Wegr0yiBpi

— Satviki⁷🌈 (@satvicked) September 2, 2021
Fans undertake three fan projects to donate to a good cause
In addition to the Billboard in Mulund, the admins of Jungkook India on Twitter hosted three other fan projects. For part two of the project, fans sponsored three abandoned dogs under Jungkook's name. This part of the project was dedicated to his dog, Geureum. Money was raised and donated to Sightsavers to support four sight-restoring surgeries. For the fourth part of the project, Happiness Kits were donated for twelve children through Akshaya Patra. These kits include nutritious food items, hygiene products, stationery items, and immunity boosters. Check out more details of the other project below. 
✨️𝗝𝗨𝗡𝗚𝗞𝗢𝗢𝗞 𝗕𝗜𝗥𝗧𝗛𝗗𝗔𝗬 𝗣𝗥𝗢𝗝𝗘𝗖𝗧 ✨️
Part – 2

In honor of Jungkook's upcoming birthday, we are sponsored three abondoned dogs in India under Jungkook's name. pic.twitter.com/rlz5ANPsrQ

— JUNGKOOK INDIA 🇮🇳 | slow | (@Jungkook__INDIA) August 28, 2021
✨️𝗝𝗨𝗡𝗚𝗞𝗢𝗢𝗞 𝗕𝗜𝗥𝗧𝗛𝗗𝗔𝗬 𝗣𝗥𝗢𝗝𝗘𝗖𝗧 ✨️
Part – 3 : Your Eyes Tell

For Jungkook's birthday, we have donated to sightsavers to support 4 sight restoring surgeries in India under Jungkook's name pic.twitter.com/AxHLyr5mT1

— JUNGKOOK INDIA 🇮🇳 | slow | (@Jungkook__INDIA) August 29, 2021
✨️𝗝𝗨𝗡𝗚𝗞𝗢𝗢𝗞 𝗕𝗜𝗥𝗧𝗛𝗗𝗔𝗬 𝗣𝗥𝗢𝗝𝗘𝗖𝗧 ✨️

Part – 4 : Cause Of Our Euphoria

For Jungkook's birthday, we have donated kits for 12 children under Jungkook's name. The kits contain nutritious food items, immunity boosters, hygiene products and learning materials. pic.twitter.com/ZffGQ4JCrj

— JUNGKOOK INDIA 🇮🇳 | slow | (@Jungkook__INDIA) August 31, 2021
Event on Jungkook's Birthday in Navi Mumbai and Mira Road
Two separate birthday events were organized in Navi Mumbai and Mira Road in Mumbai, Maharashtra. The event in Navi Mumbai was organized by Purple Hearteu and 100 ARMYs attended in two different slots keeping in mind the COVID-19 restrictions in place. The event in Mira Road, Mumbai was organized at Bangtan Chef Cafe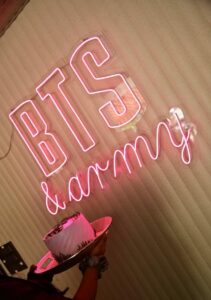 ARMYs set up a fundraiser to mark Jungkook, Namjoon, and Jimin's birthdays
Meanwhile, a BTS Fanbase in India, 'Bangtan India', is raising funds for Project MI CASA in support of Habitat For Humanity's Disaster Risk Reduction and Response program. The fundraiser began on 24th August and will end on 10th October. This fundraiser aims to gather resources and funds for people affected by Natural Disasters.
💜🏘️Project Mi Casa.🏘️💜

In honor of @BTS_twt Jungkook, Namjoon & Jimin's birthdays we're doing a fundraiser for people affected by disasters, donating to Habitat for Humanity India : https://t.co/qXZ31QWmR6

Donate here : https://t.co/cy06n7xp7Q#BTS #방탄소년단 pic.twitter.com/N3IxQoIGKB

— Bangtan_India⁷🧈 (slow) 🇮🇳 (@bangtan_india) August 24, 2021
It is heartwarming to see thoughtful deeds like fundraisers and donations hosted by fandoms. If you are an ARMY and wish to donate to Project MI CASA, you can reach out to them. The list doesn't end here and there are many other fans who have celebrated the golden maknaes birthday in their own way. The BTS star also made sure to celebrate his birthday with his fans as he began his birthday celebrations by creating a song out of the birthday notes sent by the fans him prior to his birthday when he asked his fans to send birthday notes to him in the form of lyrics. He also made sure he gave a mini concert for his fans. The bond of BTS and their fandom is truly amazing!
In our YOUR STAGE segment we cover everything from charity works, donations, and fundraising events organized by Hallyu fans, to your performances, fandom achievements, artworks, and more!  Want to be a part of 'Your Stage'? Send us your/fandom stories and achievements to admin@namastehallyu.com with 'Your Stage' as the subject line. 
Connect with us on Instagram  Twitter   YouTube for more content, interviews & news.