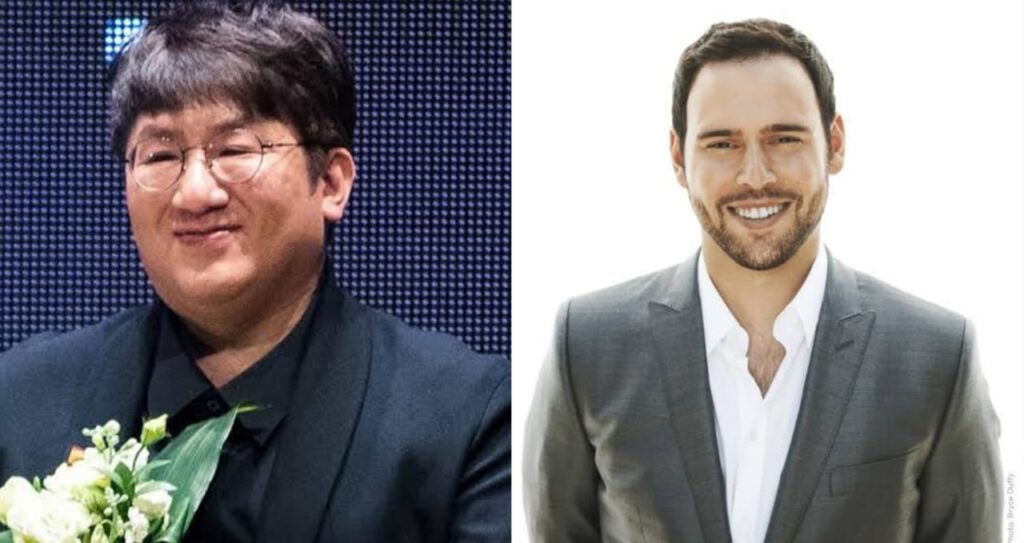 "Marks That Start of A New Adventure for Both Companies"
                                                                             – Bang Si Hyuk
A new press release informs that HYBE Corporation (previously known as Big Hit Entertainment) will acquire 100 percent of Ithaca Holdings' shares, making them a subsidiary of HYBE America. Ithaca Holdings was founded by Scooter Braun and he is known for being the music manager of America's biggest artists like Justin Bieber, Ariana Grande, J Balvin, Demi Lovato, Tori Kelly and more. Bang PD, Chairman and CEO of HYBE, and Scooter Braun aim to work together to create synergy and break walls of culture, and will reinforce ties and increase capital. The deal so far declares that all of Big Hit America's shares will be acquired by HYBE, that is worth ₩1.70 trillion KRW (about $1.51 billion USD). HYBE's subsidiary company manages some of the hugest K-Pop artists like BTS, TXT, NU'EST, GFRIEND, SEVENTEEN, and ENHYPEN. 
The new partners said that "artists of both companies will participate in the capital increase of HYBE, to further strengthen the ties between the two companies," without providing further detail.
"The two companies will work closely together leveraging our proven track records of success, know – how, and expertise to create synergy, transcend borders and break down cultural barriers. Please look forward to the endless possibilities of HYBE and Ithaca Holdings, and the new paradigm the partnership will establish in the music industry."

                                                                                                                                      — Bang Si Hyuk
About Ithaca Holdings:
Ithaca Holdings LLC. is an entirely integrated holding company and have showed their interest in many fields including music, film, tech, culture, brands, and television. Apart from managing big artists the company has built for itself a first class portfolio of partnerships and acquisitions, which has now led them to be a massive company with varied holdings in media and entertainment. Scott Borchetta's Big Machine Label Group, Mythos Studios that was co-founded by the Founding Chairman of Marvel Studios, David Maisel, and companies like 100 Thieves Gaming and Big Machine are the ones Ithaca has showed interest in.  
The company further gained huge media attraction in 2019 for buying Taylor Swift's music catalog in $300 million USD deal. They also own SB Projects, the entertainment company that manages big artists like Bieber, Grande, Lovato, and more.  
Braun even referred to Bang PD as a friend of his and as a person who supports the journeys of artists. He further said that the partnership will arise opportunities globally and added that both the companies intend to revolutionize the music industry together.
 "This will be the first time HYBE's groundbreaking systems and curation will be integrated in the U.S. market at the onset of an artist's career. Plus, it will help us to continue to further the careers of the artists we already work with. Global opportunities for artists become exponential with this partnership."
                                                                                                                                                          — Scooter Braun
Ithaca Holding's partner, Allison Kaye said, 
"We are ecstatic to… further the global reach of both companies and the artists with whom we have the privilege of working as we continue to grow our company and their careers across entertainment, technology, commerce and content." Meanwhile, SB Projects'  general manager Jen McDaniels described the partnership as "a unique and fortuitous joining of forces".
The companies further showed their excitement with this new acquisition in the form of a video that was posted in HYBE's official YouTube Channel, on April 5.  BTS and SEVENTEEN extended their welcome and happiness in inviting Ithaca's artists to HYBE, and further artists like Justin Bieber and Demi Lovato too shared this thoughts via the video. 
"Such great news that leaves us all in awe! Justin Bieber, Ariana Grande, J Balvin! The team behind these and so many incredible artists have come together with HYBE. We're so happy to see so many artists that we cherish and love become part of this family. It feels like the world is getting more connected and even smaller." – RM 
Other news with regards to HYBE: 
News portals say that Warner Bros. Entertainment Inc might be investing a sum of $450 million into HYBE, and by doing so it could give HBO rights to content related to BTS, TXT, and their concerts, documentaries, and more. Warner Bros. is multinational mass media and one of the biggest entertainment and media companies in the United States. Among the diversified content they produce, the company is widely known for their film studio division. 
According to a report, Herald Economy states that Korean investment bankers have disclosed that Warner Bros. might be making equity investments into HYBE that comes up to ₩500 billion KRW which is about $443 million USD. Sources also say that the investment will be made through a third party, which is believed to be HBO Max by investors. Warner Bros. and HBO Max are both assets of the AT&T-owned mass media conglomerate Warner Media. 
Follow @namaste_hallyu and @namastehallyustudio for updates and more.