Do you have a dream to pursue higher education in South Korea? Want to study there for free? Global Korea Scholarship is your way!
The GKS Scholarship 2024 has been announced for Undergraduate Programs (Bachelor's and Associate's).
The National Institute for International Education (NIIED) recently released the GKS 2024 application requirements for undergraduate degrees. This program offers 262 scholarships to students from other foreign countries for the 2024 batch. 
The National Institute for International Education (NIIED), a division of the South Korean Ministry of Education, finances, and management for the Korean Government Scholarship Program, or KGSP (now GKS), a scholarship program for academic study. Since its inception in 1967, this has become one of the largest and popular scholarship programs in the world.
SCHOLARSHIP OBJECTIVES
Global Korea Scholarship is designed to provide international students with opportunities to study at higher educational institutions in Korea in pursuit of academic degrees, which will enhance international education exchange and deepen mutual friendship between Korea and participating countries.
※ As the Korean Government Scholarship Program have been integrated and branded as Global Korea Scholarship in 2010, the name has been changed to GKS (Global Korea Scholarship)
Students from all fields of study offered by GKS-participating universities are eligible to apply. The minimum academic requirements are 80% and the age limits are 25 years (undergraduate).
Check the link for more information: Study In Korea
Indian students who meet the eligibility criteria are invited to apply for this scholarship program through the 'Embassy Track' and 'University Track.' To do so, you have to submit your applications directly to the Korean Embassy in New Delhi and directly to choose a university, respectfully.
Since there are two tracks to apply for the GKS Scholarship, here is the quota reserved for each track.
GKS 2024 quota for India via Embassy Track is 2 and for University Track is also 2. For an associate degree, Within 7 Southwest Asian countries quota is 4.
You can select universities and the desired major you want to apply to listed in official guidelines.
The deadline for the Embassy track is October 4th 2023, and for the University it depends on the particular university, you can check in University information in the Guidelines.
These are the benefits of the GKS Scholarship: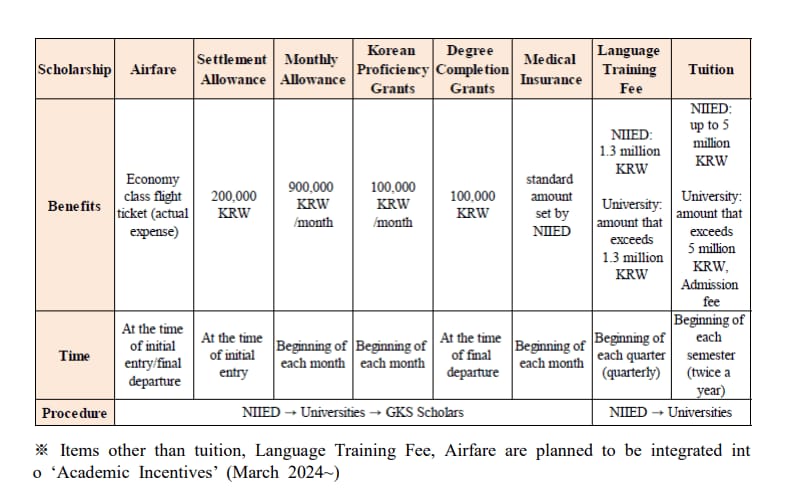 Required documents to apply are a GKS application form, one personal statement, one study plan, one letter of recommendation, a high school transcript, a graduation certificate, and Proof of citizenship (both applicant and parents). For other optional documents, you can check the official guidelines.
Here's the selection procedure:
Since this scholarship is highly competitive, you can increase your selection chance by submitting extra-curricular activity certificates, internship certificates, and skill course certificates.
A good personal statement and study plan play a significant role in selection. Also from 2024, you can officially get more points if you have a language proficiency test (Both Korean and English).
There are some successful GKS scholars who started their own YouTube channel to guide students about GKS and life in Korea. They provide tips and suggestions about how to improve your GKS application and ace the interview round.
Indian Unnie인도 언니
Bharat Ka Gaurav
Anjali in Korea
Maansi Made Tales 
Source:
Study In Korea (run by the government)
NATIONAL INSTITUTE FOR INTERNATIONAL EDUCATION (NIIED)
Did you find this article helpful? Are you applying to study in Korea? Do let us know!
Written by Apsara Khan
Connect with us on Instagram Twitter  YouTube for more content, interviews, & news.