GOT7 member Youngjae  released a concept photos for his upcoming solo full length album 'Do It'. 
영재(Youngjae) 'Do It' Concept Photo #2

영재(Youngjae)
1st Full Album 'Do It'
2023.11.06 6PM (KST)#영재 #YOUNGJAE#DoIt@GOTYJ_Ars_Vita pic.twitter.com/2jjuNl4ALT

— 영재 YOUNGJAE (@YOUNGJAExArs) October 20, 2023
The singer has also revealed spoiler video for his upcoming solo comeback and first full length album 'Do It'. In the spoiler video, you can see images of a film reel, a yellow flower, a man holding a drink, a man holding a pair of earphones, a rugby ball and a man in a rugby uniform walking away. As per the spoiler video, Youngjae's album 'Do It' is likely to have a sporty, energetic song along with something sultry, sexy and sweet.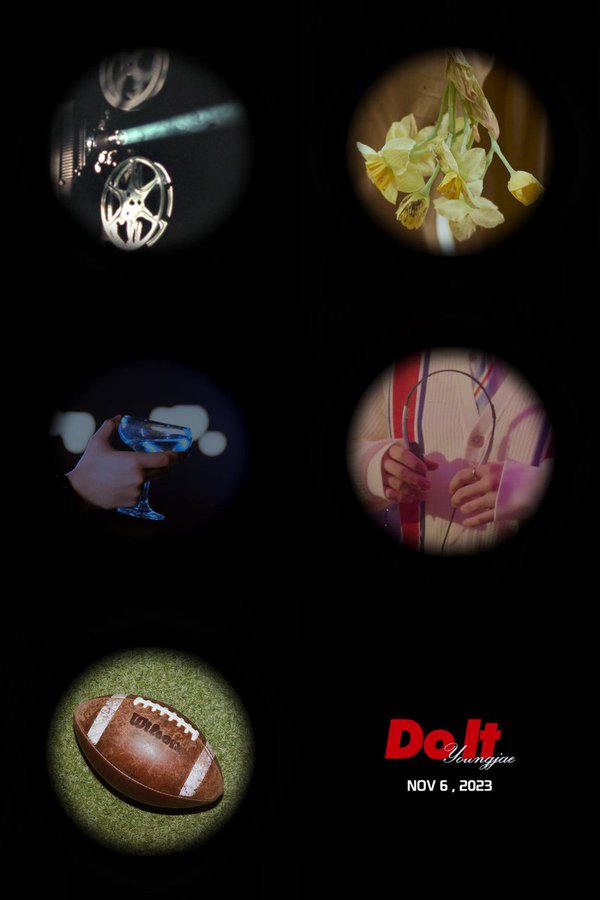 The promo calendar for 'Do It' was released on October 17 and according to that the concept photos for the album will be released from October 19 onwards. GOT7's main vocal first teased the album with a preview poster on October 16 and raised the anticipation of the fans. 
'Do It' isn't Youngjae's first solo release this year. In March 2023, the artist had released his digital single 'Errr Day' for which he had taken on the roles of composer and lyricist. Youngjae made his solo debut in October 2021 with the EP 'Colors from Ars', and its title track 'Vibin'. 'Colors from Ars' was a self-composed and self-produced album that was inspired by the idol's daily life, his emotions and fans. He released his second EP 'Sugar' in June 2022. 
Youngjae made his debut in the music industry in 2014 as the main vocalist of the seven member boy group GOT7 with the track 'Girls, Girls, Girls'. Apart from being an idol, Youngjae is also an actor and did dramas like 'Love & Wish' and the sitcom 'So Not Worth It'. 
Youngjae's album 'Do It' is scheduled to release on November 6 at 6 PM KST (2:30 PM IST)
Written by: Aarati S
Stay tuned for more updates.
Connect with us on Instagram, Twitter, and YouTube for more content, interviews, & news.