What an exhilarating start it is!
Encounter or also popularly known as Boyfriend (Hangul: 남자친구) premiered last week among great expectations and rightly took off with superb viewer ratings. The sixteen episode romantic drama directed by Park Shin-woo (Jealousy Incarnate, Hyde Jekyll Me) is the comeback of the stunning Song Hye-kyo after her marriage to Song Joong Ki. Actor Park Bo-gum also makes his long awaited drama comeback and what better way is there to make an entrance than sporting some long and luscious locks.
The plot revolves around Cha Soo-hyun (Song Hye-kyo), the cold CEO of Donghwa Hotel who is often referred to as the "Ice Princess". While she seems perfect in every way, she has her own share of personal problems being a divorcee who seemed to have a loveless forced marriage. Soo-hyun's father is a politician and we also meet her mother who does not exactly seem like a doting and caring one. To add on her problems, she has a dominating ex-mother-in law who is not very ready to let her have her freedom.
On the other hand, Kim Jin-hyuk (Park Bo-gum) is the best example of a happy-go lucky guy. Brought up by loving parents who are simple fruit vendors, Jin-hyuk seems to enjoy his life to the best. To celebrate the end of his twenties, he travels to Cuba where he meets Soo-hyun and immediately gets smitten by her not realizing that when he returns to Korea, she is unexpectedly going to end up being his boss.
With two episodes out of my way, I cannot simply express how much I really want more. During the entire two episodes, my level of concentration was out of the roof and I just could not control my stupid smiling face. Other than my extreme love for both the lead actors, Encounter is so well scripted that it just grabs your attention and draws you into the magical Cuban air  which you would not want to let go. Fate plays an important part in the plot to bring our lead actors together. The difference between Soo-hyun and Jin-hyuk's character is so mesmerizing and well portrayed by both of our actors. While Soo-hyun is lonely and has had so many distressing events (and people) in life, Jin-hyuk is the complete opposite has always been surrounded by warm-hearted people and is literally a "ray of sunshine". Spoiler alert: Park Bo-gum acting drunk has to be the most adorable thing to ever exist in this entire universe. The truth has been said!
One of the best aspects of Encounter is the fact that it breaks the usual K-Drama tropes and stereotypes. We usually come across rich and emotionally conflicted male characters while the female leads are mostly supposed to be poor, bright and have a role of providing warmth and a new dimension towards their romantic counterpart. With a complete switch in gender roles, we are introduced to a strong and ambitious woman who sometimes likes to indulge in small and humble aspects of life and a soft (not a chaebol) male character who arguably has the best personality and gummy smile in the entire universe.
A lot of things have happened over the first two episodes, and while Kim Jin-hyuk has sadly thrown away his luscious locks (you will be missed), I cannot wait to see how things will turn out to be for our unlikely couple. Another interest of mine lies in knowing the back-story of Cha Soo-hyun's ex-husband, Jung Woo-seok, who claims to have cheated on her during their marriage but seems to hold some secrets.
While scrolling down the comment section, I have come across many viewers complaining that the story is too fast paced, however, I personally am enjoying that things are not getting dragged along and very excited to see where we are heading along with Cha Soo-hyun and Kim Jin-hyuk. Maybe they will have more ramyeon dates and make my heart flutter with their subtle but charming chemistry.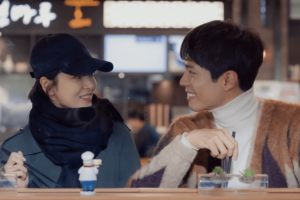 Encounter airs every Wednesday and Thursday at 9:30 PM (KST) on tvN.