Christmas came early for Delhi EXO-Ls on December 23, 2018.
With their powerful Tempo and irresistible Love Shot, Delhi EXO-Ls are definitely having a hard time keeping calm. Like all this 'attack' was not enough, Team EXO India (@teamexoindia) organized a screening of EXO's concert 'The EℓyXiOn' which was held in Saitama, Japan.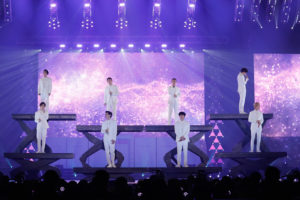 As expected, EXO-Ls came in large numbers, eager to watch their idols perform and get enchanted with their smooth vocals, fierce rapping, amazingly synchronized dancing and charismatic stage presence. After all, EXO has it all!
Conducted over a span of two days, 'The EℓyXiOn' had it all from their dance numbers like Call Me Baby and Monster to their mellow, vocal-based songs like Sing For You and Don't Go. Solo performances by Suho, Kai, Chanyeol, Sehun, Baekhyun and Xiumin left the fangirls out of breath! Then again, the cherry on the top was seeing them perform Electric Kiss and Cosmic Railway for the first time for their Japanese fans. Jealous much?
However, it wasn't just EXO's talent that we witnessed during the screening. Esther from Delhi made everyone crave for an 'encore' with her brilliant beatboxing while Varsha and Tenzin charmed the audience with their performance of Baekhyun's Beautiful (두근거려).  
Many EXO-Ls proved themselves to be A1 at mimicry as they enacted some popular phrases/ scenes done by their EXO biases. The winner who had imitated Kai's sexy moves in Love Shot won three EXO posters of her choice.
More posters were won by the lucky draw winners. But this doesn't mean that the rest of the fans went back empty handed, the organisers ensured that the fans were welcomed with a mini poster along with a translated script of the introduction in 'The EℓyXiOn'. On the whole, the event proved to be a success among EXO-Ls all over Delhi.
A hearty congratulation to Team EXO India for conducting this event smoothly. Team Namaste Hallyu looks forward to attending more of your events in the future~