It seems as if BTS is not only ruling the charts and breaking records with their digital single, 'Butter', but also making their way to the ARMYs' hearts, albeit gastronomically.
The BTS x McDonald's collaboration was instituted ahead of the group's eight-year anniversary, where McDonald's outlets in fifty countries across the world would serve the 'BTS Meal.' The BTS Meal includes ten Chicken McNuggets, French fries, Coke with Cajun and Sweet Chilli sauce.
While the sauces bring the Korean flavours to ARMY, it is the theme of the meal that adds to its appeal. The beautiful purple hue is the colour of the fandom and hence, close to ARMY.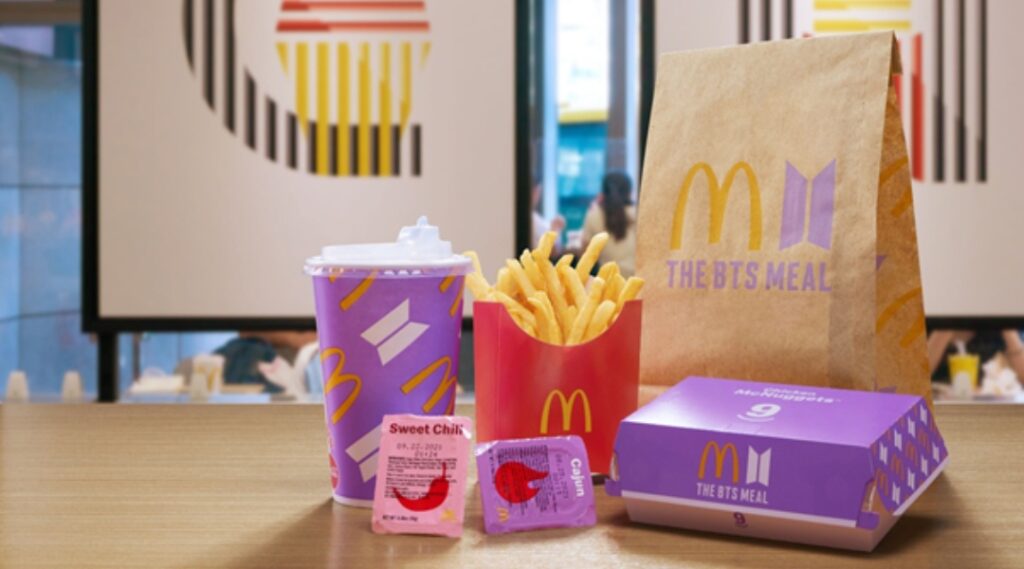 In Indonesia too, the meal was launched amidst much aplomb, which metamorphosed into a frenzy of sorts. This forced the concerned authorities to close McDonald's outlets, as the orders spiked and created a fear about the surrounding areas being infected by Covid-19.
Due to the pandemic, in-restaurant dining is not allowed in Indonesia and thus, this resulted in long queues of the fans and delivery people outside the McDonald's branches. Photos show swathes of green uniformed delivery people waiting outside along with excited fans.
Jakarta, the capital of Indonesia, witnessed 32 branches being shut down on Wednesday, 9 June 2021. Some were found violating Covid-19 protocol: social distancing was not possible in the chaotic circumstances. McDonald's Indonesia attempted to calm down the fervor by letting the fans know that the BTS Meal would be available for a month.

Those who received the meal, praised the McDonald's employees for giving them extra customized paper bags by serving the meal in normal packaging. The Indonesian ARMY also launched a campaign to distribute food packages to the delivery people, who braved the crowds and waited for long hours to get the BTS Meal. They also urged the fans to not indulge in panic-buying and be grateful to the delivery people for their service.

In other news, the BTS Meal was launched in India too and fans have been excitedly sharing photos on social media sites. BTS is also busy with Festa 2021, on account of which RM has released a solo, 'Bicycle'. Further, it is speculated that the band will have a comeback on 9
July 2021.
Have you ordered the BTS Meal yet? Did you like it? Let us know in the comments!
Do check out our review on the BTS Meal!
Find us on:
Instagram @namaste_hallyu
Twitter @namastehallyu
YouTube Namaste Hallyu
Written by Mehak Talwar