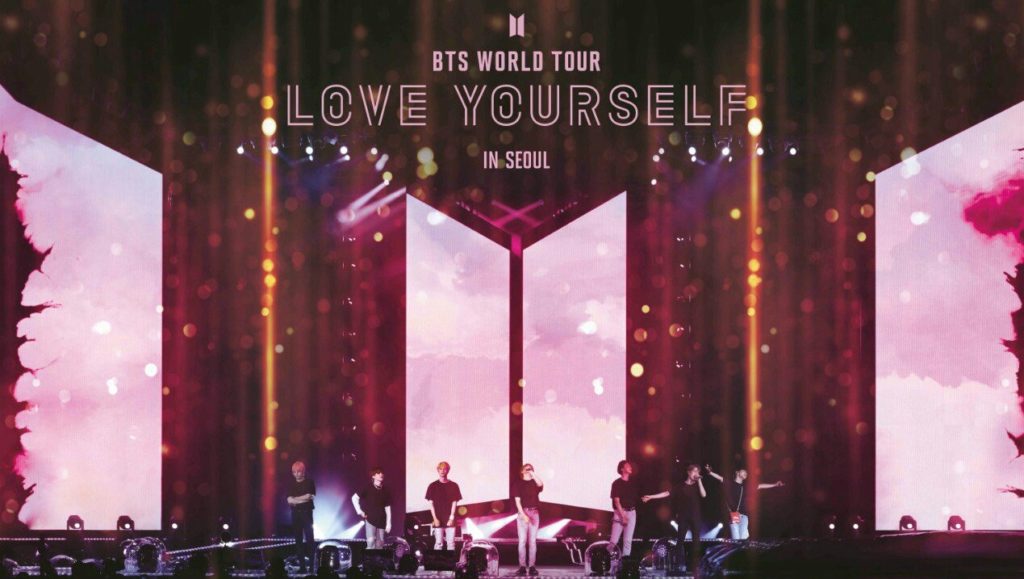 Much like the absolute electricity that had filled the air during the days that lead up to the release of 'Burn The Stage: The Movie'  
Last year, the hype surrounding the release of  'BTS World Tour Love Yourself in Seoul'  was just as, if not more highly accentuated. The one day event on 26th January saw BTS breaking yet another record when the cinematic release grossed at 11.7 Million USD and recorded 1.2 Million admissions worldwide (not including South Korea)!
Indian fans however were able to witness the cinematic release on 2nd February, a week later than the rest of the world. Fears that tickets and screenings would be limited or unavailable were soon dissipated when it was announced that the concert movie would be screened at not one, but two major cinema chains – PVR and INOX.
Despite the delayed screening in India, the days leading up to the release had Twitter (BTS' prefered social media network) abuzz with activity from fan accounts revealing all the projects they had in store for the big day. Prominent fan account Bangtan_India, collaborated with several Regional BTS fanbases in India to hold a nationwide banner project. Volunteers poured in to contribute to projects, to prepare decorations and to participate in flashmobs. Projects also included the distribution of BTS photo cards, BTS stickers, purple hearts, purple ribbons, purple stickers and even handmade BT21 cookies!
ARMYs recognized each other at crowded malls and cinemas thanks to the prescence of ARMY bombs in hand, BTS button badges pinned onto jackets and purple ribbons tied to their wrists. Quick to smile, wave and start conversation amongst strangers, onlookers might have even believed that the throngs waiting in line for the concert movie were all friends. Photocards, stickers and purple ribbons were exchanged, bringing smiles to both the fanclub admins and the recipients.
The concert movie began with resounding thunderous applause and screams from excited ARMYs but quieted down as the tension came to a boiling point. The introduction alone had fans whispering to their friends – "I can't believe we're finally watching this!"
At a single "Stand up!" from Kim Namjoon a.k.a RM (leader of BTS), the audience rose to their feet to jump, dance and sing along with banners and paper hearts in the air as though they were experiencing the concert first hand. The words might have been in Korean but everyone in the audience knew exactly what they were singing.
Here is a brief look at some of the events held by BTS fanbases across the country!
ARMY! Are you excited for watching #LoveYourselfinSeoul with us?

3 days to go! Details for our nationwide project in collaboration with @_PVRCinemas & @LivePvr will be up soon 💜#BTSatPVR @BTS_twt pic.twitter.com/mvsFdOi0Sn

— Bangtan_India⁷🧈 (slow) 🇮🇳 (@bangtan_india) January 30, 2019
Dehradun ARMY'S are you ready ? Can't wait to see you all😇 We hope you'll have a great time💜 #LoveYourselfInSeoulFilmInIndia #LoveYourselfinSeoulFilm #LoveYourselfInSeoul #BTSAtPVR #DehradunArmy pic.twitter.com/TvHBCOlfnZ

— BTS ARMY DEHRADUN ⁷ 🧈💛 (@btsarmydehradun) February 2, 2019
And of course we can't miss the group shot!

Always keep smiling, you all. It was healing to be in a Magic Shop with you all and @BTS_twt for 2 hours of my life 💜#LoveYourselfinSeoulFilminIndia pic.twitter.com/NMLAKOBfFi

— Bangtan_India⁷🧈 (slow) 🇮🇳 (@bangtan_india) February 2, 2019
BTS N.E INDIA PROJECT AT THE PVR, DONA PLANET, GUWAHATI WENT SUCCESSFULLY.
THANKYOU @bangtan_india for giving us the opportunity to work with you together and representing INDIA ARMY.
THANKYOU💜#LoveYourselfinSeoulFilmININDIA #LoveYourselfinSeoulFilm #BTSAtPVR @BTS_twt pic.twitter.com/I63KMObqCx

— BTS N.E INDIA (@BTS_NEIndia) February 3, 2019
Chhattisgarh Armys!
Our first official BTS event was a success! Thankyou soo much @LivePvr for this wonderful experience. We got a chance to sing, dance, cry, jump n enjoy with our boys @BTS_twt#BTSAtPVR @BigHitEnt @bangtan_india #LoveYourselfinSeoulFilmININDIA pic.twitter.com/b6bDMr3I5d

— Chhattisgarh Club Of BTS Army (@CG_Armys) February 3, 2019
#LoveyourselfinSeoulFilm #LoveYourselfInSeoulFilm #Bts #BtsHyderabadArmy #BTSARMY#BTSAtPVR@bangtan_india
THANK YOU @_PVRCinemas
And GALLERIA MALL esply..
Hyderabad BtS Armys PURPLE YOU💜@bts_bighit@BigHitEnt pic.twitter.com/IUYYnzGYgw

— BTSHyderabadARMYᴮᴱ-⁷ (@HyderabadArmy) February 3, 2019
Thank you ARMYS for making our day memorable ❤💜
Hope we've great time like this in future as well
With loads of love and hoping to meet soon ❤💜@LivePvr @_PVRCinemas @bangtan_india #LoveYourselfinSeoulFilminIndia #LOVEYOURSELFinSeoulFilm #loveyourselfinAP pic.twitter.com/64RZjB4JDQ

— ANDHRA PRADESH ARMY⁷💜 (@bts_ap_army) February 3, 2019
PVR, Infinity Mall Malad 6:00 p.m. show, Hope all of y'all had an amazing time! We hope y'all had fun!💜@BTS_twt @bangtan_india @_PVRCinemas @LivePvr #LoveYourselfinSeoulFilminIndia #BTS #BTSARMY #BTSatPVR #방탄소년단 pic.twitter.com/UWzhY2BiWr

— Mumbai Club of BTS ARMY | SLOW (@mumbai_bts) February 3, 2019
We Purple You All💜💜💜 Thank you Vadodara Armys for showing such great enthusiasm!!! @BTS_twt @bangtan_india @LivePvr @_PVRCinemas pic.twitter.com/VVCixhExLD

— BTS Gujarat🇮🇳💜⟭⟬⁷🧈 (@bangtan_gujarat) February 3, 2019
#LoveYourselfinSeoulFilm at #PVR 10am show.
The fan chant was an amazing experience. A huge turnout of Kerala ARMYs! Such a wonderful crowd to do a fan project with! @BTS_twt @bts_bighit @_PVRCinemas @LivePvr @bangtan_india pic.twitter.com/paVUo1xDD9

— ᴮᴱ BTS ARMY:Kerala⁷🧈🇮🇳 (@btsarmykerala) February 2, 2019
JAMMU ARMYYYYYYYYYSSSS.
WE KNOW YOU HAD FUN AND IT JUST LIKE Y'ALL ARE NOW GONNA HAVE A DAMNN HANGOVER.

Thank you @_PVRCinemas @LivePvr for letting us experience this amazing moment.
Thanking the jammu admin for the amazing work!!!! @CraftsDoodle pic.twitter.com/ybpgJT0zYi

— BTSJK&L ARMY🧈 (@jkarmyINDIA) February 2, 2019
The general population may deem the 'infatuation' with K-Pop culture's style and aesthetics as just a fad that will die down but conversation with a few ARMYs (despite their excitement) showed a more mature outlook on the subject than nay-sayers expected.
ARMYs Take: Why do you love BTS so much? 
"They celebrate every moment with ARMYs. They include us and love us, so we love them." – Nikita (15)
"For me, it's really personal. They've helped me a lot. They personally helped me a lot with my anxiety. The translations of their songs, the lyrics really touched my heart. I'm really proud to call myself an ARMY." – Saloniee (19)
"I love the way they motivate each other. The way they live every moment. Their happiness. The way they enjoy everything." – Vipul (15)
"I was just interested in their music. Then I found out about how they accomplished so much in life. They worked so hard to get to the platform where they are right now." – Urvashi (20)
"They're amazing as humans and as artists." – Kanishka (15)
"They inspire me a lot. Even (though) they are the same age as me, their albums, their songs speak to me. Every album is made to define every stage of life. Even when I was depressed and in pain, their songs help me to overcome all my problems." – Vaishali (22)
ARMYs Take: What has BTS and being an ARMY taught you? 
"No one ever told me to love myself, prioritize yourself. Everyone's just like prioritize your studies, prioritize other things but BTS told me to love myself first." – Shailika (15)
"Nothing is impossible if you work hard. They give me the motivation to work hard." – Neelakshi (15)
"BTS taught me how to fight with the situation and live without any fear or doubts. Like there is no tomorrow. Whatever you have to do, do today. Live today with a smile and happiness. And ARMYs' love taught me to love unconditionally whether they are with us right now or not. They will be in our heart forever." – Vaishali (22)
"BTS taught us to face ourselves in order to forgive ouselves so that we can love ourselves and speak ourselves." – Nikita (15)
"To be happy." – Vipul (15)
"To be kind. To love others and love myself for who I am and not judge people." – Pema (17)
"Self love. You should love yourself no matter what." – Urvashi (20)
ARMYs Take: How did you feel watching 'Love Yourself in Seoul'?
"Loved it! It was really good!" – Shaurya (15)
"It was so good my cousins and I watched it twice!" – Lala (20)
"It was like watching my BTS more clearly. Like they are having a concert just behind the screen!" – Vaishali (22)
"It was perfect! I loved it!" – Kanishka (15)
"I had a wonderful time. Namjoon is my bias and his stage was breathtaking. I honestly wasn't expecting to see such a turn out. I was surprised to see so many ARMYs singing perfectly in Korean." – Pui (53)
ARMYs Take: Now that we've had two official BTS events in India, what do you hope will be the next step? 
"Let's be real. Getting a direct concert? It's very difficult. But I really hope they show more BTS videos on TV and start showing their advertisements. Atleast visit India so that they know Indian ARMYs exist." – Shailika (15)
"A concert! A big concert!" – Tenzin (17)
"I want them to come to India. That should be the next step." – Urvashi (20)
"We're expecting and praying for a concert, fanmeeting or Bon Voyage. I want a Bon Voyage or fan meeting to be the next step because BTS will know more about Indian places, ARMYs and our love for them. And then concerts. We all know concerts need a lot of support from organizers and management teams." – Vaishali (22)
ARMYs Take: Realistically speaking, if we were to have a BTS concert in India – it would be in metropolitan cities like Mumbai or Delhi. Would you travel to watch BTS live? 
"We would wish to. We would literally cry!" – Tenzin (17)
"Of course! It's a once in a lifetime opportunity!" – Saloniee (19)
"If I don't have exams, I will!" – Shaurya (15)
"Yes! I am a hardcore ARMY and will fly wherever they hold a concert in India." -Vaishali (22)
While 'Burn The Stage'  gave ARMYs a meaningful behind the scenes, 'Love Yourself in Seoul'  was about giving every fan a small piece of the concert experience. Shot on 26th August, 2018 the concert movie was unbelievable and had fans both ecstatic and fueled with a passionate determination to one day experience it all live.
After firmly cementing that there does exist an immense fanbase for power boy group BTS in India and an untapped market potential for bigger official K-Pop events, fans wait with bated breath in hopes that a world tour will one day include India.
Bonus: Due to the popularity of the BTS World Tour screening, 'Love Yourself in Seoul' will have an encore screening on 10th February at PVR!
Indian AMRYs! Thank you to all 26,564 fans who witnessed a special one-day-only screening of the Bangtan Boys at PVR Cinemas. Based on popular demand, we are keeping an encore screening on Sunday, 10th Feb!

We💜you! @bangtan_india @BangtanINDIA @BTS_twt @KCC_INDIA pic.twitter.com/thptRvXNie

— PVRLive (@LivePvr) February 4, 2019