"We'll Be Back With Great Music And Even Greater Performances That You Can Look Forward To."- BTS 
BTS once again gave us a Dynamite performance of the song that won them a Grammy Nominee. Due to the ongoing pandemic the video was pre-recorded the Rooftop of Parc 1 Tower in Yeouido, Seoul and as the boys couldn't be there, there was a  "Grammy" set up for their performance! 
BTS  has become one of the biggest, most sensational boy group in the world and have achieved World Domination within 7 years of debuting. They have a colossal amount of fans, ARMY, (Adorable Representative MC for Youth) who have moved with the boys throughout this journey of Blood, Sweat & Tears to finally reach the highest.
The boys dropped their smashing hit song 'Dynamite' on August 21, 2020, that broke numerous records just within the first 24 hours of release. Dynamite is a track from their recent album 'BE' but was released much ahead of the album drop. According to Forbes, the premiere of BTS' Dynamite had a spectator count between 3 and 4 million, that gave BTS the largest YouTube premiere ever. This upbeat MV of the track, Dynamite, surpassed 20 million views in just one hour 14 minutes of it release.
ARMY set a goal of 100 million views within the first 24 hours of release for Dynamite and even achieved it! YouTube showed a count of 98.3 million views but, it was confirmed by both Big Hit Entertainment and YouTube that the MV actually hit 101.1 million views, as per the ARMYs goals, within just 24 hours. #Dynamite100MViewsIn24Hrs trended worldwide. The song also broke several iTunes and Spotify records, cementing deep history in the world of music.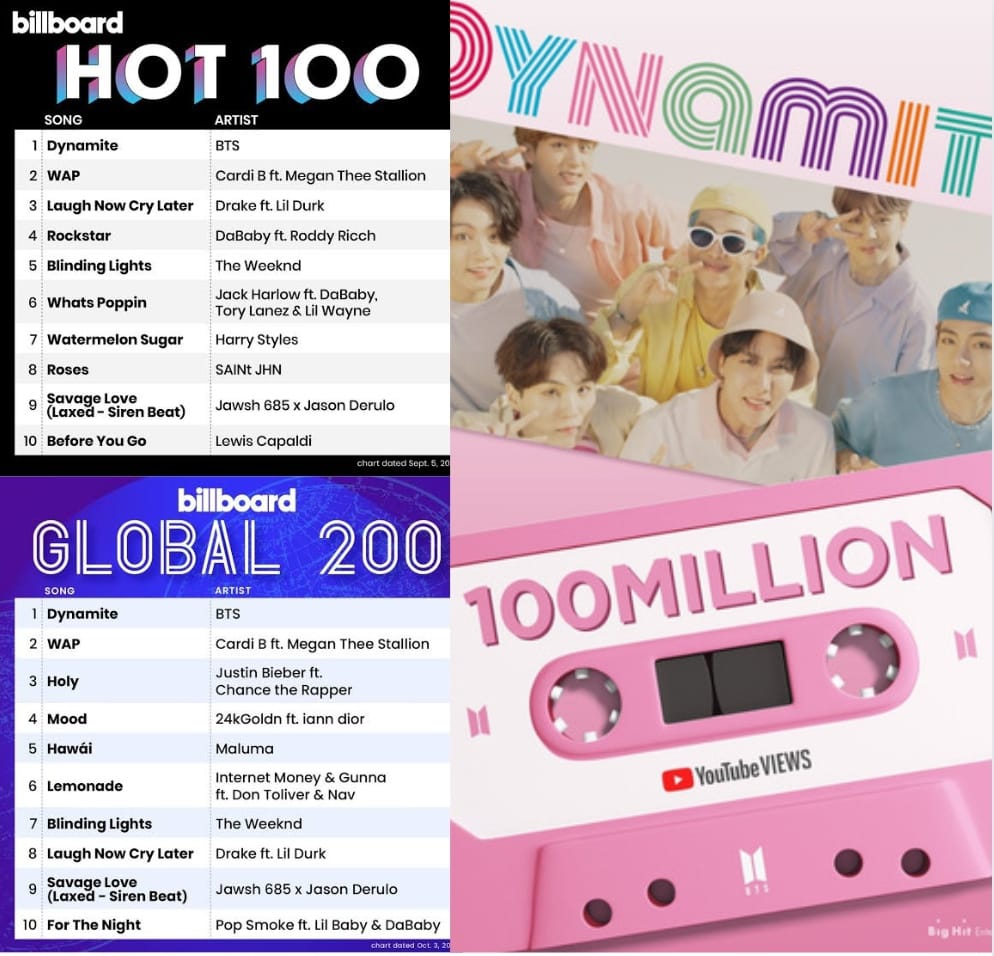 The boys hit the U.S. Billboard Hot 100 becoming the very first group to rule charts of both Artist 100, Hot 100 & Billboard 200 at a time. Billboard further says that the boys have spent 13 weeks at No.1 on their charts. The boys again marked history when they got nominated for the 63rd Annual Grammy Awards for Best Pop Duo/Group for their song, 'Dynamite' and this was the very first Grammy nomination for a K-POP act! The Premiere Ceremony of the Grammy Awards Premiered at 12:30 AM IST . And although Lady Gaga and Ariana Grande's 'Rain on Me' won the Grammy, BTS definitely won over everyone. 
The performances at Grammys started at 5:30 AM on March 15 according to Indian Standard Time and BTS performed at 8:55AM (IST). 22 artists performed on this award show but BTS was the only Asian Act! Many artists have performed in this prestigious award show, but for BTS this was their debut and they stole the show. 
Due to the ongoing pandemic few of the performances were pre-recorded including BTS. The other performers at the Grammy were Taylor Swift, Cardi B, Harry Styles, Bad Bunny, Harry Styles, Dua Lipa, Brandi Carlile, Black Pumas, DaBaby, Doja Cat, Billie Eilish, Megan Thee Stallion, Mickey Guyton, Haim, Brittany Howard, Miranda Lambert, Lil Baby, Chris Martin, John Mayer, Maren Morris, Post Malone, and Roddy Ricch.
Ahead of the Grammys, the boys had also shared their feeling about the nomination and more in an interview with Grammy. When asked how they feel about their achievements and how many artists look up to them, Jungkook humbly answered, 
"We're overwhelmed to be called representatives of Korea. We're just thankful for the support and attention that we've received, not only from our fans but our peers. We will continue to work harder to showcase even better music and performances. And it's an incredible honor to be the first Korean pop artist to be nominated for a GRAMMY, and we hope that this is just the beginning. A win would be significant not only for us but for many who pursue diversity in music."
[#오늘의방탄] MusiCares with #BTS🤟🏻 멋진 드럼 실력을 보여준 정국까지!🥁 #MusicOnAMission #방탄소년단 #7방탄완전소중 #인터내셔널팝케이센세이션_중략_핫백1위그래미노미네이트BTS pic.twitter.com/FXlMd8oFSr

— BTS_official (@bts_bighit) March 13, 2021
The boys not winning the Grammys may come with disappointment for some fans but in order to show support and congratulate them for all the remarkable achievements they have made so far, ARMYs and fans trended  hashtags worldwide. The fans trended #BTSOurGreatestPrize #WeAreProudOfYou,#LightItUpBTS and various other hashtag to show that the Grammys does not decide anything for them. BTS also reciprocated by posting pictures and also on VLive where RM said that it is okay and they love their fans and calls them BTS' prize. Click here to watch! and Suga said to fans, "Let's run/work even harder this year". We love this relationship where the artists and the fans stan each other. 
Besides the personal messages to their fans through their SNS, BTS also talked about how they feel after being nominated and had a special message for their fans through an interview which was dropped on the same night as the Grammys. 
BTS also shared personal messages to all the fans and posted their pictures and also their reaction to the award ceremony.
that moment 😂😂 pic.twitter.com/z6DquLPnYN

— 방탄소년단 (@BTS_twt) March 15, 2021
The Boys may not have won a Grammy this time but with all the achievements that they have made and continue to make and all the controversies about non inclusion and lack of Diversity in Grammy and the declining popularity of the award show along with various artists like Zayn Malik, The Weekend etc calling out the Grammy particularly for the lack of transparency in the nomination process, as well as accusations of racism and racial bias, do BTS really need the Grammy? We don't think so but if BTS wants, we are sure they will get it soon but in the meanwhile quoting the wise words of BTS leader RM, 
"….So please don't forget that, whether we get the Grammys or not, we already got what we wanted, and we got you, so that means we got everything."
BTS, you have done so well and we are all so proud of you all!