ATEEZ has returned with the third part of their Zero: Fever series, "ZERO: FEVER Part.3." On September 13, they dropped their new EP at 6 PM KST.
 "ZERO: FEVER Part.3" consists of 6 tracks in total. The tracklist includes, 'Eternal Sunshine, 'Feeling Like I Do,' 'Deja Vu,' 'ROCKY,' 'All About You,' and 'Not Too Late,' 'Deja Vu' serves as the title track. Along with the album, they have also dropped the official music video of 'Deja Vu'.
ATEEZ is known for their energetic and powerful performances, but this time 'Deja Vu' is more of a slow groove with addictive beats, combined with powerful choreography that will keep you hooked. The music video gives off dark vibes and all eight members look stunning. Rappers Hongjoong and Mingi also contributed to creating the lyrics of the song.
For ATINYs, FEVER Part.3" is even more special because it is Mingi's official comeback after his long hiatus due to health issues. However, due to a knee injury, Jongho had to limit his participation in the comeback choreography and other contents.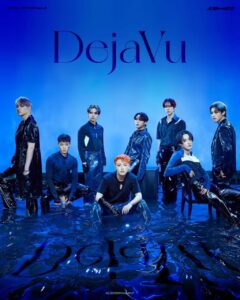 "ZERO: FEVER Part.3" has also broken the group's previous pre-order sales record. ATEEZ's agency KQ Entertainment has confirmed that the boys have surpassed 810,000 pre-orders for the new album. This is more than double of the pre-order sales for their previous album "ZERO: FEVER Part.2" which was 350,000.
"ZERO: FEVER Part.3" started charting in more than 20 countries on iTunes just after the EP dropped. Being #1 in India, US, Belarus, Brazil, Egypt, Macau, Malaysia, Mongolia, Philippines, Saudi Arabia, Thailand, Turkey, UAE, Vietnam, France, and many more. Tracks 'DejaVu' and 'Eternal Sunshine' also entered the iTunes charts of many countries including the US.
'Deja Vu' is currently charting #1 on Egypt, Kazakhstan, Latvia, Panama, UAE, Sri Lanka, Brazil, Finland, and many other countries.
ATEEZ is also soon expected to release the music video for their track 'Eternal Sunshine'. The group recently collaborated with 'Pentatonics' for "A Little Space" and also released a collaborative album with Kim Jong Kook titled 'Season Songs.'
What is your opinion on "ZERO: FEVER Part.3"? Let us know in the comment section below~
Connect with us on Instagram Twitter YouTube for more content, interviews & news.