The film 6/45 tells the tale of Cheon Woo, a sergeant in the Korean military (Go Kyung Pyo). He is stationed in a troop that is extremely near the DMZ.
He eventually discovers his winning lottery ticket, which was worth 5.7 billion. But his happiness is short lived as his lottery ticket unintentionally crosses the demilitarised zone into North Korea. Cheon Woo crosses the DMZ at night in search of his winning lottery ticket and meets soldier Yong Ho (Lee Yi Kyung) from North Korea. The North Korean soldier is certain that he is the rightful owner of the winning ticket and not Cheon Woo. The movie shows a lighthearted encounter between South and North Korean soldiers over the wind-borne lottery winnings worth 5.7 billion won.
If you like to laugh like crazy, this movie is a must-watch! Still, need to be convinced? Here are some reasons why you should watch '6/45'!
Cross-Cultural snickers
The flow of the comedy '6/45' is like a Ferris wheel. The audience may think the narrative moves too slowly and there isn't much laughter throughout the first 15 minutes. However, after that, the surprise happenings will have the audience laughing nonstop. This movie seems thrilling and not boring because of the entertaining and amusing jokes made by the cast members, as well as their acting. Although a number of the film's scenes or sequences are predictable, it didn't lessen the movie's thrill.
Funny and Realistic Characters
Understandably, Cheon Woo's (Go Kyung Pyo) behaviour alters once he learns about the winning lottery ticket as this is what perhaps majority of us would do if we learned that we have won a significant sum of money. But when his coworkers become aware of this new change, they believe that he is losing his mind and so, they try to send him to the hospital. They however alter their behaviours after learning about the tickets, much as in North Korea. The scene then shows that anybody who purchases a lottery ticket requires an amount of the profits and so, both the South and the North make every effort to haggle for a higher price. They start respecting each other without thinking that they are enemies and in addition, the dialogues that appear are accompanied by refreshing humour.
Dancing like an idol/ Swaying to idol music
The North Korean dancing on Rollin' by Brave Girls is a scene to watch and it becomes even more fun as their superiors joins them. Their gestures and facial emotions serve to enrapture the audience and when everyone started dancing, it made the already lovely thing even more memorable.
Crash Landing On Lottery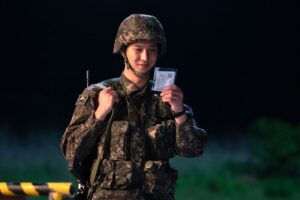 It has always been possible to adapt the war between North Korea and South Korea into any genre. The lottery ticket that plays the most significant part in the 6/45 movie, which leads to the union of the South Korean and North Korean armies for 5.7 billion won, just happened to come up this time. It's as if a lottery came to them and connected the soldiers by flying to North Korea from the South.
Go Kyung Pyo's laugh echoes
Chun Woo, who was going to complete his military duty in three months, was played by Go Kyung Pyo. He first comes out as an odd individual since all he did was drink the odd milk and discover their names. However, when he learned that he had won the lottery for 5.7 billion won, he went insane and his laugh just caused spectators to giggle uncontrollably.
Kwak Dong Yeon Comic troublemaker
Kwak Dong Yeon was sent to Seoul to pick up the money, but when he accidentally put the ticket in his pants as a security measure, it put at risk the whole task. Kwak Dong Yeon's trousers adjustment led others to perceive him as a perverted soldier and led to his viral fame. It was embarrassing and humorous to see him fleeing from people before getting into the car of a wealthy woman and offering her a ticket. Will he give her a ticket?
Watch this movie if you enjoy humour. You may watch this movie several times without getting tired of it because the narrative is light-hearted but engaging. Additionally, you may temporarily forget about the hostility between South Korea and North Korea by viewing this film and it did remind us of 'Crash Landing on You' when the soldiers crossed borders.
Let us know if you're watching the movie!
Connect with us on Instagram Twitter YouTube for more content, interviews, & news.