Your January K-Drama watchlist is here, and it includes a lot of drama, romance, and more for all Hallyu fans!
With an exciting conclusion to 2022 and a slew of dramatic releases that had us on our toes, such as 'The Glory,' 'Island,' to name a few, the start of 2023 appears even more interesting for K-Drama lovers. Here's something to look out for in January 2023.
1. BRAIN WORKS
Date of Release: January 2, 2023
No. of Episodes: 16
Main Cast:  Jung Yong Hwa, Cha Tae Hyun, Kwak Sun Young and Ye Ji Won
Genre: Mystery, Comedy
Watch it on: HiTV
Plot
Shin Ha Ru has a job as a neuroscientist. He is affluent due to inherited land and hails from a family of doctors for three generations. Shin Ha Ru is a self-assured man who acts and talks according to his principles, yet he feels no pity for those he considers to be filth.
Geum Myung Se is a private investigator. He acts and speaks gruffly around people, leading people who are unfamiliar with him to believe he is a dishonest officer. Geum Myung Se, in truth, is a good and just detective. He was previously married to Kim Mo Ran who has a very powerful libido.
Shin Ha Ru and Geum Myung Se collaborate to solve crime cases with the aid of Hypnotic Investigator Seol So Jung.
2. AGENCY
Date of Release: January 7, 2023
No. of Episodes: 16
Main Cast: Lee Bo Young, Son Na Eun, Cho Seong Ha, Han Joon Woo, and Jeon Hye Jin
Genre: Business, Life, Drama
Watch it on: HiTV
Plot
An office drama about a lady who climbed the ranks to become the first female executive in her company to reach the top level. It is set in the background of an advertising firm and features genuine stories about the daily lives of individuals who live in a combat zone and behind the scenes in the business scenario.
Go A-In hails from a low-income household and did not attend a famous institution, yet she has a great drive for achievement. She works for an advertising firm. She is recognized at work as someone who is just concerned about success and money. She works her way up from the bottom and aspires to be the first female lead executive at a big advertising firm, thanks to her devotion to hard work and drive for achievement.
3. POONG THE JOSEON PSYCHIATRIST 2
Date of Release: January 11, 2023
No. of Episodes: 10
Main Cast:  Kim Min-Jae, Kim Hyang-Gi , Kim Sang Kyung, Kang Young Seok and Woo Da Vi
Genre: Historical, Mystery, Romance, Medical
Watch it on: Rakuten Viki/ HiTV
Plot
Yoo Se Poong, a former royal physician, was expelled from the palace for his involvement in a royal family plot. In season 1, we see that having nowhere else to go, Se Poong ended up in the weird yet beautiful town of Gyesu. He then meets Seo Eun Woo and Gye Ji Han, and his life was forever transformed.
Se Poong began to mature as a physician and a person with the support of his new acquaintances. Se Poong accomplished his goal of becoming a genuine doctor by learning how to treat his patients' bodies, hearts, and minds, and so he reasoned.
With new patients and obstacles ahead of him, Se Poong must go on a new mission to better himself and the lives of those around him. Can Se Poong's new adventures bring him to an even deeper knowledge of both the heart and the mind by using his unconventional techniques to heal his patients, both psychologically and physically?
4. CRASH COURSE IN ROMANCE
Date of Release: January 14, 2023
No. of Episodes: 16
Main Cast:  Jeon Do Yeon, Jung Kyoung Ho, Roh Yoon Seo and Shin Jae Ha
Genre: Comedy, Romance
Watch it on: Netflix/ HiTv
Plot
Nam Haeng Sun was a national athlete in the past but she is currently the owner of a side dish shop. She has a wonderful smile and almost unlimited stamina. She changes course and enters the sphere of private instruction for students preparing for their university entrance exam. Nam Haeng Sun unexpectedly becomes connected with Choi Chi Yeol.
Choi Chi Yeol, often known as Ilta Teacher, is a well-known private education instructor. He puts in long hours at work. As a teacher, he talks without hesitation and incorporates showmanship into his lectures. As a famous teacher, he has gained fortune and renown, but with rising success, he has grown more sensitive, prickly, and insensitive to people.
He then meets Nam Haeng Sun, who has a very optimistic attitude and never-ending stamina. Nam Haeng Sun and Choi Chi Yeol's connection blossoms romantically.
5. STRANGERS AGAIN
Date of Release: January 18, 2023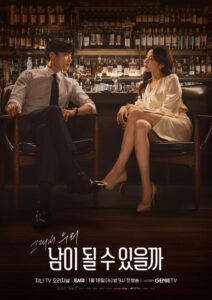 No. of Episodes: 12
Main Cast: Kang So Ra, Jang Seung Jo, Mu Jin Sung and Jo Eun Ji
Genre: Comedy, Law, Romance, Drama
Watch it on: Rakuten Viki/ HiTv
Plot
Oh Ha Ra is an aspiring divorce lawyer known as the "goddess of litigation" in legal circles. Perhaps one of the reasons she is so skilled at divorce processes is that she divorced her long-term partner and fellow lawyer Goo Eun Beom. Her reasonably routine existence is thrown upside down when she is suddenly reunited with her ex-husband – in the firm!
The pair are compelled to collaborate, which causes them to butt heads and rekindle old grudges. But their professionalism stops them from saying what they truly believe in public, and tempers begin to fray…and threaten to boil over. Fellow divorce lawyers Kang Bi Chwi and Kwon Si Wook, another pair of counsel who constantly seems to get under each other's skin, do little to ease the tension. Can Cupid save these attorneys, or will anarchy reign in the courtroom?
Connect with us on Instagram Twitter YouTube for more content, interviews, & news.