Netflix has released the official trailer for their upcoming production 'My Name' starring Han So Hee. 
The trailer highlights all that we can expect from the show and promises a dark, interesting plot with Han So Hee in full action to take her revenge. 
Han So Hee will play the role of Yoon Ji Woo, an undercover agent in the crime branch who is determined to find the truth about her father's murder. Her father gets killed right in front of her eyes on her 17th birthday, which instils a great amount of rage in her and prepares relentlessly to work towards avenging his death. In order to seek revenge, she goes to find a well-known friend of her father's, Moo Jin, who is the Dongcheon gang's boss. After he tells her that a cop killed her father, she joins the gang and trains herself really hard and gives up her original identity to join the police force's crime branch under the name Oh Hye Jin.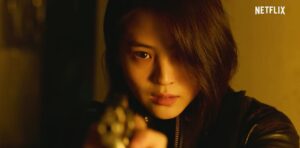 The actor gained popularity due to her versatile skills that were predominantly seen in the 2020 K-Drama, 'World of the Married.'  However, she solidified her popularity by playing the role of Yu Nabi in the recent Netflix K-drama 'Nevertheless,' alongside Song Kang. 
The first teaser of 'My Name' created a frenzy among fans due to the powerful charisma exhibited by Han So Hee. Dressed in all black and holding a knife, her words on the poster "It's fine if I become a monster. I'll kill you," convinced everyone to have high expectations for this upcoming show. 
So far the storyline sounds promising and the image/video teasers haven't failed the hype either. Fans who were introduced to Han So Hee as the soft-spoken and sweet Yu Nabi in 'Nevertheless,' are up for a huge shock, as she is nothing but savage in this show. The Swoon released a highlight clip, where we see her going solo on a group of mobsters, taking them down with her strong martial skills.
Han So Hee even went to an action school, which explains her great moves.
"I realized for the first time that I have two left feet. I gradually transformed by going to action school on all of the days—Mondays, Tuesdays, Wednesdays, Thursdays, and Fridays—and I had fun filming because of the euphoria that comes after perfectly completing an action scene."

– Han So Hee
The drama's cast also includes Ahn Bo Hyun who plays the role of Jeon Pil Do, Yoon Ji Woo's partner in the police force. Actor Park Hee Soon has taken up the role of Moo Jin, the leader of the Dongcheon gang. The show will premiere on October 15, 2021. 
Do comment your thoughts about this drama and Han So Hee's role as the lead. 
Connect with us on Instagram Twitter YouTube for more content, interviews & news.