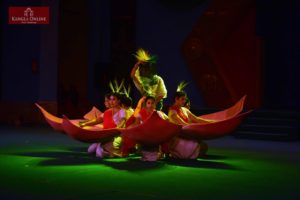 India is currently riding on the Korean wave and looks like the Manipur Sangai Festival 2018 is not spared from it either!
Manipur Sangai Festival is held every year for 10 days from 21st November to 30th November. The festival aims to attract tourists from various parts of the country and the world by showcasing various cultural programmes, food and handicrafts stalls, music, sports etc from the state as well as other states and countries including Thailand and South Korea among others.
Riding on the current trend of Korean wave in India and the world, this year's Sangai Festival witnessed performances from KPOP fans of the state dancing to various KPOP hits in the evening of 25th November, the fifth day of the festival.
The students of Korean Language of Manipur University also performed the traditional Korean Fan Dance which was followed by a stunning performance from the Korean Taekwondo Team of Korean Cultural Centre.
The Ambassador of Republic of Korea to India, His Excellency Mr Shin Bong-Kil was also present to witness the cultural extravaganza and expressed his delight over being invited to witness the performances and the festival as a whole. He also put forward his desire to see more cultural connection between South Korea and India through such festivals.
With Sangai Festival bringing in a bit of Korean wave and Nagaland's Hornbill Festival having a KPOP Night with boyband MONT, we are definitely heading in the right direction to bring KPOP home, aren't we?