T.O.P confirms to his fans on Instagram that he has left BIGBANG & is preparing for a solo comeback.
On May 29, T.O.P posted a video & picture along with the caption, "Still making my albums." This brought excitement to his fans as it looked like he was finally having a comeback. A fan however commented on his post asking if he had left Bigbang, and the artist responded that he has "already withdrawn."
View this post on Instagram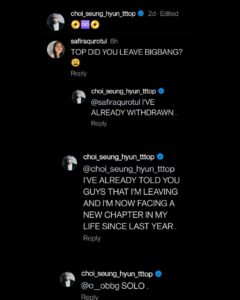 Although it was announced in early 2022, that T.O.P left YG Entertainment, the statement from the company during that time stated that while he left the label, he would participate in the group's upcoming comeback whenever the conditions were right. This was also followed by the comeback news of the group.
Bigbang then released 'Still Life,' their first comeback track in four years, which topped multiple charts with its release. This thus gave hope to the fans.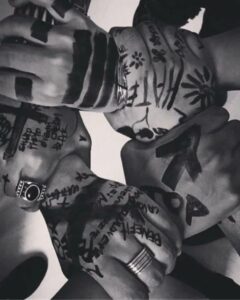 But after the song & MV were released, some fans widely believed that this was the ending of a beginning and it was assumed that the song was a way of showing that the members will be going their separate ways. This was however not confirmed by YG Entertainment or the members. T.O.P's current statement as a reply to his fans on IG has confirmed his departure.
Prior to these responses to fans, T.O.P had shared media announcements of his comeback on his IG story. Much to fans' surprise, the former member of BIGBANG, had crossed out the 'BIGBANG' as part of the title news.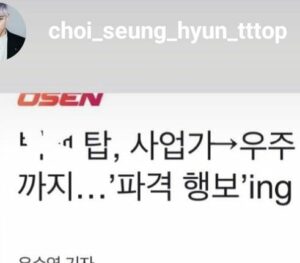 BIGBANG debuted in 2006 as a 5 member group under YG Entertainment. They were dubbed as the 'Kings of K-POP' and one of the most influential K-POP acts. They introduced the concept of lightsticks and were known to produce their own music in an era where labels created the music for the artist, paving the way with their many firsts.
BIGBANG won the Best Worldwide Act Award at the 2011 MTV Europe Music Award. Their album 'Alive' was the first Korean album to chart on the US Billboard 200. They were the first Korean artists to be included on the Forbes Celebrity 100 (2016) and 30 Under 30 list of most influential musicians in the world (2017).
Bigbang now comprises of G-Dragon, Daesung, and Taeyang.
Connect with us on Instagram Twitter YouTube for more content, interviews, & news.