On February 10, K-Pop girl group T-ara's member Jiyeon announced the beginning of a new phase in her life with professional baseball player Hwang Jae Gyun. The artist took to her social media channel and shared a handwritten letter as well as a few photos with her fans. 
The letter had the following message:
"Hello, it's Jiyeon. I gathered my courage to write this letter in order to share a story with my fans. I made my debut in my teens, and now time has passed and I am already in my 30s. After debuting, when I was young and afraid of everything, when I withdrew from anxiety in my teens and even in my 20s, when I wanted to give up during a difficult time, you always reached out and held me silently.

Thank you for cheering me on to make it through the long tunnel. I am here maybe because of you today.

To the fans who believe in me and support me, I want to share this with my fans first and foremost, not the words or writings of other people.I have a boyfriend who I met through an acquaintance last year. We met with good feelings.

I made a promise to get married in the coming winter with my boyfriend whose presence is a gift in my life, who has always cared for me first, cherished me, and taught me that happiness.

I will live a pretty and happy life with a reliable boyfriend who firmly held me when I was unstable and gave me a shoulder to lean on.

I am worried that you might have been surprised by the sudden news. The day comes when I can share this happiness with you too, so I am very nervous as I write this letter.I will continue to repay you with a good image in the future for all the support and love that the fans send.

Thank you and I love you ❤️"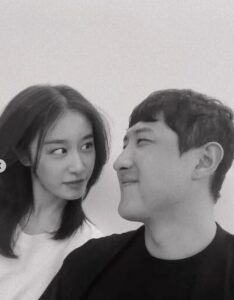 Hwang Jae Gyun also shared his feelings with his fans with another handwritten letter which was posted on his social media channel.
"Hello. This is Hwang Jae Gyun.

I was taught to share good stories and good news. First of all, I want to inform you, so I am going to write each letter with a careful and trembling heart.

I have a person I want to be with for the rest of my life. I decided to get married with a friend whom I met during a difficult time last year and who held me tight and helped me a lot just by being by my side.

The reason I am saying this all of a sudden is that, during the season, when I was concentrating on the game, my marriage articles could create a slightly confusing atmosphere for our team, KT, which is running hard with one goal of winning. So, I thought it would be better to announce it before the season starts, so I decided to write this.

Until the wedding, and even after marriage, I will love you happily and beautifully.

Dear KT fans,

This season, like last year, we will work hard to provide joy, so we ask for your support and interest.

Thanks for reading this long post. The weather is getting cold again these days, so be careful not to catch a cold, and I hope you are always full of happy things."
Congratulations to T-ara's Jiyeon and Hwang Jae Gyun and all the best for their future.
Connect with us on Instagram  Twitter  YouTube for more content, interviews & news