This is an appreciation article for Super Junior's all-rounder, Yesung!
Yesung has been active for a long time as the main vocalist of Super Junior, one of the most popular boy groups who have marked their place in the industry. Also known among many of his fans, nationally and internationally, for his amazing vocals, dancing and acting skills. Yesung has a momentous presence all over the world and is famous for his cute interactions with his fans worldwide.
There are multiple occasions where he posted captions in different languages like Arabic, Japanese, Chinese, Thai, French, Russian, Indonesian, Spanish, and even Indian languages like Hindi and Bengali. 
During these hard times that the world has been going through for almost three years now, it is these gestures and effort that gives fans immense happiness. 
Here are some of the posts made by Yesung on his official Instagram and Twitter in Hindi and Bengali, 
Have A Good Day (Hindi) 
Good Night (Hindi)
It Is A Good Day (Hindi)
ek achchha din hai 😷 pic.twitter.com/czzItC9qET

— Yesung (@shfly3424) April 10, 2020
We Are Together This Week (Hindi)

Not many days left… D-11 (Bengali) 
Yesung's Love for Dangal 
 

Bonus!
Thank you Choi Si Won!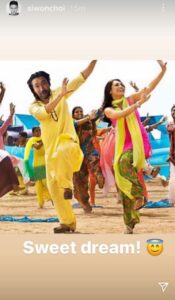 *Alexa, play Ishq Hi Hai Rab*
Our hearts warm every time artists and idols do their best to interact with fans and send meaningful gestures! 
Connect with us on Instagram Twitter YouTube for more content, interviews & news.