SE SO NEON's lead singer So!YoON! aka Hwang So Yoon stunned fans with the release of title track teasers for her upcoming solo album, 'Episode 1: Love'.

Hwang Soyoon's second solo album will be released on March 14 at 6 p.m. KST (02:30 PM IST). BTS' Leader, RM will also feature in her album Episode 1: Love for the track 'Smoke Sprite' and the music video will be released on SE SO NEON's official YouTube channel.
So!YoON! released a teaser for the music video for 'Smoke Sprite' on March 8 and in the teaser, shots of So!YoON!, and RM flash across the screen as a song teaser plays in the background. Hwang Soyoon and RM has collaborated on the songwriting and creation of the music.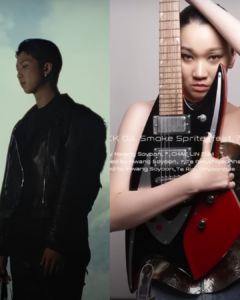 In the upcoming second full-length album, two additional artists Parkjiyoon, and Jibin of Y2K92 are also featuring.
So!YoON! is a singer, composer, and guitarist with a unique voice and an energetic live show. So!YoON! created the band Se So Neon in 2016, at the age of 18, and began her career as a musician. Her sophomore, debut EP, released in 2017, earned her the titles of "Rookie of the Year" and "Best Rock Song of the Year" at the South Korean Music Awards. After finishing the Se So Neon globe tour in Tokyo, Bangkok, Hong Kong, New York, Toronto, Amsterdam, and Hamburg, she began her solo career.
Are you ready for this outstanding collab? Let us know.
Connect with us on Instagram  Twitter  YouTube for more content, interviews, & news.