Rookie Cops (Neowa Naui Gyungchalsueob, You or My Police Class) is a South Korean streaming television series about police university students starring Kang Daniel, Chae Soo Bin, Lee Shin Young, and Park Yoo Na. The series has started airing on Star via Disney+ on January 26, 2022, as the OTT's first Korean Star Original.
Plot Summary
Ko Eun Kang (Chae Soo Bin) starts attending the Korean National Police University as she is inspired to be a cop because of her crush, Jang Ju Chan (Park Yeon Woo), who is also a KNPU student. She joins as a freshman at the police university and her first day turned out to be challenging as she is falsely accused of snooping around the institution. Wi Seung Hyun (Kang Daniel) is a first-year police officer who is at the top of his class and a righteous man. Wi Seung Hyun and Ko Eun Kang make the decision to track down the criminal and clear her identity.
Couple Chemistry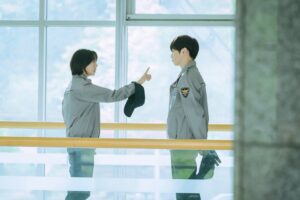 Eun Kang admires Jang Ju Chan, who tutored her for two months and inspired her to become a police officer. During Eun Kang's first encounter with Seung Hyun, she discovers that her sister Ko Mi Kang was two-timing Seung Hyun's friend Min Yong. Seung Hyun calls her sister a gold digger, and the two fight, but they later meet at KNPU, where they continue to tease each other.
Supporting Characters

The series has many funny characters like Kim Tak (Lee Shin Young), Yoo Dae Il (Park Sung Joon), and Seo Bum Ju (Kim Woo Seok) who just want to eat noodles and they proceeded to steal them with honesty by leaving a note stating that once the training term is completed, they will pay for the stolen noodles. Mrs Sherlock, who worked as a janitress at the institution for 30 years, usually has noodles.
The seniors at KNPU are Um Hyuk (Lee Joon Woo) and Baek Sun Yu (Jung Soo Bin). They are unkind to everyone and function in such a structured manner. They're both prone to losing their temper and never give others the opportunity to speak up against them.
Ko Eun Kang shares a dorm with Shin A Ri (Cheon Young Min), Gi Han Na (Park Yoo Na), and Woo Ju Young (Min Do Hee). Initially, they had a kind attitude, but when Eun Kang was framed, A-Ri does not take the opportunity to save her and chooses to remain silent. After feeling bad, she informs Eun Kang everything and she decides to find the culprit. She thinks back over her day and considers what she did and where her jacket was, and she discovers that her jacket was mixed up with someone else's. She decided to search Han Na's bed for something, despite the fact that Han Na was conversing with someone, which was suspicious.
Moments that stay

At first, KNPU does not accept Eun Kang and she is left devastated over the fact that she will not be able to attend the university. However, she receives a call from KNUP during her graduation ceremony, asking whether she is interested in joining the institution. Her parents are so pleased with her that they call everyone they know to inform them of her acceptance to KNUP. It demonstrates how much parents adore their children and how even minor achievements make them proud.
Verdict
The narrative of this K-Drama isn't dissimilar to that of other rom-coms. It does, however, put a serious perspective on it. There is a lot of suspense in it, such as who is Kim Hyun Soo and many questions about him and university. Overall, it's a delightful drama, and based on the first two episodes, this is shaping up to be a fantastic police university drama.
And that's it for episodes 1 and 2. Are you watching this drama? Are you enjoying it as much as we are? Let us know in the comments!
Connect with us on Instagram  Twitter  YouTube for more content, interviews & news