Even with the unsatisfying ending of 'High Class', one thing viewers are happy about is that it ended with Yeo Wool and Na Yoon becoming friends. The drama had started strong, but it went downhill and the ending flat-lined. Regardless of everything, it did achieve to relay its message perfectly.
From a loving parent to a complete psycho?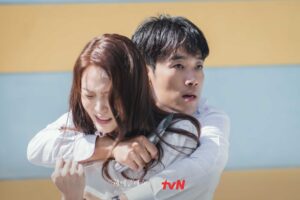 One thing that perturbed every viewer was the poor character development of An Ji Yong. He went from being a perfect husband and loving father to a cheater and a complete psycho obsessed with nothing but money.
Ji Yong's end was also quite unsatisfying; the police couldn't catch him, and he was killed on a yacht by a complete stranger. Of course, the man may have been one of Wan Chai group's cronies, but since we wished for him to pay for his sins, the ending was anti-climactic.
Another thing that bugged us was how passive the police were in this episode. They couldn't catch Ji Yong, weren't the ones to find Yi Chan, and almost let Na Yoon get hurt by Ji Yong.
Getting what they deserved
Most of the characters got what they deserved (more or less). The ending was somewhat happy, with the shadow of Ji Yong disappearing from everyone's lives.
The ending showed the healing relationship between Yeo Wool and Na Yoon, it wasn't something we were expecting. But in the end, they are the only two people in the world who can understand what they went through, so them seeking comfort in one another makes sense. Ji Sun is sentenced to imprisonment, and Jun Mo finally realises that he made a mistake by exposing his mother's crimes.
The Message
Despite the flat ending, the plot holes, and the loose ends, the drama managed to relay its message. It is a reiteration of the age-old adage "all that glitters is not gold". Another message that 'High Class' put across was that of the role of parents and teachers in ensuring a healthy environment for children to grow up in. It also showed how parents play an important role in how children grow up to become.
Verdict
Although the drama had a promising start, it fell short at the end. We aren't sure where it truly went wrong, maybe when it made Ji Yong the antagonist. Despite the ending, it was an overall good drama, though we wish the finale could have been better.
What did you think about the ending and the drama as a whole? Let us know in the comments or tweet to us.
Connect with us on Instagram  Twitter  YouTube for more content, interviews & news
By Ileeka Pal & Kanan Agarwal