'Hellbound' ( 지옥) is a South Korean television series starring Yoo Ah In, Kim Hyun Joo, Park Jeong Min, Won Jin Ah, and Yang Ik June. Based on Yeon Sang Ho's webtoon, the Netflix original series is a supernatural thriller that will leave you pondering about human beliefs.
On September 9, 2021, the series was premiered at the 2021 Toronto International Film Festival, making it the first Korean drama to debut in the festival. On November 19, 2021, the series was released worldwide on Netflix.
Plot Summary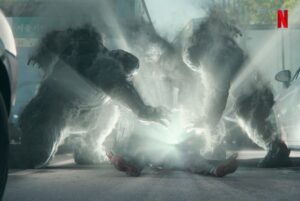 The series is set in a world where people are given decrees about their death dates. When the moment of their death arrives, they are mercilessly beaten, killed and doomed to go to hell by mysterious creatures. Jung Jin Soo (Yoo Ah In) is the founder of the 'Saejinrihwe' or 'The New Truth'. He declares the occurrence of death angels from hell as a revelation from God. Jung Jin-Soo is a powerful and popular chairman who has a mysterious aura. Jin Kyung Hoon (Yang Ik June) is the detective assigned to the case.
Min Hye Jin (Kim Hyun-Joo) works as an attorney and publicly opposes Jung Jin Soo's ideals and 'Hwasalchok', also known as 'Arrowhead', which is an organization that causes violence in the name of Saejinrihwe. The series also introduces us to Bae Young Jae (Park Jeong Min), a director at a broadcasting company and his wife Song So Hyun (Won Jin Ah), who face a great misfortune and set out to learn the truth about the Saejinrihwe.
Will they be able to confront know the truth about the damnation? Will they be the ones to save the world or the ones to lose it?
The Main Cast
Yoo Ah In as Jung Jin Soo
A cult leader and the founder of the 'New Truth Society,' also known as 'Saejinrihwe,' a new religion. He describes angels as a tool by God sent to punish sinners. While he is extremely popular, he has a very mysterious vibe. He has influenced many people to join his cause and creates chaos in the world.
Yang Ik Jun as Jin Kyung Hoon
A detective working of the case of the recent murders. He has a painful past and he gents involved with Jung Jin Soo after his daughter joins Saejinrihwe.
Kim Hyun Joo as Min Hye Jin
An attorney, who wishes to reveal the true identity of Jung Jin Soo and his organizations. She works to put the ones involved in the Hwasalchok organization behind the bars. 
Park Jung Min as Bae Young Jae
He works as a Broadcasting Station PD, who learns the truth about Saejinrihwe. After facing an unfortunate event, he works with help Min Hye Jin to disclose the true face of Saejinrihwe and Hwasalchok.  
Won Jin Ah as Song So Hyun
She is the wife of Bae Young Jae. She wants to keep her newborn child safe from the curse. She is curious to know why her child is has been chosen for this ordeal.
Why you should watch Hellbound?
Hellbound hits all of the right notes to make it a must-watch. Hopefully, it raises enough interest to warrant a second season, because there is a lot to be answered.
One of the main reasons why Hellbound should not be missed is the amazing cast. Yoo Ah In does wonders encapsulating Jung Jin Soo's character, whether it be his calm yet creepy voice or his expressions whenever he passionately talks about the damnation of the sinners. Park Jung Min and Won Jin Ah also perfectly capture the emotions of parental love and the fear of losing their only child. The other cast also have amazing chemistry, which will make sure that you don't skip any of the episodes.
Since the series is only six episodes long, it is fast-paced and does not give the viewers a chance to take a deep breath. The violence shown in the series is not too much and the direction and CGI is very good. One of the best takeaway from this series is the implying message – To what extent should you actually believe your belief?
Have you watched this drama yet? Do let us know your opinion!
Connect with us on Instagram Twitter   YouTube for more content, interviews & news
By Kanan Agarwal