'Forecasting Love and Weather' had a strong premiere by mixing one of the most popular K-Dramas genres i.e., office romance with the happenings of a Weather Forecast Department. The parallels between the unforeseen nature of love and weather, which comes without any warning are the main and unique features of the show.
Plot
The series follows the office romance of Jin Ha Kyung (Park Min Young), an upright, strong but extremely cautious Director of Team 2 and Lee Shi Woo (Song Kang) of Special Reporting Division 2 of Korea Meteorological Administration (KMA). Both of them try to navigate their newly found relationship at the office where Chae Yoo Jin (Yuna), Shi Woo's ex-girlfriend and Han Ki Joon (Yoon Bak), Ha Kyung's ex-boyfriend work. Yoo Jin and Ki Joon are married. 
The show also deeply explores the functioning of the Meteorological Department and its daily routine of monitoring the slightest change in the wavelength of weather to predict unforeseen weather-related disasters.
A Shocking Start
The drama began with an unexpected breakup of about to be married couple-cum-colleagues at office, Jin Ha Kyung and Han Ki Joon. The first episode 'Signal' saw the different signs pointing towards an eventual breakup but Ha Kyung was too blinded by love to see the warning signs. The relationship ends with an unexpected bold where Ha Kyung discovers that Ki Joon is cheating on her. Ki Joon and Yoo Jin get married and our two leads end up drinking together and having a one-night stand. 
Supporting Characters
The first two episodes explored the relationship of Yoo Jin and Ki Joon who were cheating on their partners and ended up marrying each other. 
Other than them, Lee Sung Wook (Eom Dang Han) experienced relationship strains with his wife and daughter due to his passion for his work but is soon promoted to Team 2 to live with his family.
The head forecaster, Ko Bong Chan (Kwon Hae Hyo) looks promising with Ha Kyung becoming Director of her Team 2 (including Yoon Sa Bong, Moon Tae Yu, Chae Seo Eun).
Ha Kyung's family consists of a superstitious mom Bae Su Ja played by ever-loved Kim Mi Kyung and a fun-loving sister Jin Tae Kyung (Jung Woon Sun).
Moments That Stay
The highlight of the first two episodes is the epic confrontation between Ha Kyung and Han Ki Joon in the office. Both are able to finally speak their hearts out about each other with Ha Kyung finishing off their relationship and winning the argument, as she rightly deserves.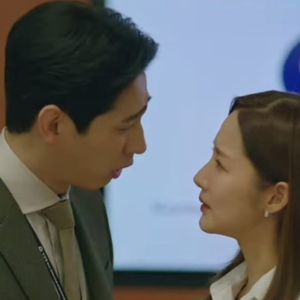 The fight with Ki Joon makes our female lead more at ease and the talk with Si Woo is the icing on the cake as they both ended up in bed together, though Ha Kyung decides to never date her co-worker again.
Verdict
The show has started with a bang and is consistently fast-paced with a few bold scenes in the beginning. Anyone who is insanely romantic and loves watching office romance and that too with a detailed description of the work involved is a must-watch. The pairing is very well suited and the actors are very well immersed in their characters. You won't feel bored even for a second.
Connect with us on Instagram  Twitter  YouTube for more content, interviews, & news.
Written By Rachita