Bo-ra! Deborah episodes 13 and 14! It's heartbreaking to end a fantastic romantic comedy. However, seeing how things turn out and understanding how each other feels gives the strength to move forward.
Ju Wan's chapter close
Bo Ra resumes her radio program. Bo Ra begins talking to Deborah's number one admirer, Ju Wan. He claims to be close to winning his ex-girlfriend back after seeing the importance she was to their relationship as he looked back on their time together. She tries to talk him out of it, but it doesn't work. Bo Ra still appears anxious as the other radio host concludes. When Bo Ra leaves the studio, Ju Wan is already waiting outside. He desires a fresh start. When Soo Hyuk, who overheard everything, gets to the studio, he sees Bo Ra getting into Ju Wan's car. Ju Wan says he sent the flowers when they are seated in a cafe. Ju Wan says he wants to get to know her this time as they discuss how they didn't know each other before.
Ju Wan goes up to Bo Ra and introduces himself to Soo Hyuk as well. He admits he thought they were dating and laughs it off. Bo Ra tries to make him leave but Soo Hyuk leaves to 'take a call'. Ju Wan is instructed to leave by Bo Ra. Ju Wan emerges and engages Soo Hyuk in conversation. He stalls before asking about Soo Hyuk's affection for Bo Ra. He tells Soo Hyuk to stop trying to influence Bo Ra and exudes confidence that they will get married shortly.
Ju Wan has Bo Ra heated up, and she claims that he misled Soo Hyuk about their relationship.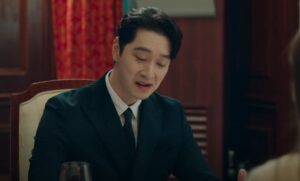 Bo Ra joins Ju Wan for supper at the upscale restaurant where they last met. Soo Hyuk calls her, which she ignores. Bo Ra gets quizzed by Ju Wan regarding his job. Bo Ra is told to open the box after he gets a sample from the office. She discovers flowers and a blue ring box inside.
Ju Wan proposes to her. Soo Hyuk is currently running towards the restaurant. Bo Ra shuts the ring box by extending his hand. Da Mi shows up there and accuses Ju Wan of betraying her just as he is about to persuade her. Da Mi questions her about her self-worth and how she managed to meet with Ju Wan as Bo Ra stands up to go after discovering that she had placed bugs on him. Da Mi should be angry with Ju Wan, not her, she says Da Mi. Da Mi tosses a glass of water toward Ju Wan.
Bo Ra Book Ending
Sang Jin offers Soo Hyuk Bo Ra's finished draft and asks about his interest in working on it. Soo Hyuk agrees to carry it through. He reads the section of her book where she summarises their whole relationship from beginning to conclusion. She claims that she would be willing to love him if he come straight. She wanted reassurance. She doesn't, however, require confirmation from another person. She'll decide for herself. After completing his reading, Soo Hyuk quickly leaves the workplace.
Bo Ra & Soo Hyuk
When Bo Ra looks over the wedding photographs of Sang Jin, she discovers that Soo Hyuk was also present. When he calls her, she tells him that she now realizes he was speaking the truth. He called to let her know that if she ever felt bored, lonely, or even just needed a hug, she could contact him at any moment. Following the conversation, she recognizes that she doesn't want their relationship to resemble that of DiCaprio and Winslet or Mulder and Scully.
Because of the misunderstanding caused by Ju Wan. Soo Hyuk exits the cafe as he is very furious. In the meeting room, Soo Hyuk runs into Bo Ra and immediately gets to work. She claims that she needs more time to consider her book's ending. He argues that her 'happy' conclusion is unconvincing. Bo Ra asserts that he was dishonest before accusing her of lying to herself.
After some more back-and-forth, he tricked her into believing that his deeds of kindness were indicative of anything more, but Soo Hyuk still lacks the courage to voice his emotions. Bo Ra is correct to call him out on it. Soo Hyuk publicly states that he is unable to collaborate with authors who craft fake epilogues. Bo Ra exits the meeting room as well and declares that she is leaving. She exits the workplace in a rage after that.
Sang Jin leaves a drunk Soo Hyuk passed out at the bar, thinking he'll call Bo Ra in his state. When Bo Ra gets multiple calls from Soo Hyuk she finally deigns to pick up. Soo Hyuk slurs and begs her to drive him home while drunk. When Soo Hyuk loses his balance, a bar server calls Bo Ra to come and get him.
When Bo Ra shows up at the bar, she attempts to wake up Soo Hyuk. He counsels her not to go back to Ju Wan when drunk. As soon as Soo Hyuk gives his address to the cab driver, Bo Ra understands it is not the same as her home address. Soo Hyuk begs her for a hug while repeatedly admonishing her not to reconcile with Ju Wan. She stumbles, but eventually, she gets Soo Hyuk into his flat, and she leaves to go home. She considers how he lied about his residence on the way home to pick her up every time.
She also discovered the card he had intended to send along with the flowers when she went to work on her radio show again. Soo Hyuk had admitted that he was experiencing a lavender-colored state of love on it. She also discovered a package with a pendant-adorned necklace.
Soo Hyuk rushes out of the workplace after reading the book's shocking conclusion and goes to a café where he learns the location of Bo Ra and the person she is with. He walks there, grabs her by the hand, and leads her away from the eatery. Bo Ra does not want Soo Hyuk to act out a confession like a scenario from a drama. She urges that he must be honest with her and explain his feelings for her. He claims to be confused and that he simply admires her for all that she does. Soo Hyuk and Bo Ra kiss.
Christmas Day
Over dinner, everyone gathers to discuss Bo Ra's book. Jin Ho and Bo Mi enter the house shortly after in wedding attire. On Christmas Day, they're holding a surprise wedding. There is gift-exchanging. Bo Mi is given rings by Jin Ho. Sang Jin receives a bold yellow sweatshirt from U Ri. Yoo Jeong receives tiger print apparel from Jin Woo while the latter gives him a hotel stay for the night. Soo Hyuk gives her mittens, while Bo Ra gives her a pen he had been wanting. But there is a ring within the mittens. She accepts Soo Hyuk's proposal, and the two are now legally engaged. Bo Ra's voiceover says that although love isn't flawless and there may not be a happily ever after, the couple will still be faithful to their feelings.
Verdict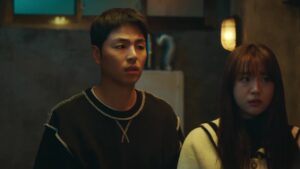 Bo-Ra! Deborah's last episode is a drawn-out but keeping journey that wraps up all its missing pieces. The main focus of the drama is the relationship between Bo Ra and Soo Hyuk, even though several other plotlines also come to an end. They both have proper points, as do Soo Hyuk's hesitation, and Bo Ra is right to insist on dating a man who can articulate himself clearly. The small acts of affection bring Yoo Jeong and Jin Woo comfort, reawakening their passion. Bo Mi and Jin Ho discover their own happily ever after. It is wonderful to see Ju Wan finally receive what he deserves.
And that's it for episodes 13 & 14. Are you watching this drama? Are you enjoying it as much as we are? Let us know in the comments!
Connect with us on Instagram  Twitter  YouTube for more content, interviews & news.