Bo-ra! Deborah episodes 9 and 10! The impact of last week's unexpected kiss is the topic of this week.
Bo Ra & Soo Hyuk
After the kiss, Bo Ra, who is more outspoken and Soo Hyuk is a master at concealing his emotions. She automatically takes the initiative to minimize the kiss as a result. Yoo Jeong sees Bo Ra sink into her pit of embarrassment and thinks it's because of her usual drunken actions in front of Soo Hyuk. So, as a true friend should, Yoo Jeong attempts to make up with Soo Hyuk by saying that Bo Ra made a mistake.
Yoo Jeong goes further to plead with Soo Hyuk to pretend that nothing happened, and Soo Hyuk interprets this to mean that Bo Ra thinks their kiss was a mistake.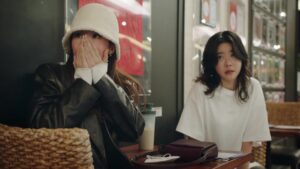 This is a big blow to Bo Ra's ego because she already believes that Soo Hyuk didn't care about their kiss. Additionally, she goes into an argument that includes the statements "Should I show him all my seduction techniques?" and "Making a man like him fall for me is child's play." Soo Hyuk, who is not happy to be so sexually objectified, overhears them, which is unfortunate for the mistress of appeal.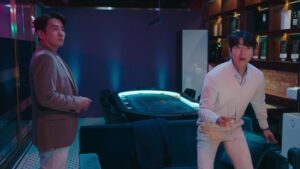 When Sang Jin attempted to hit on a female at the club, it just so happened to be Bo Ra. Bo Ra follows Soo Hyuk as he excuses himself from the awkward situation to offer an apology. Sincerity and a few tears assist them to put their disagreements behind them and bury the grudge. Bo Ra and Soo Hyuk's connection gets stronger as a result. Bo Ra notices Soo Hyuk sitting by himself while passing the café. She gets to join Soo Hyuk because Sang Jin's appointment is no longer wanted. She makes the connection when she notices Yu Ri's wedding invitation on the table and takes him out for a day drinking to comfort him.
Entry of Soo Hyuk's Ex
When she sent Bo Ra her wedding invitation, my first thought was, "Wow! How long ago did she break up with Soo Hyuk? After the split, she did begin seeing someone else. Yet, isn't this too soon? But as it turns out, the new guy was already in the frame when Yu Ri was dating Soo Hyuk, therefore her claim on Bo Ra's radio program was not entirely true.
Stringing two men along while attempting to determine which choice of action is preferable is a sort of fraud, and as Bo Ra pointed out, Yu Ri ought to have asked clearly which alternative to select rather than pretending there was only one guy present. However, Yu Ri reminds Bo Ra that "Relationships are meant to be petty and unfair," and she loses any sympathy she had for Bo Ra. Yu Ri next says that she intended to invite her ex-boyfriend first. She wants her ex to see the invitation and be heartbroken while she's happy.
Fortunately for her, Soo Hyuk appears to be quite calm upon seeing her wedding invitation. However, Yu Ri apologizes for treating him unfairly when they were together. He also apologizes for not being enough to her. She eventually queries whether he ever loved her. When he declines to respond, she flips the script and invites him to her wedding so he may witness her joy.
I Will Go With You
Yoo Jeong receives a call from a common friend inviting her to her wedding pre-shoot but shamelessly refuses to contact Bo Ra because she would be the only single person there. She quickly changes her tone when she informs her that she is on speakerphone. Bo Ra nonetheless manages to get a spot for a photo shoot. Soo Hyuk texts her and claims he's unable to stop it. She can't go to the picture session alone, he can't help it, he says over the phone to her. He will accompany her as her boyfriend, continuing the catfish effect.
Bo Ra leaves her building on the morning of the wedding photo shot to discover Soo Hyuk waiting for her. Bo Ra notices the blue ring box in his car as they make their way to the event. Yu Ri then calls Soo Hyuk tearfully and expresses her want to meet him. After giving it some thought, he informs Bo Ra that he must leave. She exits the vehicle while he continues to drive. She begins to run in the direction of the car after reflecting on Yu Ri's bad intentions for Soo Hyuk.
Verdict
What a wonderful episode it was to see Bo Ra and Soo Hyuk heal wounds after their kiss. Although their 'relationship' is already romantic, it's wonderful to watch how at ease they are with one another.
And that's it for episodes 9 & 10. Are you watching this drama? Are you enjoying it as much as we are? Let us know in the comments!
Connect with us on Instagram  Twitter  YouTube for more content, interviews & news.