Bo-ra! Deborah, we are halfway through our show in episodes 7 and 8! The bad news is that the narrative of their separation isn't over yet. Even if it's challenging for our characters, they finally have to go through the process of moving on. Even though it appears they will take a lifetime.
Bo Ra & Soo Hyuk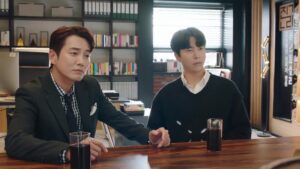 This week, Soo Hyuk and Bo Ra spend more time together as they prepare for and outline the publication of Bo Ra's new book, an autobiographical account of how a dating coach handles her breakup. How to get your ex back after a split is one of the ideas she intends to include in the book. It almost seems like Bo Ra, and hence the program hasn't grown at all. Because Soo Hyuk witnessed her drunken urinating on the sidewalk, she begins to avoid him. He didn't observe her actions, just to be clear. He served as her watchman, and all he could see was the incredibly lengthy pee trail that dripped down the street.
Bo Ra adds she wants the finale to be like the one in La La Land, where the heroine turns and beams at her ex to express how happy she is. Even while shopping for a comparable black outfit, she drags him along. She wants one that makes the woman appear to guys to be moving slowly. She tries on several dresses but none strike Soo Hyuk's fancy.
Sang Jin, meantime, reflects on what Soo Hyuk stated about his final impressions and recalls the painful manner he and his wife split up following their court battle. Then he phones Soo Hyuk and invites him to come to lunch with him, but Soo Hyuk is put off by the sight of Bo Ra wearing a black dress. He asks why she was moving so slowly. She informs the workers that she'll buy it once she's satisfied.
Rewrite The Ending
She then informs him that breaking up with Ju Wan is the next step in the plan. When Soo Hyuk points out that they've already broken up, she responds that she needs to do it again to transform Ju Wan's final impression of her from a depressed, needy girl to someone more drunk and graceful. In the end, memories are what stick with you. She needs to randomly run across him for this to occur. She had taken Soo Hyuk to a restaurant that Ju Wan likes because of this. Ju Wan, however, doesn't show up that day.
Soo Hyuk says he doesn't think about Bo Ra's seduction, but he can't help it. He consequently arrives at work sleepy and exhausted, which disturbs Sang Jin. Sang Jin is questioned by Soo Hyuk about his final feelings before divorcing his wife. When Soo Hyuk gives Bo Ra an initial plan for her novel when she arrives, the latter is quite impressed.
Ju Wan is shocked to see Bo Ra enter the restaurant and sit down next to him. She reassures him that their breakup was for the best. She is adamant that she has moved on, is successful, and won't even return to this restaurant. Soo Hyuk is waiting outside to take her for a ride. Ju Wan observes her getting into Soo Hyuk's car via the window.
Yang Jin Ho & Bo Mi
Bo Ra no longer publishes books on dating advice, but it doesn't stop her from talking about it. Jin Ho, her most recent pupil, tells Yoo Jeong and Bo Ra about the woman (Bo Mi) he met at the club and fell in love with. Bo Ra and Yoo Jeong, in classic Noona fashion, disapprove of Ms. Club, but will they come out and tell Jin Ho directly? No. However, when Jin Ho arrives with Jin Woo to assist in moving the heavy furniture in Bo Ra's new flat, they make fun of Ms. Club in front of Bo Mi, much to Jin Ho's embarrassment.
There are better ways for Bo Ra and Yoo Jeong to vent their disapproval over Jin Ho's crush than to aggressively urge him to confess his affections in public knowing how much females hate that stuff. But it's not like it's any of their concern. However, the joke is on the noonas since, even though Bo Mi disliked the public confession, she starts dating Jin-ho because of his honesty.
The Unexpected Moment
After Bo Ra and Soo Hyuk concluded the conversation about getting their ex back, they went to karaoke to celebrate. The Heartbreak Couple's two halves recognize the assistance of the other participants in their post-breakup journeys at this point. The tension builds as they discreetly recognize one other's existence in the little area, and as is usual in plays, they ultimately lean in for a kiss.
Verdict
Such a great episode! The laid-back atmosphere is still present, but there is also a hint of romance and chemistry. Bo Ra and Soo Hyuk's relationship has developed beautifully from uncomfortable meetings to a growing friendship where they support each other too, now, something a bit more.
And that's it for episodes 7 & 8. Are you watching this drama? Are you enjoying it as much as we are? Let us know in the comments!
Connect with us on Instagram  Twitter  YouTube for more content, interviews & news