On February 18, media outlets exclusively reported that the K-Pop girl group Red Velvet would be having their comeback in March.
Later, within less than an hour, the group's agency SM Entertainment confirmed the news by stating that Red Velvet is gearing up for the release of a new album, which is expected to be released in March. Although not much had been disclosed about their comeback, the agency asked the fans to show a lot of interest in the same.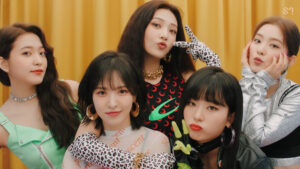 Red Velvet released their sixth mini-album titled 'Queendom' in August last year. Thus, their return would be marked as the group's first comeback after seven months.
The group had already hinted at their full comeback at the 'SM Town Live 2022: SMCU Express' concert held on January 1. Red Velvet originally made their debut on August 1, 2014, with their single 'Happiness'. The group's work reflects on their name with their 'Red' side focused on pop and experimenting with different styles while their 'Velvet' style focused on elements of ballad, jazz and 90's R&B.
Are you excited about their return? Stay tuned for updates!
Connect with us on Instagram  Twitter  YouTube for more content, interviews, & news.