What do you get when you give a young talented performer with undying spirit the right stage? A star in the making! 
At age 23 (born in the same year as mine), this Rapper has already produced six singles since his debut and released his 1st album titled 926 on July 7, 2022. (Talk about me feeling like an underachiever.)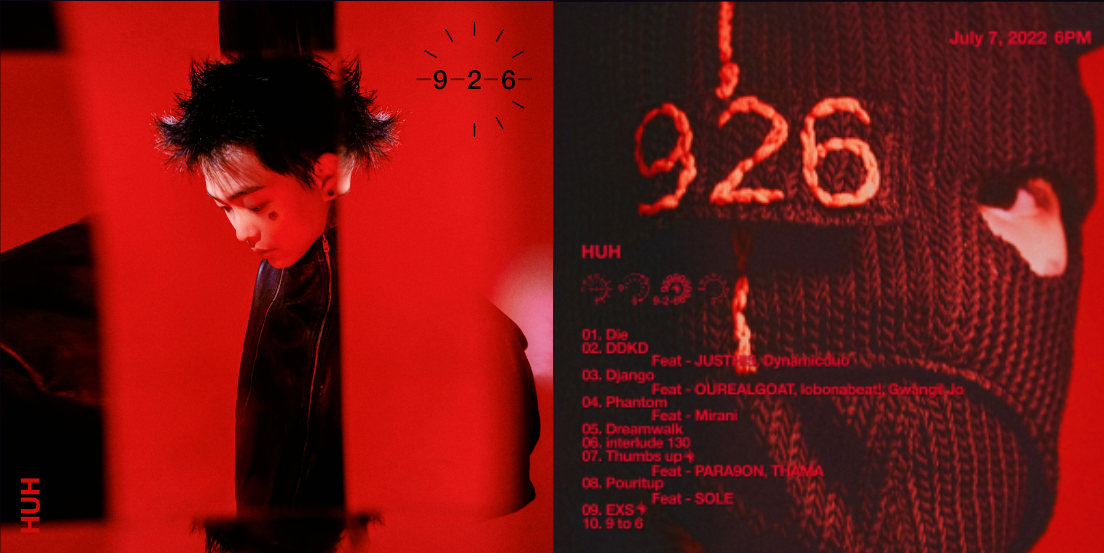 Heo Seong-hyun, known by his stage name Huh, is a South Korean rapper who debuted on October 15, 2019. You might know him as Rose de Penny, of Show Me The Money seasons 8 & 9. Currently, he is managed by the Korean hip-hop label Amoeba Culture, founded by the Dynamicduo (Choiza and Gaeko). Furthermore, Heo Seong-hyun collaborated with artists Kim Addict, XS, and Turner Lee in 2021 for the song Viral Cypher 1. This year he also worked with Khundi Panda for Come Upright With KozyPop. In addition, he was selected as an artist for MUSE ON 2021 hosted by the Korea Creative Content Agency. Huh who worked with Gaeko, Kid Milli, nongmill kim, and BLOO  through three singles releases after being signed with Amoeba Culture, also collaborated with notable artists in the Hip Hop and R&B scenes such as Ourealgoat, Dok2, Mirani, Leellamarz, SOLE, and so forth.
Heo Seong-hyun is anything and everything you don't see in many K-pop artists but appreciate. Multiple tattoos and piercings, willingness to candidly appear in various YouTube videos or collaborate through music, a relatively short height (Yes! we love some representation for us), and open confession of a healthy romantic relationship. At such a young age, he is defying the typical Korean music industry rules, being true to himself, and just for that, I like him already. 
Talking about his music, honestly, I have just discovered him. But, I am certainly glad I did it sooner rather than later. If you love Korean hip-hop, Huh's music is for your playlists.
Huh's first album titled "926" represents 9pm to 6am instead of popularly accepted or understood as 9am to 6pm. It's a clever concept that captures an artist's life pattern as opposed to office workers who go to work between 9am-6pm.
It has ten songs- Die, DDKD (Feat. JUSTHIS, Dynamicduo), Django (Feat. OUREALGOAT, lobonabeat!, Jo Gwangil), Phantom (Feat. Mirani), Dreamwalk, interlude 130, Thumbs up (Feat. PARA9ON, THAMA), Pouritup (Feat. SOLE), EXS, and 9 to 6. It is a lot for a soloist to do on his first album. The album starts intensely with Die and ends with 9 to 6 which talks about emotions felt at dawn from missing an ex-lover. Heo Seong-hyun is leaving no stone unturned to treat his fans as he has provided not one but two title tracks, EXS and Thumbs up.
I heard all ten tracks on the album. Even if you don't know the meaning of every word that Huh says, at the end of each song, he has this ability to leave you wanting more. Every other song I heard just kept getting better, or I probably started adapting to his style as a listener.  
In the title-track EXS, Huh does not shy away from going deep and dark. The song comes with a message of affection for a loved one in an intense beat as opposed to sweet lyrics. He is a good rapper, no doubt there, but you can faintly hear his sweet vocals towards the end of the song. I wish there was more of this in the track.
My favorite track on the album is Thumbs Up, followed by Pouritup, and DDKD. I feel Thumbs up and Pouritup are more in the alley of K-Pop fans compared to purely K-Hiphop ones. Suggestive from the name, Interlude 130 is an all-instrumental track but something I would go back to from time to time. 
I also understood that his songs are not for everyone. However, I also feel he is not creating his music for everyone. He has his niche, his peculiar audience, and he knows it. I find his songs impactful for various reasons, especially on this album. First, his raps are so clean with great flow. Second, meaningful and powerful lyrics, often a reflection of or inspiration from his life. Third, he almost always pays homage to his beginnings and Dynamicduo. Fourth, his music is a bit unpredictable- how it starts, when it pauses, and how it ends- first-time listeners will be surprised. 
Besides the album, a song from his discography that has stuck with me is uh-uh, a truly unique song that would live in your brain rent-free. After listening to the entire album, I have only one word for this artist -Underrated. I hope he achieves his life goal of earning 3 billion Won with many more albums soon. 
Can't wait for more music from Huh? Follow these Instagram accounts to stay updated. 
@yesmynamerosy
@huh1_official
@amoebakorea